A new update of what's been done at I.M The Game Runner recently and where things are in development. Please feel free to tell us what you think of it and if you think I should be focusing or something else other than these.
Worked On
Night Watch
The Night Watch is the part of the game which enforces the law of each faction/realm and this is controlled by players or a player which can recruit other players or NPC's (Non Playable Characters) to patrol the streets and solve the crimes.
Progress:
UI for Recruitment is nearly done.
Randomly generated stats for Watchmen(there are females) when Recruiting.
Two Skills - Trustworthy (this affects whether they will break the law to follow orders) & Loyalty (this is how loyal they are to the law.)
Random Names system setup (Just need to add different names as there is only one at the moment)
Fiance break down when Recruiting (Weekly cost, New Weekly cost and total money)
Three different write ups on Watchmen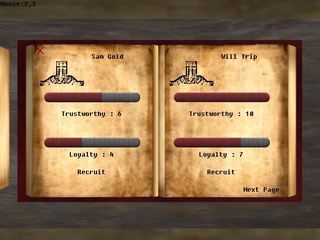 Recruitment Menu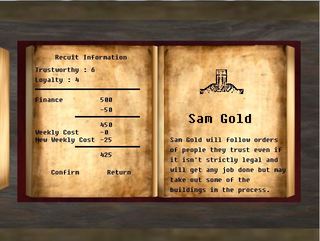 Recruitment Selection - Higher Trustworthy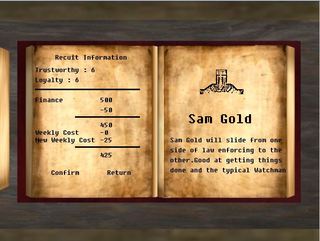 Recruitment Selection - Same Trustworthy & Loyalty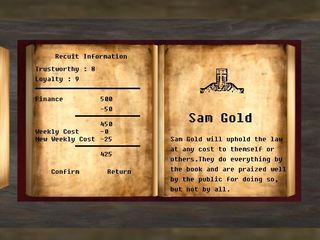 Recruitment Selection - Higher Loyalty
Death
Death will come in stages, the first being injured where you are knocked down to the ground; you then have two things which can happen, escape or die.
Escaping can be done in two ways, crawling or carried either by a player or a NPC which will allow you to bandage yourself back up which could be done on the battlefield or somewhere safer. If you do not rest then you can continue fighting but you will be negatively impacted.
You can Die in two ways, being executed or bleeding to death. A player can kill you by just attacking you or if you are not quick enough to banged your wounds you will bleed to death.
I have also concerted to do a hardcore mode where you move further down your family tree each time you die but this will be on a separate server if enough money is raised in the future doing a kickstarter(this is a long way into the future and what the money will be spent on will be addressed closer to the time it takes place)
Thanks to Argyrius as well for helping with these idea's!