A couple of news since our last update, so here goes!
Spine from Esoteric Software
As you've probably already seen we're introducing animations in the upcoming beta of MLW. To make these animations we've used the awesome Spine tool from Esoteric Software. They've just released a Kickstarter Campaign for some new features that are insanely awesome and would make MLW as well as other games so much better.
We're actually featured in their campaign movie - have a look and if you think it looks awesome then we strongly encourage you to support these guys!
In the finals for Global Game Stars!
Last week we attended the Global Mobile Internet Conference (GMIC) and had our first conference booth there. We also participated in the Global Game Stars competition and were selected as one of two finalists along with My Singing Monsters!
We presented on stage in front of a competent judging panel. In the end My Singing Monsters ran away with the first price, congrats to them! We're still really happy and overwhelmed with the result and feedback that we've got, being that we have not even released yet and My Singing Monsters already have 2mio+ users.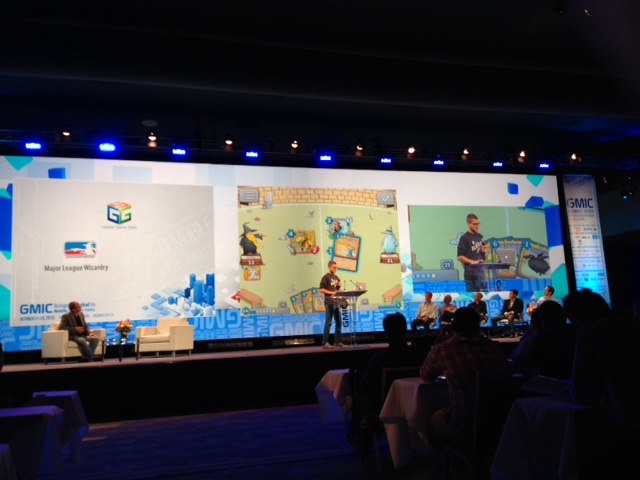 New Cards - Poison!
For the beta we aim to release the game with 100+ unique cards. Here is a preview of some of the new cards for the poison school. In the following weeks we will keep updating with new cards as they come along.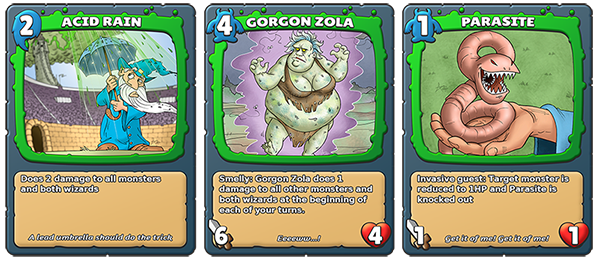 Acid rain is not the most powerful card in the game, but the relatively low cost might come in handy. Also poison does not have that many options for AOE damage, so many players might want to add this to their deck.
Gorgon Zola is really powerful, but also somewhat selfdestructive, so she has to be used with caution. And she's not that pretty either...
Parasite is a monster that works really well with another monster for knocking out the big ones for a small cost. The opposing wizard might want to knock it out before you get to use it though, so it needs to be played at the right time.
More animations!
And of course - more animations! Also posted on Esoterics Forum