Closed beta so far
The closed beta is still moving along and we're getting a lot of good feedback and suggestions on how to improve the game further.
We have learned a lot from our players/testers. Some of the main challenges that we faced is that Major League Wizardry is a game designed for all platforms but with the tablet/mobile device in mind. However, the players that have tested the game in the closed beta are very focused on the desktop platform, partly because they come from the social gaming platform Evolve and partly because our Android version of the game lacks a lot of performance.
The key learnings that we've made so far:
1. We need to improve the way we explain that the game is asynchronous
2. The flow in the menu should be improved
3. The AI/Single Player mode is mandatory and should be implemented asap
4. We should have introduced a launcher/update mechanism from the beginning for desktop
5. The tutorial and first time user flow should be greatly improved
6. Deck building is for many players one of the key features in a TCG and thus the GUI for the deck builder should be greatly improved
7. Going first gives an advantage that we need to fix somehow
8. Our players are having fun with the game! Yay!
With the above in mind we are getting more and more focused on where the development should be taken and how we should improve the different features and mechanics of the game. So we're really excited about adding just a few more features before we open up the game to everyone!
Open Beta by the end of JanuaryTowards the end of January we will continue to implement new features and tweaks to the design and then open the beta.
The Open Beta is currently scheduled for the 21st of January!
We wanted to share what's in store for the next couple of weeks based on both player feedback and our own ambitions for the game. Below is the final list of features that will be implemented towards the open beta. If they don't make it to the open beta they will be released shortly after.
1. Live/Realtime games where you don't play asynchronously
2. Simple AI for single player gaming
3. A more interactive tutorial that explains the game better
4. Invite mechanisms to invite your friends to play
5. A game Launcher that can update and patch the game
6. Android performance optimization
7. Improved deck building – you can now view cards much better
8. Better flow for creating new games
9. Improved graphics and user feedback
10. New cards, illustrations and monsters
11. Game balancing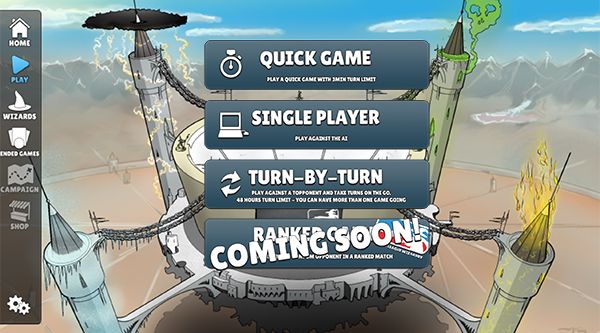 Preview of the upcoming game modes that are planned for the open beta
Stinger!
Of course we will also continue to add new cards and animations. For example like the guy below: