Working on this game has been interesting because creativity can be satisfied fast. Unity and C# are great tools for game development and they provide a good set of tools to allow you code fast without much fuss. Granted, there are certain things that could be enhanced, but all in all it has proven that i was wrong all this years negating the usefulness of the tools.
This, coupled with the nights+weekends hours to develop the game, has resulted in an interesting roster of enemies that brings chaotic and fun gameplay to the game. Let me introduce them.
The non-human enemies are the bread of the game. The fill you but they don't necessarily are the main platter.
Most non-human enemies deploy human units to attack you directly and that's what makes them unmanageable.
Most of the time you'll be surrounded by police men or army men deployed by these other units.
Luckily, most human units are pretty dumb and you can escape them with little effort; however, doing this only worsens the problem because you'll have lots of small enemies to target before you realize your error.
Missing here are the (yet to be developed) flyinig police units, namely, helicopters, which will give you light fire from above, adding a continuous drain to your already meager health bar.
There are certain strategies you can develop to keep these at bay, but the spawn rate kills you on the end, having one new unit almost thrice a second.
The idea, as the title of the game suggests, is that humans will always win, and you must try to deal the largest chunk of damage in the most expeditious way.
The bomber planes and fighter planes are end-game stuff, i'm thinking of adding a nuclear bomber if you're taking too much time to get shot down, so humans can wipe the monster in one fell swoop after certain amount of time.
APCs deploy a big amount of army men (12 men to be exact) that deal lots of damage if left unchecked, so keep them on check if you intend to live longer.
Armored tanks are just an annoyance that can get real dangerous if grouped in big cuantities.
Swat vans deploy 6 police men that deal little damage, but it is the same as the APC, if left unchecked you can suffer a very quick death.
And last but not least, the humble police car, which deploys the police men which attack directly the monster.
Human enemies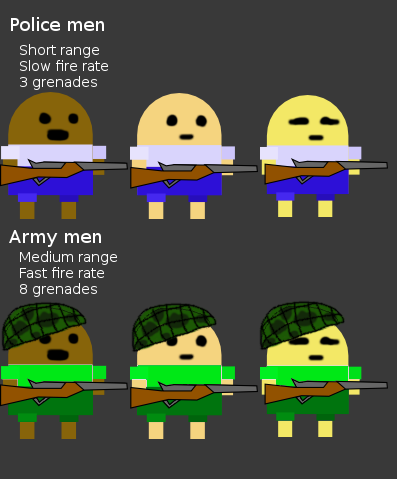 For now Humans Must Prevail knows only of three races, and there are two types of human enemies: Police men and Army Men.
The police men are usually slower and deal less damage to the monster with their primary weapon.
The secondary weapon (the grenade) deals massive damage but can be easily dodged because the hit sphere has been very limited. To close this entry here's the latest trailer for Humans Must Prevail, showing some of the third alpha features. Video Link. If you're reading this, know that i'm almost falling asleep here, so please, if you see any mistake in this post kindly point it out so i can get it corrected when i'm little more awake. ;-)