Upcoming Kickstarter Campaign
Hello ladies and gents! I first wanted to thank everyone who've supported the project from the beginning. Your comments, reviews, critiques and involvement have really brought this project to life. Everyone from RMW, RMN, RPGVXA, IndieDB and more have given us so much support and inspiration that I just cannot thank you enough.
For this project to continue, we really need your continued support now and for the future. In order for this Kickstarter campaign to be a success, word of the game has to reach more ears. It would mean so much to us if you could continue to lend your support by liking us on Facebook and following us on Twitter.
(@YANTH was taken... an unused account =_=)
Potential Rewards
We want your feedback on potential rewards for the campaign. How would you feel about these types of rewards? The rewards are listed from cheapest to most expensive to offer.
YANTH Digital Soundtrack
YANTH Digital Artbook
Limited Edition 18in x 24in Physical Poster
Limited Edition T-Shirts
Physical Boxed Edition of YANTH
YANTH Physical Soundtrack
YANTH Physical Artbook
Here are a few possible designs for the shirts and posters. Note that these illustrations are WIP and may not convey the final design: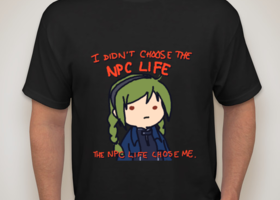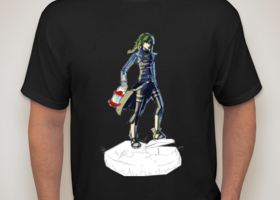 Finally, if you have yet to see the Public Service Announcement voiced by the amazing Bill Karalius, you can watch it here:
Here's a rough WIP movie showcasing gameplay, to be shown on the Kickstarter page along with the PSA.