Hello everybody,
For some time now we announced that spaceships were coming soon, but due to some personal issues, none was to be seen.
Thus, we are fairly proud to be able to release some early screenshots of this oh-so-important feature of Untold Universe!
Please bear in mind that we are still actively working on it. Thus, textures are not finalized, and spaceships do not feature any special blocks like reactors or weapons. This is the next step, and we hope to show and explain how to design a basic spaceship soon.
Nevertheless, we gave our spaceships shapes that should be reproducible even with the full gameplay rules.
Piloting
In our previous news, we explained what shipyards are about. What's new is that when you are satisfied with your design, you can now validate it to the servers, and then jump in and actually fly.
Building a spaceship
Along with other stuff, a difficult part is to determine where to place the camera given the strange designs players could think of. On the next screenshots, you can see how we place it and animate it when a spaceship turns.
Piloting a spaceship
What's next?
There is still a lot of work to do on this feature. Physics, textures, better gameplay rules, special cubes… And, in the future, larger designs as what you seen on these screenshots are Fighter Class spaceships.
It might take some time, and we will keep you updated. We hope to start to give away some alpha keys when the spaceships will be fully functional and allow players to jump from planet to planet.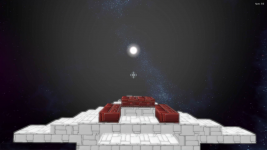 To the sky!
See you soon!