Hello everyone,
General alpha progress
We launched an early alpha a week ago and received a lot of feedback on the current state of the game from the players testing it. This pushed us to take some time fixing bugs and tweaking the experience rather than rushing many new features, stabilising the game and making it more enjoyable to play.
You should have read the feedback on the jump, which was pretty funny!
Anyway if you are interested on reading about what we did, you can check the changelog about this new version here: Untold-universe.com. Once again do not hesitate to stop by the forums or on IRC to tell us if you are interested in testing the game when it will have some more features!
A little chat
As some people requested it, we added a small chat so players can speak in-game. It is somewhat basic, but the servers behind it are working well! We will try to enhance our GUI look and feel in the upcoming weeks, as we are currently using the default skin of our GUI library, CEGUI.
Here is a screen of the aforementioned feature: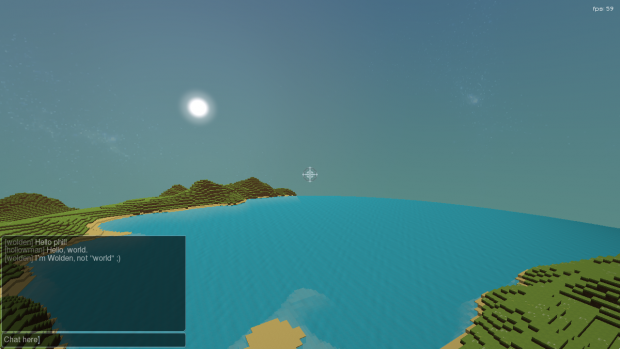 What's next
We are now working mostly on adding spaceships building and design for good. It might take some time as said on our blog, as the current implementation is more of a proof of concept than an actually usable piece of code.
In the meantime, we will keep on fixing stuff!
If some frenchies are stopping by here, we also had the pleasure to be featured in a french website about indie games indius.org! Here is a link on the article: Indius.org.
See you soon!