(Showcase of the current state of the game)
Dev Blog 27 :: June 15th, 2018
Hi and welcome to the 27th development blog post for Unleash!
As expected, the last two weeks have been largely focused on the TD Scenario Editor, which is now being internally tested; the 3v3 game mode, which is soon ready for internal testing; and a range of graphical upgrades, including the spawn portal area and new monster graphics. Additionally, mark the date: 24th of June, 2018 - as this is the date that we are planning to run the first Unleash tournament ever! Come be a part of this event, all are welcome! Finally, the Steam Store Page is now available in a total of five languages, thanks to our awesome community.
TD Scenario Editor: Now Testing
The TD Scenario Editor, for creating shareable custom TD scenarios, has reached the testing phase. We are now testing it internally for bugs and usability in preparation for its version 1 release. The functionality is done, the UI is ready and implemented, and the Steam Workshop integration is working.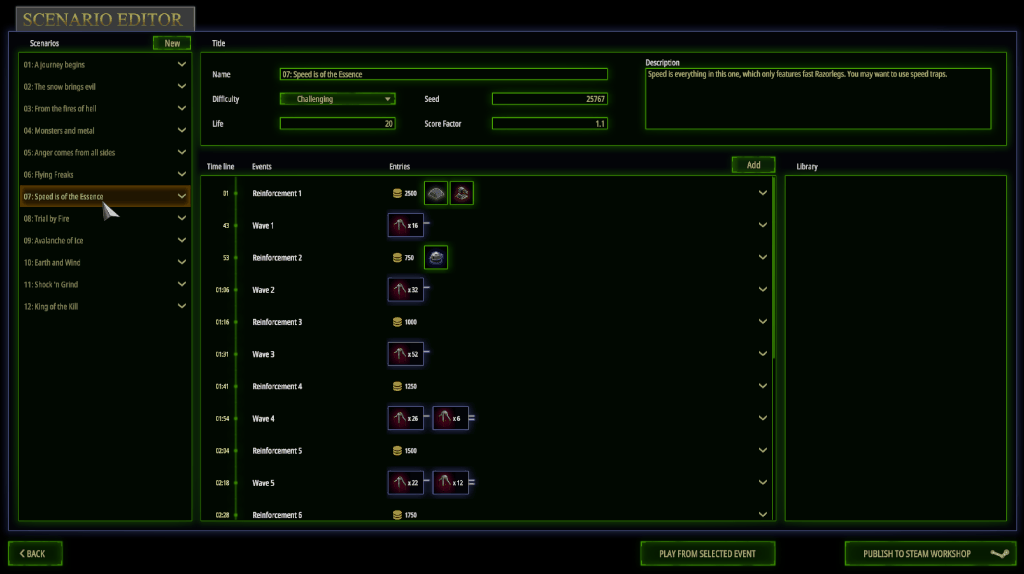 (The TD Scenario Editor has reached the internal testing phase,
which means that it's almost ready for its version 1 public release!)
I have already written about the TD Scenario Editor at least in the previous two development blogs, so I won't write much about it this time. It marks the first step towards user contributed content, or "modding", in Unleash. It also marks the first major feature release since the Early Access release of Unleash, and a major point on our current proposed roadmap, which can be viewed on our Steam Store page and subreddit.
3v3 Game Mode: Sneak Peek
The upcoming 3v3 game mode, inspired by Warcraft 3's "Wintermaul Wars" and "Tropical Tower Wars", has also seen substantial progression. A first version for the map has been used for testing, and the steering (movement/navigation) of all monsters has been rewritten to varying extents, in order for them to work on this new map. The major revelation came when we realized that we could generate a special type of vector field, based on lines where monsters need to turn.
(The 3v3 game mode is progressing,
a first version for the map is up for testing and the steering for monsters has been done)
While it is not quite ready yet for internal testing, the remaining tasks are not major: State synchronization for the teams (at least the maximum creatures count allowed on the lane), menus, and in-game UI. We are definitely getting closer, and I am SO excited for this first co-op game mode! Stay tuned for a poll on the Discord server in regards to the naming of this game mode.
First Unleash Tournament 24th of June!
As announced everywhere we could, including on our subreddit, we are running the first Unleash Tournament on the 24th of June! This will mark the first really competitive event in Unleash, and we are hoping that a lot of players will want to show up to prove that they are the best among the Unleash players right now.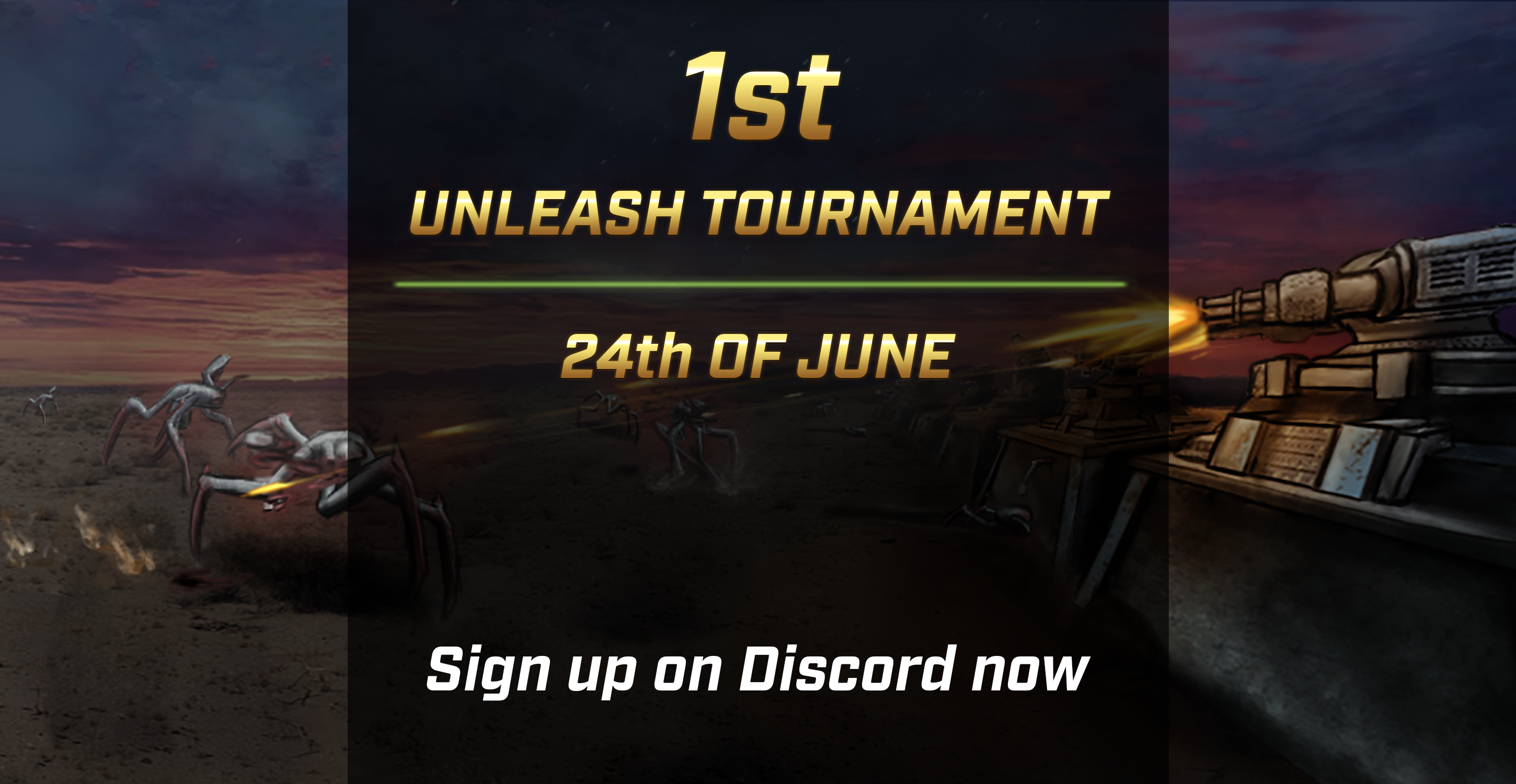 (The first Unleash Tournament will take place on the 24th of June, starting at 18:00 (CEST) -
Join us for the chance to win a free Unleash key and the glory and fame of being
the first winner ever in a competitive Unleash tournament!)
This first tournament is in some ways an experiment for us. Since we haven't run tournaments in Unleash before, we have many questions in regards to what is the right format, how big is the interest, how do we run it logistically and so on. This first tournament will give us some experience and further our ideas of how to run tournaments for Unleash. As always, we're hoping for loads of feedback from our players as well!
Spawn Portal Area: Now with makeup
As mentioned in the previous development blog post, the art team had drawn up some concept art for the spawn portal area and the life gate area. The spawn portal area has now seen that concept art realized to a large extent. Not all of the concept art was implemented, some of it didn't really work when seen in-game, some just hasn't been done yet.
(The new spawn portal area VFX in action)
Steam Store Speaks 5 Languages
Thanks largely to our wonderful community, the Unleash Steam Store Page is now available in 5 languages: English, Russian, Chinese, German and French. We really appreciate the efforts of our community helping us by translating the text on the Steam Store Page, making it more accessible for non-English speakers. Naturally, we are hoping for even more languages as time progresses, but these certainly mark an awesome start for multilingual Unleash.
(The Steam Store page for Unleash is now available in five languages,
largely thanks to our super awesome community)
Cracklecloud No More - Welcome Bilebreath!
The Cracklecloud has always been different visually and technically from all other monsters, in that it did not have a 3D model - it was just a particle system essentially resembling a cloud. Thus, it was not susceptible to visual status effects and other things that relied on a 3D model with a mesh. Therefore, it was a priority for the art team to rework the concept and implementation for the Cracklecloud.
(The new Cracklecloud monster - Now called 'Bilebreath',
based on a community poll - with its animations and visual effects)
That work is almost done now, and we asked the community what they thought we should name the monster, now that it no longer looks like a cloud. Based on a poll on our Discord server, our community chose between five suggestions we came up with, and ultimately decided on the name 'Bilebreath' for the new visualization of the formerly-named Cracklecloud monster. It's functional behaviour has not changed, but it has received a new textured and animated 3D model, along with new visual effects for its 'disable structure' ability.
Splittercritter Rework In Progress
The Splittercritter is another monster identified by the art team as needing a rework. Thus, the art guys came up with awesome concept art for a new monster and now the work has begun on implementing it as a functional 3D model with animations. It is still relatively early for that monster, so it will take some time before you get to see it in-game, but now it's under way.

(The new Splittercritter 3D model is being made
based on a detailed concept art and a functional 'doodle')
Closing Remarks
The TD Scenario Editor has now reached a state where we are testing it for bugs and usability, thus it will very soon be released so that our community can start making and sharing custom TD Scenarios! The 3v3 game mode is progressing nicely, a map is being tested and the movement for monsters has been implemented. Join us as we celebrate Unleash in the First Unleash Tournament on the 24th of June! All are welcome in this first competitive event for Unleash. Additionally, the art team is cranking out new visuals, among them are new visual effects for the spawn portal area, a new textured and animated model for the formerly-named Cracklecloud (now Bilebreath) monster, and a Splittercritter monster visual rework in progress.
Get in contact with us through Discord, Reddit, or any of our other social media channels. You can find all of them through our website. Also, you can watch our internal gameplay sessions over at Twitch.
And remember… Monsters never come alone.