One week ago, we announced Eden Rising: Supremacy to the world! We received a lot of great feedback, and no small part of that was about the vibrant and unique art style. So, for today's blog post we want to share some of our design thinking, intentions, and concept art for our tribal player characters.
After arriving on an alien world and becoming stranded with next to nothing, the characters are saved from death by a mysterious entity known only as the Steward. It gives them the power to survive Eden's harsh atmosphere and in return asks the player to go forth into Eden and restore the Crucibles.
The 'glove' on the character's hand is a part of the power they received. It shares the same rhizome-like pattern that the Crucibles themselves have. It's not something that we wanted to look 'tacked on;' it is part of the character, appearing to be integrating itself into their body completely. The material is alive, becoming an intrinsic part of the character and key to their survival on Eden.
Forced to become modern scavengers, our characters must be creative with the materials they find. Their equipment, weapons, and clothing must be hand-crafted with the help of their newly-integrated matter transformer bestowed in their bodies by the Steward. So, the art style reflects their resourcefulness. The organic roughness of the world had to be inherent in their apparel and weaponry to create a unique look.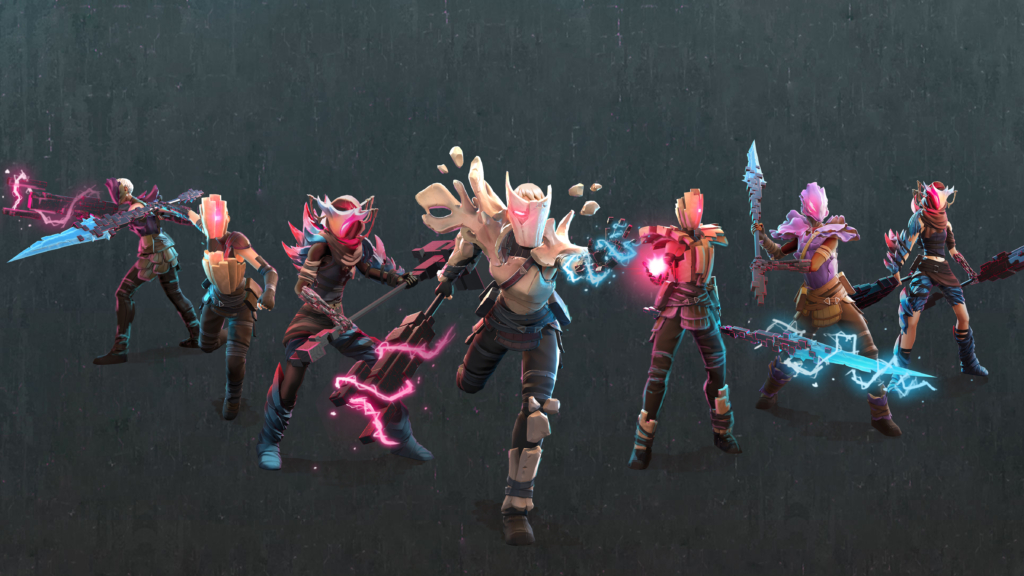 In addition to looking cool, armor and weaponry play a key role in driving a character's play style, as well as their strengths and weaknesses in combat. A heavy hitter tank character has tough looking armor with a top-heavy silhouette, while a mana user would have a sleeker, elongated silhouette. Creating those iconic silhouettes to fit with the overall look of Eden itself was a big focus of concepting and development.