Here is what it looks like: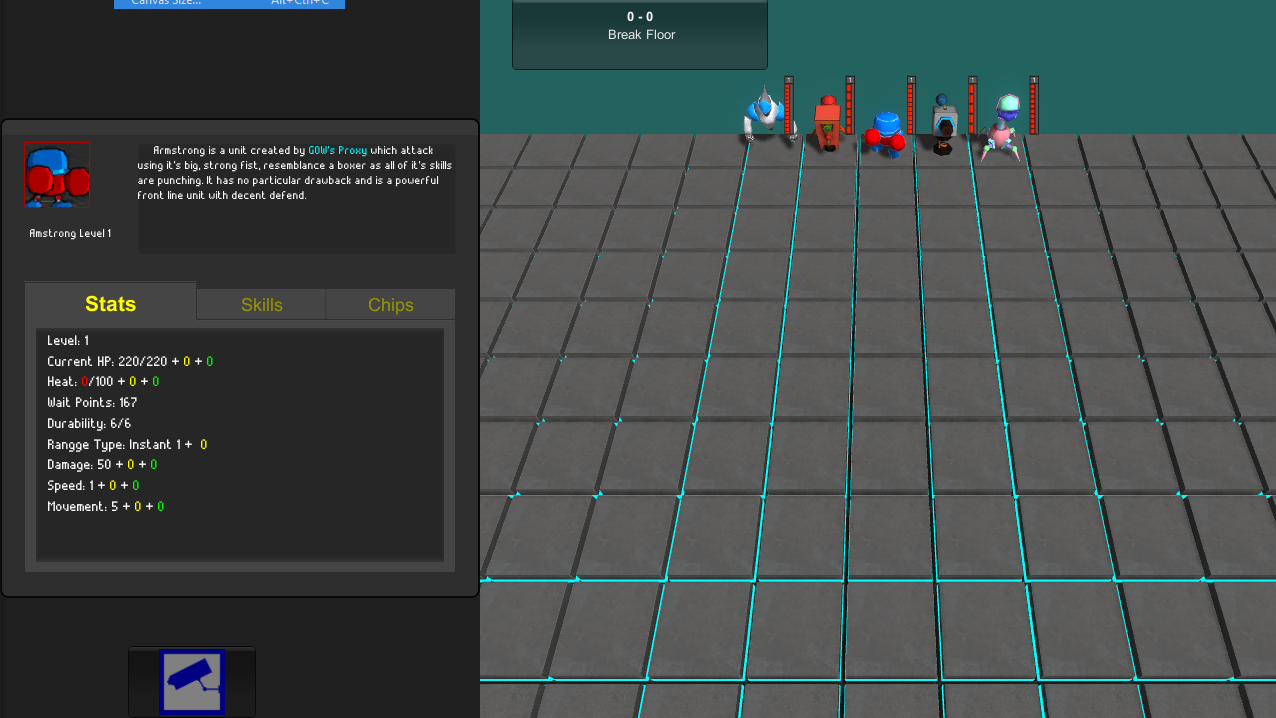 I could say this is half old half new, some stats are really familiar with most of you guys like HP, Damage, Movement.
In this game we don't use armor so damage is somewhat like chaos damage in warcraft or true damage as MOBA usually call it, but every units have true damage so it's not a big deal.
When I consider adding a resource like mana, to prevent skills spamming and of-course everything must have a price. But then mana is too magical for a future robot world so I thought of Heat. Heat can be considered as reserved mana but it's different. Each skill has it's own Heat cost value, when an unit use a skill it's Heat will raise by that amount. And when an unit reach 100 Heat, it's considered overheat and can't use any skill, even the no Heat cost skill. Heat will reduce overtime and here is the twist: you can use any skill if met conditions when your Heat is not 100. For example, if skill Pawn Them All has Heat cost of 99 and your robot has 99 Heat, it can still use that skill and it's Heat will raise to 198. The downside here is you can't cast skill anymore until the unit's Heat lowered to less than 100. It's your decision.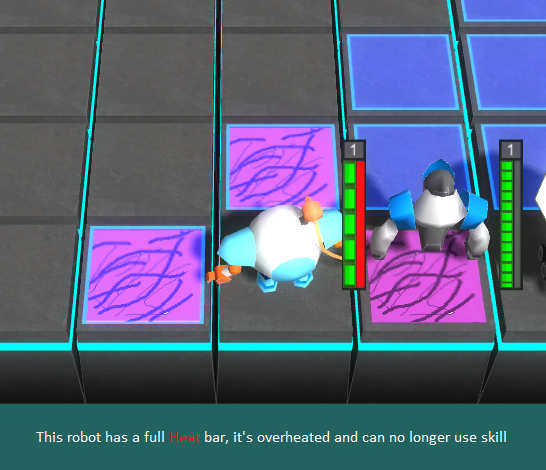 Wait points is essentially a countdown to your unit turn. After Time has passed by that amount, your unit's turn will come. After your unit end turn, it will have to wait until their next turn. The amount of wait points are determined by Speed.
Speed determine how many wait points your unit has to wait till it's turn. Wait points = 1000/Speed. So if your unit's speed is 1, it will have to wait 1000 points for it's next turn, but your enemy robot's speed is 2 so it will only have to wait 500 wait points, therefor making 2 times your robot's turn.
Durability is a new stat. In this game after your unit die, it can be respawn after some wait points (2000 at the moment). But the times your unit can be respawned is limited by Durability. It's the number of respawn times.
Range type: We have Instant, Projectile and Line
Instant is when an attack hit target directly in an instant, it does not have to be next square, it can be very far, but it's instant, no projectile involvement. E.G CableNex, its type is instant but it's neck is long, enable it to attack unit 2 square away.
Projectile attack is when your unit throw (not literally) something at it's target to deal damage.
Linear: Linear attack is like spear in other TBS, it can attack only in 4 direction, North, South, West, East. other aspect is similar to instant attack
Your units will get experience after perform a buff skill or attacking or killing an unit (killing an unit will mostly give it enough exp to gain a level). Your unit start the game with 1 skill point and will gain 1 more skill point each times it level up. Level up will also raise your unit's stats a little.
Enjoy converting high tech robot to a piece of lump.
We going to put out a new alpha build soon with main focus is game stopping bugs fix and user interaction (mostly from our side, guilding you to our world)