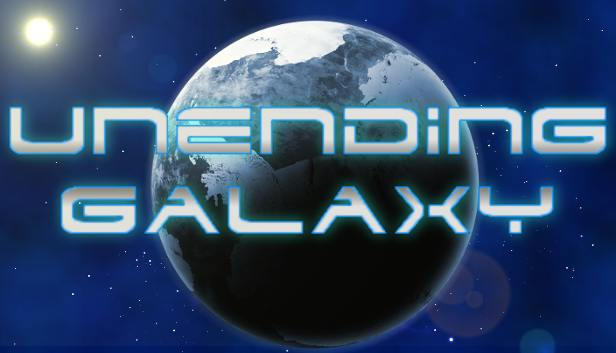 ---
---
As promised, Unending Galaxy is finally available on Steam. This version adds a nice coat of polish over the previous 1.1.5 version alongside many requested features. The military AI is noticeably stronger. Ship to ship communications have been massively improved, the police and bounty hunters will hail you before attacking you. Police and military response against the player is more proportionate. Graphics, sounds, music and texts have been improved. Many menus got reworked (ship equipment screens in particular). And, as usual, many bug fixes and smaller improvements.
Below is the new description and feature list for the Steam release.
---
DESCRIPTION
Unending Galaxy is a unique mix of space-sim and 4X strategy.
Explore a vast and dynamic universe in which the different factions conquer new territories, colonize planets, and conduct diplomacy. Start as a simple pilot and amass wealth through trading, mining, and fighting. Turn this wealth into new stations and warships that you will use to carve the frontiers of your own empire. Or do none of that and become a powerful pirate and war profiteer by turning other factions against one another.
FEATURES
Sandbox Gameplay: You can play any role, no matter if you want to be a pirate, a trader, a scavenger or build your empire from the ground up. Multiple customizable starting scenarios are included. Control multiple ships and switch between them at will.

A dynamic and fully simulated universe where the different factions interact in real time through trade, war and diplomacy. Their military production and expansion are tied to their economy in an ecosystem consisting of thousands of NPC ships populating hundreds of sectors. Global chains of events will also periodically shake the galaxy.
Customize your faction with unique abilities, traits and tech group. Customize the various maps with different rules, set the initial expansion of the various factions, their starting funds. Set the game's pace and play on one of the five hand-crafted maps or use the procedural generator to play with an unending supply of custom maps.
Automation: You can micromanage everything yourself or let the various managers handle the tasks needed to run your faction like station building, trading, or even military operations, so you can focus on the areas that you enjoy the most. Same goes for your ships, give them "fire and forget" jobs like trading, scavenging or asteroid mining and let them make a profit while you are busy doing more important things.
Modding Tools: You can add new or modify existing ships, weapons, stations, and even factions. You can make your own maps or redesign the whole economy. Unending Galaxy also comes with a mod manager which allows you to easily toggle your mods on and off.
MORE INFORMATION

SCREENSHOTS