Underwater Metropolis
Take Control and Develop Your Very Own, Living, Breathing, and Ever Evolving Underwater Metropolis!
Underwater Metropolis On Kickstarter
Press Notes
"I'm enchanted by the concept and I would love to see this one hit its mark" - Owen
Faraday, PocketTactics.com
"Underwater Metropolis looks charming, unique, and suitable for people of all ages, which is why we're predicting a bright future ahead of it." - Dominik Bošnjak,PortableGamingRegion.com
"We here at OuyaBrew would love to see a great concept like this hit the market." -OuyaBrew
About The Game
Underwater Metropolis is a classic city builder on the mobile platform taking the player deep beneath the sea to a dynamic and customizable world filled with creative creatures and fraught with exciting disasters.
Grow and maintain your Metropolis' Population, Economy and Safety.
Completely customize your city including the layout of streets and buildings setting them to your liking and to suit your plans.
Influence the politics and lifestyles of your Metropolites by assigning jobs to your specialists and workforce.
Prepare and lead the defense of your city in the face of numerous undersea disasters
Manage crises ranging from low-level crime to natural disasters to insane Laser-shark attacks!
Mobilize your Metropolites and workforce to help overcome any challenges your Metropolis may face.
Underwater Metropolis initially came together from two of our team's seemingly unrelated interests: a love of the world's oceans and marine life and an unhealthy desire to spam disasters on to the pre-made cities that came with SimCity 2000.Earlier this year when we were sitting down to plan out what games we wanted to develop in 2013, we were torn between a few ideas that really meant alot to us. We turned to our friends and fans for help and asked them what they wanted to see next from us. After tallying the votes from our various web polls, Underwater was the winner by a clear margin. We have spent our time in pre-production so far working on the art, style and character of our aquatic setting.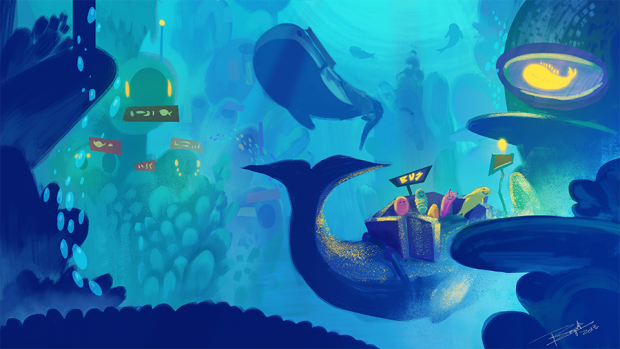 We are Eleventh Level Interactive, an Independent Game Development studio based in downtown Vancouver, BC. We are all passionate gamers and creators who are excited to share our ideas with our friends, family and the rest of the world on the internets.
We come from a variety backgrounds with experiences in game design and production, 3D art and animation, television, theatre, radio and music. This would be our 9th game we have begun production on and we have no end in sight to the creative projects we look to take on in the future!
Check out our Kickstarter and show some support for indie devs! We hope to hear from you, as we want to have the community drive this game as much as possible.