It feels like it has been a while since our latest Under The Hood blog episode. This series was created to bring to you some cool behind-the-scenes information from the development of our games and the work of our team members in general. We are glad to let you know that we have another exclusive peek for you, this time about the role of Concept Art in our games and a closer look at some of our artists and their responsibilities!

Back in the day, as a smaller and less skilled team of enthusiasts, we were creating everything for our games on our own, sometimes without proper experience. Therefore we used to take inspiration from the world around us, often bending it to our needs. And even though those times were fine and we like to reminiscence about them, it is also good that we are growing and we now have so many new and talented colleagues that can help us with how our games and the assets within them can be made.
Along the way, we have discovered the beauty of concept art which we never thought could offer so many opportunities and usage means within our trucking titles, as we were used to the idea of concept art being more fitting for RPG games or similar genres. But it is so exciting how our new and experienced colleagues (especially Annie who was our first Concept Artist) opened our eyes and showed us the undeniable importance of this particular department.
Concept Art has found many unique uses within our games and it helps a great deal with connecting several different aspects of the in-game world in order to breathe a sense of realism and life into it. Additionally, our artists are capable of creating much more accurate graphical designs and assets, which offers invaluable support to the other teams and takes the pressure off their shoulders.
Here are some examples along with screenshots of what concept art involves in our games:
In-game advertisements, billboards, and banners
In-game brands and their unique logos, names and skins for trailers/vans/cars
In-game fast-food chains and their advertisements and other elements such as totems, banners, drive-through stands, logos
In-game gas stations
In addition to all of these examples, some awesome artwork is (and might be) also occasionally used for our microsites and their extras section, and looking into the future, we might also test the waters by creating special posters or unique collector edition artbooks. In a similar fashion, the skills of our colleagues are sometimes put to the test when creating original designs for T-Shirts dedicated to new map expansions.
There are currently 4 Concept Artists in SCS Software (2 for ATS, 2 for ETS2), and we have sat down with all of them in order to ask them a couple of personal questions about their responsibilities and their opinion on this specific position and working at SCS as a whole. Here is a summary of everything that they had to say from their perspective!
Annie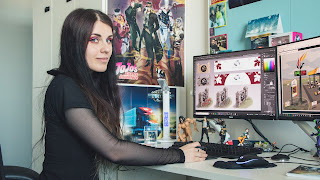 I was hired in January 2020. At the time I was the only 2D artist working in assets, so I was involved with both ATS and ETS2. The position was brand new, and eventually, with the ever-increasing amount of workload that has become too much for one person to handle, I moved to work on ATS exclusively. Apart from concept art for brands, props, and buildings for ATS, I am also sometimes involved with designing truck skins, vehicle looks, cosmetic items, and graphics for marketing purposes.
I've been involved in the development of Iberia, Colorado, Wyoming, Montana, and Texas and I've done work for the Austria and California reworks too. I've also designed many of the props in the ATS & ETS2 cabin accessories DLC. My favorite projects I've worked on have been fast-food chains for ATS, Cabin accessories props, and then… some things we haven't announced yet (smirk).
What I love about my job is the vast variety of tasks that come my way, as well as the freedom I am presented with. I also enjoy making our in-game world feel more real and connected - whenever I create a new brand, I always think about all the different ways we could incorporate it into our world. On the other hand, the most challenging thing about my job is when I have a deadline to meet but I am completely "bankrupt" creatively when it comes to my ideas and imagination.
When it comes to the software and hardware I use, I currently work in Adobe Photoshop and Adobe Illustrator. I also use a graphic tablet - in my case, a small Wacom Intuos Pro. Although, eventually, I'd like to expand my repertoire and slowly venture into the world of 3D modeling!

If there's something I want to suggest to someone who wants to work as a 2D artist for a company that at a first glance may seem like it's got no need for 2D artists, apply anyway. That's exactly how I got hired at SCS - I called HR, asked if they were looking for concept artists, told the company what I can do, and sent them my CV and portfolio. Even though I was initially told there was no such position open at SCS, I was contacted again 3 weeks later and invited to a job interview because a need for a 2D artist had just arisen.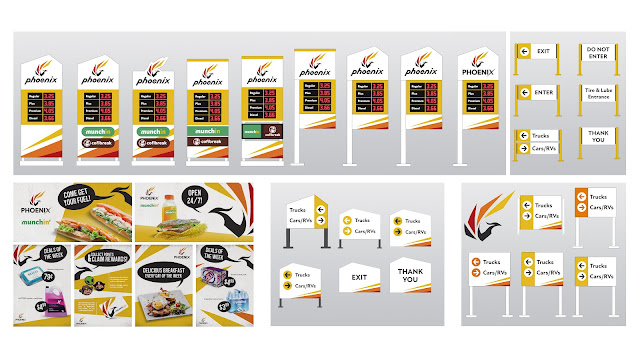 Adel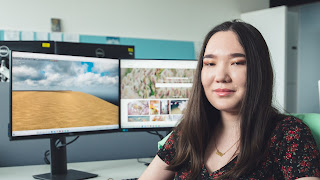 I was hired in January 2022 as a 2D Graphic Designer for ETS2.
Most of all I like the variety of tasks and complete freedom of the work process. Also, I love the fact that there is a variety of countries in ETS2, so every texture and art you design for a particular map DLC will be different from others because of cultural differences.
I like to imagine what this or that object could look like, but most of all I love the visualization process itself and the ability to use my creative side. I love the branding part, to imagine what colors would be used, how ads will be looking, and so on. The hardest part, interesting enough, is to imagine the concept itself.
The most important software for me is Adobe Photoshop, along with Adobe Illustrator. However, I can't imagine doing things without listening to Spotify at the same time! Regarding hardware, I am working on a PC, with Wacom Tablet and IPad.
For anyone interested in creating artworks or concept art, I would suggest trying and taking any chance to get a job in the field. You shouldn't give up if you want to work in the gaming industry.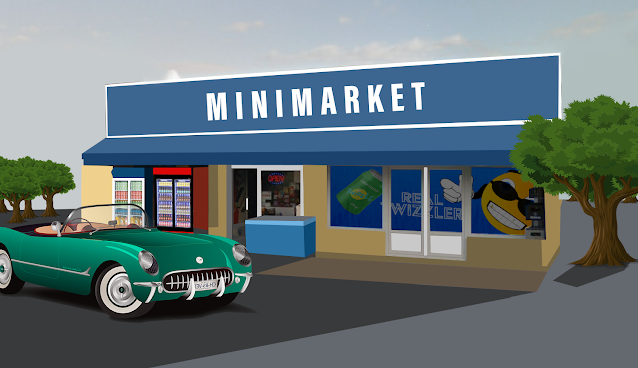 Petr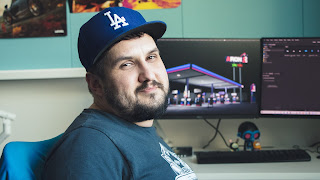 I came to SCS from another gaming company as a 3D Artist, but since I also have many years of experience with promotional graphics, I also help with 2D concepts and asset design. In addition to concept art, I also create assets for ATS, so I work on DLCs, such as Colorado, Wyoming, Montana, Texas, and other projects you can look forward to!
Working at SCS Software is a diverse, creative job, and I'm happy to have the opportunity to design anything new and translate my ideas into logo design, assets, etc. The most difficult thing, however, is being creative every single day.

In regards to software, I am using Adobe Photoshop for general work, and another software for vector and logo designs.
To anyone who is thinking about applying for this or a similar position, I'd advise them to not be afraid and try it. A good art concept is always appreciated, and having the opportunity to progress it to the final form in a project is absolutely invaluable.

I joined SCS in October 2021 and took over the work on ETS2 from Annie. My first tasks were dedicated mostly to the concept art of new companies and to the redesign of some older brands. With time, the job became more and more exciting. I got a chance to work on some concept art for gas stations, buses, trams, and also new company signs.

I particularly enjoy the variety of work. There are always different tasks and challenges. The best part of concept art for me is when you actually see your design in the game. It is no longer only a picture but it is something that will interact with our ETS2 world and be real in a way. The hardest part is always to find a balance between what I like, what is expected, and how things look in the real life.

At work, I use Adobe Photoshop, Adobe Illustrator, and our map editor to see how the texture looks with another object. I also work in Maya since I have some experience with 3D as well.

I applied for a 3D graphic position initially. Later on, our HR saw my 2D works, and then 2D graphic position was offered to me. So, I believe this is what you might have heard many times but it is true. If you want something, do it, just send your CV anyway or call a company. There is no crime in just asking and you never know, maybe this company is in need of you right now!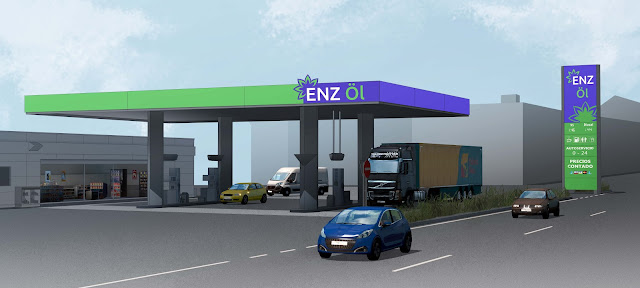 We'd like to thank you all very much for reading this massive article. We hope it was interesting for you to find out more about how things are done behind the scenes, or, pardon us, under the hood. We know you love these pieces of the in-game worlds and we will do our best so you can see more new brands, fast-food chains, advertisement assets within the game, new gas stations, companies, and much more in the future!


We reserve the right to change, adjust, use, or don't use at all any of the images shown and presented within this article. Most of them are meant and used as inspirational or illustrative assets during the process of development of our games and DLCs, but not as a promise of future content.