After seven months of development, I am very proud to announce the release of Ultima Ratio Regum v0.3! You can read a lot more about it and download it at this link.
The focus of this release is in ziggurats, which look like this, and are the first source of actual gameplay (at last)!: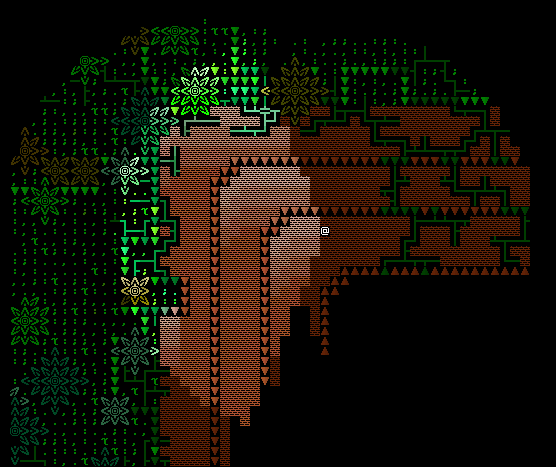 The major new features of this release are as follows:
- 16 hand-drawn languages, assigned to ancient civilizations.
- Ziggurats, containing fully three-dimensional dungeons (multiple staircases which retain coordinates between floors).
- Procedural generation of riddle puzzles in ziggurats.
- Extensive graphical update for many items, accessible through the 'l'ook function - stairs, doors, walls, stone blocks.
- Several secret items and hints towards future features and story.
- Over 100 tweaks, bug-fixes, and general improvements.
These puzzles in particular are, I will warn you all in advance, pretty fiendish at the higher levels. I hope everyone enjoys this update and I'd love any and all feedback on the art, controls, mechanics, puzzle difficulty; anything and everything. Version 0.4 is planned for later this year, and will be developing new gameplay mechanics, primarily traps, limbs and health systems. Until then you can keep up to date on my devblog, Facebook page, or Twitter feed. The devblog is updated weekly or fortnightly generally on Mondays, Facebook a few times a week, and the Twitter roughly daily.