To finish with the Ui animations that we showed last week , we have the animation that is going to be presented in the heads-up display when both the collectibles have been collected.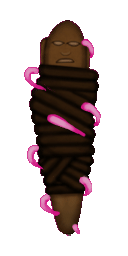 Also we have fnalized the look of all the menu options, in the inicial menu the player can either start to play, see the controls or quit the game. For this menu we decided to make a background with some of the game assets , in a way to set the mood for the game and reutilize assets, here we also added the game logo and our names in the bottom. To choose the options we added a simple glow to the option that is being choosen. You can see how we went about the design of all this options in the images below.
Once the game starts , to come back to menu we have a pause menu, with basicly the same options. Either continue playing where you left off, see the controls or go back to the inicial menu. For this menu we decided to only add some darkness to the screen present when pressing the pause botton, also we added a pop-up window to when the player decides going back to the inicial menu, because all progress will be lost when doing this.
Thank you for Reading and be sure to check on more updates next week.
Follow us on Instagram: Instagram.com