A general improvement update to Turnover has just been pushed to Steam.
Changelog: Steamcommunity.com
Easy Mode: Extra Health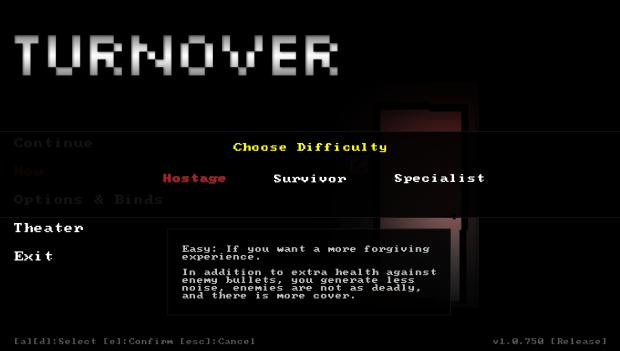 A big change in this update is that in Easy Mode, the player now gets one extra hit from enemies. This puts more even more space between the easy and normal difficulties.
If the player is hit, they will become temporarily invincible to give them an opportunity to escape a combat situation. What remains unchanged is that Attack Dogs and fire still drain stamina to death. Also, turret shots (both bullet and rockets) are instant death, regardless of health or temporary invincibility.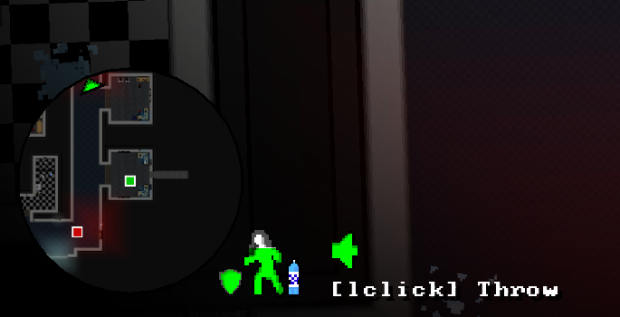 The HUD now displays a shield indicator to keep the player alerted on their extra hit. I also repositioned the HUD status cluster so things are a little better aligned.
I've improved context hinting when the player has a follower. This means if there is an action you can perform with a follower (call, halt, aim, etc.), the HUD will update to keep you in the know.
Followers: Less Delay and Better Timing
The time it takes for followers to perform actions and be interacted with has been reduced. The player can now call, dismiss, and halt followers much faster. Also, Workers take a shorter amount of time to hack Security Servers and their run speed has been increased slightly.
Minimap Improvement: Better Alert Status
The red alert outline around the minimap will now fade out as the enemy alert status runs out. This will give the player a better indicator of when enemies will go back to their standard patrol state.
New Game Project
So, what's going on behind the scenes with my new game? A lot, actually.
Originally, I had a fairly large (and intimidating) game planned. A design document was created, the world flow planned, and the base of everything else started. As I began prototyping things, I slowly began to realize that I was biting off a little more than I can chew. Coming off a long development cycle with Turnover (as a one man developer), I think I was being a little too ambitious.
So, I took a little time off to brainstorm and develop another game idea that I had. Funny enough, this project is slightly larger in scope than the one I ditched, but not as ambitious and should be something that is more in my wheelhouse. As things develop, I'll post more about what I've been working on.