Turnover's beta testing period is now over.
As noted in your individual beta key emails, as well as previous blog posts, beta testers who have given reasonable feedback until now will keep their key for release. Those testers can continue giving feedback on the release candidate builds if they desire.
Thank you beta testers for all of your feedback!!!
Turnover has been in beta since June, which makes for roughly 5 months of testing. Not bad at all. An absolute ton of stuff has been added, fixed, and addressed since the very first beta.
July's Beta #2 brought the Linux & Mac builds for testing, HUD hints, and achievements. September's Beta #3 brought a complete sound remix, the title track, an entire game rebalance, and numerous usability and bug fixes. The weekly builds that followed included new lighting effects, bug fixes, more decoration, sounds, polish, and more. Turnover has grown by leaps and bounds.
Release Candidate 1
Release Candidate 1 has been pushed to Steam for testers to check out. From here, I'll polish Turnover and prepare the game for release.
Changelog: Steamcommunity.com
For the last few builds, aside from game balancing, bug fixes, and visual improvements, there have been a lot of usability changes that make the game more user friendly. This comes in the way of HUD hints, tips, alerts, etc.
Here are a couple that made it into RC 1.
Danger Arrows: Now, when enemies are off screen but nearby, some red danger arrows will pop up in the minimap to inform the player that there is danger nearby. Helps alleviate problems with enemies coming up on the player from seemingly no where.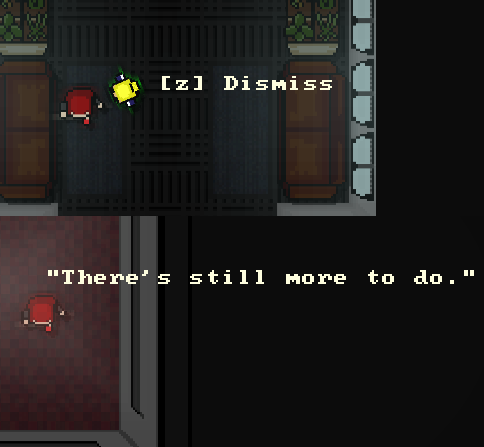 More Context Hints: Added a few more context hints, mostly related to actions with NPCs and objective alerts, just to give some more information to the player.
Next
By the end of November, I should be announcing the release date for Turnover. After that, it'll be sending out press, review, and "Let's Play" keys. I'll have more information on how to obtain a press key around that time.
Be sure to visit Turnover on Steam and add it to your wishlist!