Enemy Interaction
Been spending some time adding more systems into the engine so I can do the things I would like to do.
I rewrote how vision is handled by the enemies in the game. Instead of vision and line of sight being tied specifically to the player, enemies' vision has been pushed to the collision system and can now interact with the entire world. I figured that there would be a greater need for better interaction between the world and the enemies so I just bit the bullet and did the work.
One thing I added in is the ability for enemies to become startled by the presence of dead comrades. So, if an enemy was shot down by a rogue Security Turret, a patrolling enemy will become alarmed by the presence of his dead friend. This complements things that are already implemented, such as cameras alerting guards, attack dog barks alerting nearby guards, etc... In time, more interactions will emerge, I'm sure.
Composite
The majority of my time recently has been spent creating a mini-version of the game which I'm calling the game composite. I'm working on 5 levels that will be a solid representation of what the gameplay will be like. When this is finished, I'm going to test it and give it to others to test so I can see if things are turning out alright. I have been using these 5 levels as the sandbox for testing different gameplay scenarios, move speeds, HUD changes, and anything else that will add to the game.
At this point, the game feels good. The 5 levels are an introduction, but are challenging enough to be fun. Setting up a composite has really kept me focused on the game project as a whole and has prevented me from becoming overwhelmed by everything. I just recently completed a game flow document that contains the level setup and game beats.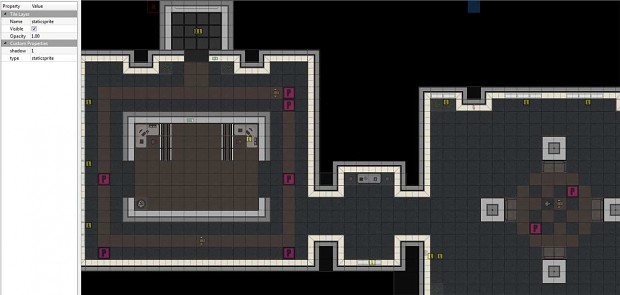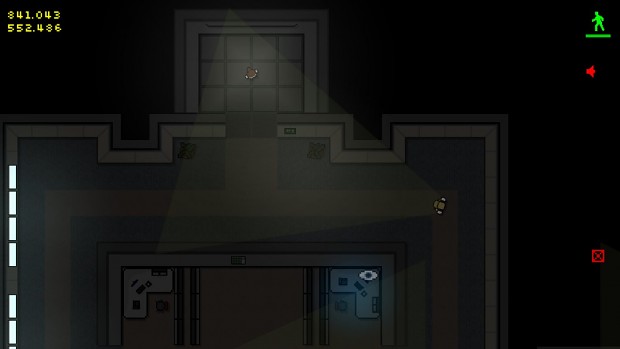 Here's a shot of what a level looks like in the Tiled editor and the result in-game. Just thought someone out there might find it interesting.
I create the worlds inside Tiled and export them as .json files. I wrote a parser for my engine that will read all of the resource data and properties from the .json, then load the the level so it is ready to go. i'm really proud of how this all turned out.