Build 645 was pushed recently to Steam beta testers. You can check out the change log here: Steamcommunity.com
Bug fixes aside, here are some notable things that made it into the latest build.
Mini Map Blips & Pickup Hint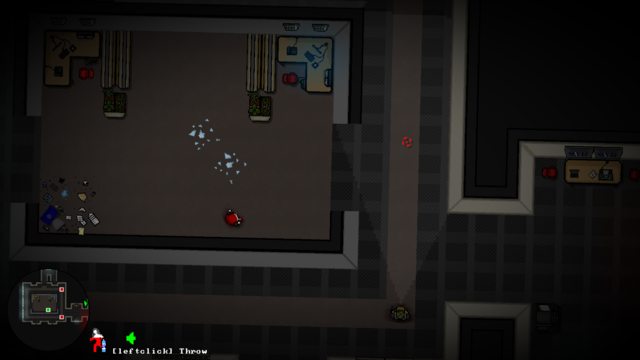 Minimap - lower left corner: I've resized the minimap blips and also added a border around them so they are easier to see. A tester requested that I also add the player's blip to the minimap. It was a good idea, because it acts like a minimap way point, making it easier to compare it to the surrounding area.
Lower left corner, next to the pickup icon and under the noise gauge: I added a little HUD hint to remind you of your key bind when you are holding a usable object.
Signs of Struggle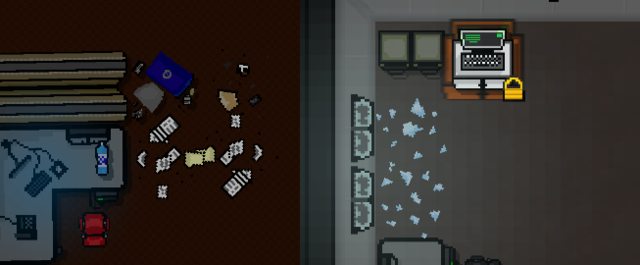 As suggested by a beta tester, I went around the levels and increased the signs of struggle. The chaos of the raid would leave some (more) things in disarray, so this addition was a great suggestion.
Modified Enemy Sight Code
The ability for enemies to see & hear correctly is a major part of Turnover. In the game, you are sneaking around, attempting to avoid detection.
One piece of feedback that I received from a handful of testers is the accuracy of enemy sight. They reported that sometimes enemies would be "too good" when it comes to them catching you on a sweep (turning quickly) or at corners.
Originally, Turnover used an very accurate single ray cast check. This gave enemies nearly pin point accuracy when it came to spotting trouble. While technically it is a good system, feedback suggested that it was an issue from a gameplay standpoint. For build 645, I rewrote a portion of sight checking.
Enemies are still pretty accurate up close, but as the player gets farther away from the enemies POV, enemies will now need to see more of the player before they are alerted. I didn't go too crazy with the change, but it is enough to "dummy up" the enemies a little.
As with most of my changes, my aim is to keep the game challenging while removing frustrating elements.
Testers: Beta Ends Nov. 2nd.
There are still a number of beta testers who been requested and been given Steam keys but have not yet returned feedback on their experience with Turnover. As noted in Turnover's beta info thread on Steam, the beta test ends on November 2nd. Any remaining builds after that date will be Release Candidates and I will add the rest of the testers to the credits.
Feedback must be received by that time if you would like to continue testing RC builds leading up to release, as well as keep your key for release as a thank you. After Nov. 2nd, I will begin revoking keys of the inactive testers.
Also, huge shout out to the testers who have sent in feedback already. You have all been an immense help!