Beta Stage - Activate!
Everything is going according to plan. Just the other day Detective Case was merely a bunch of pixels and Clown Bot a paragraph in a presentation document. Reaching beta stage doesn't mean that the game is ready, but we are getting there. Content is all in place but can still be improved and changed. The game is also ready to be shown and tested in public.
It also means that the press can start receiving some demo versions and we can go to some events to show our baby.
There won't be a public beta version because such a thing is not necessary. The game is not that complex that it needs thousands of people to play it. We will however do some tests with restricted groups, colleagues and friends to search for those nasty hidden bugs and do test runs on different computers and OSs.
To request your beta build for a preview article, please contact us here on IndieDB or on Desura stating where is it for and the first and last name of who will be reviewing it. We'll get back to you as soon as possible. You can also contact us directly on Facebook or through our website.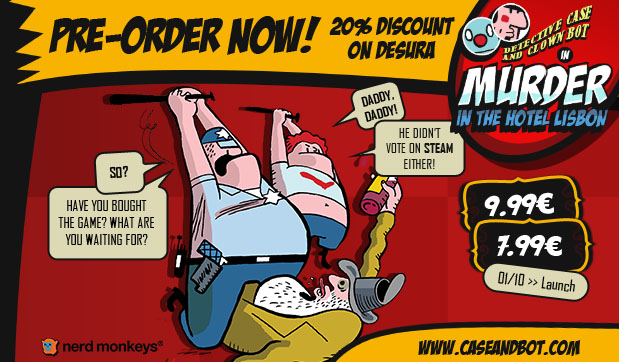 GreenLight Status
As for Greenlight, we are slowly climbing up the burocratic ladder of yes and no votes.
We are almost at 40% on our way to the top 100 with 4.000 YES votes.
International Trailer - Youtu.be
Desura store - indiedb.com
Awesome wallpaper - indiedb.com
Steam Greenlight - Steamcommunity.com
Official website - www.caseandbot.com
Passion, humor, mystery, horror and drama!
An adventure videogame for Windows, Mac and Linux.