I am proud to present another 4 months of effort into improving and expanding TripleA, by releasing to you the newest stable version 1.6.1.4
Besides a load of small bug fixes, I have been working on some major new features:
1. Support for new and totally different Map Skins.
This includes a skin I made for Global 1940 that looks just like ABattlemap!
2. A new Map Creator is being included with TripleA.
The map maker now has a full tutorial for how to make a Map Skin, along with improved instructions for each step of the way.
3. Added a new "Tab" to the right side of the screen, called Objectives Tab.
The objectives tab will display all National Objectives and other condition based things. You will have to update your maps to see the feature, and not all maps have the text file that displays this tab (though it is easy to make the text file for it, so bug the map maker if your favorite map doesn't have it).
4. New keyboard shortcuts:
Press "I" to show a popup containing info on whatever unit or territory your mouse is currently hovering over.
Press "N" during combat-move or non-combat-move phases to cycle to the next territory containing units that have movement left (you should never have to forget about that Russian submarine now!).
Press "WASD" or the Arrow Keys, to move around the map.
5. Added support for "UPnP" (universal plug and play) on Routers.
This means that if your router supports UPNP, triplea will automatically do port forwarding for you (online games).
Should make it a lot easier to host games live online.
6. Support for custom Sounds, and tons of new Sounds added!
Sounds can now be customized per map, so that you can have horses galloping for blitzing a territory in Napoleonic Empires, and tank movements for blitzing a territory in any ww2 game.
A ton more "sound locations" added, meaning more places for sounds to be played. And a lot more sounds added to the engine (like sounds for air battles, etc).
7. Lots more, see a full list of the changes here: Tripleadev.1671093.n2.nabble.com
I'm pretty excited about this update, especially the new sounds.
Remember to support TripleA if you enjoy playing on it. Out donation page is here:
Sourceforge.net
First picture shows how to change map skins: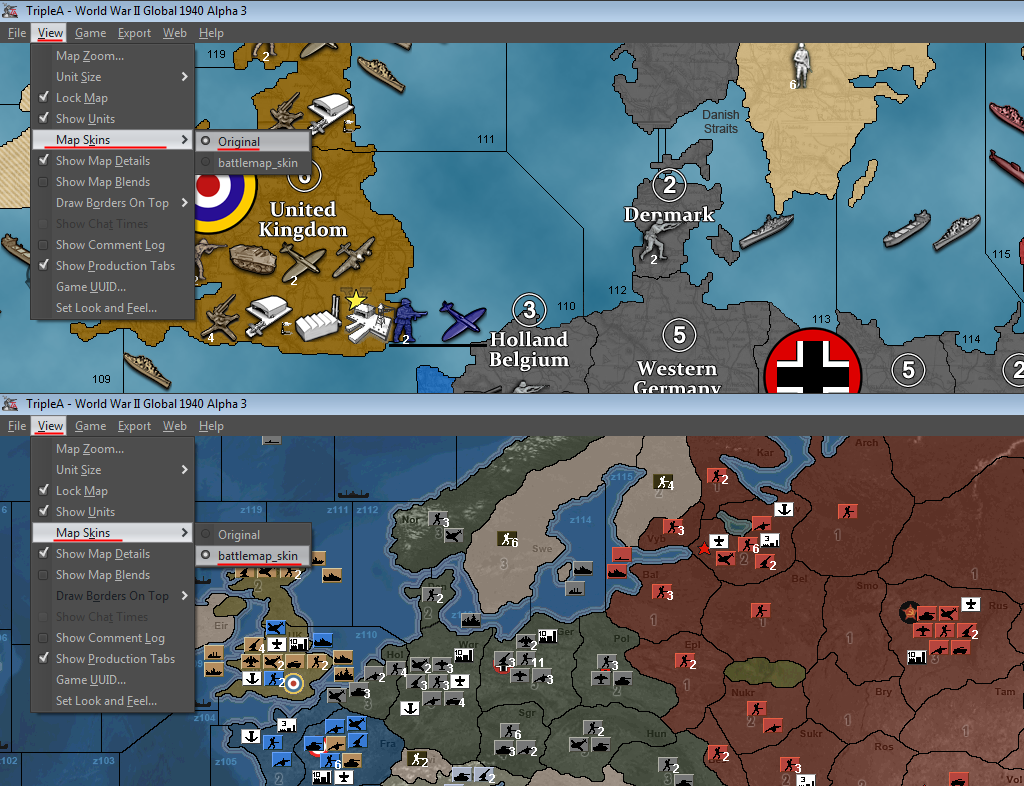 Click the "View" menu.
Then click "Map Skins"
Then select which skin you want to use.
It will only show you which skins you have downloaded, so you must download skins for this to work. They are downloaded the same way as new maps are. (See this link for a video of how to download a map: Indiedb.com )
The second picture attached below shows off 3 things:
1. The new Map Skin for ABattleMap style Axis and Allies Global 1940 2nd Edition online on TripleA.
2. The new Objectives tab (visible on the right side) showing you which objectives are currently met, etc.
3. The new "Info" popup. My mouse was over the Infantry in Somaliland, so the popup is showing info about infantry, and about Somaliland.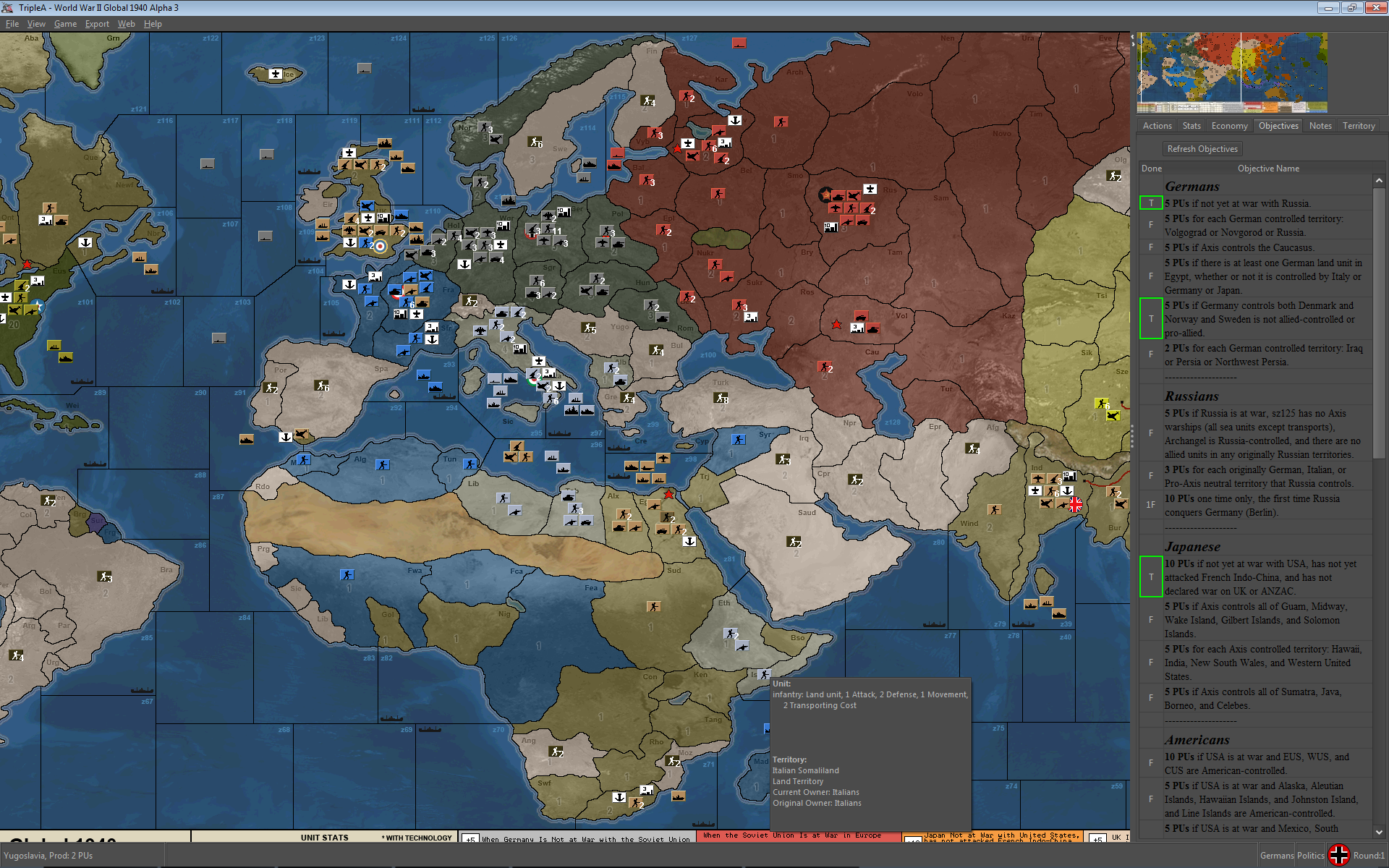 enjoy!