The game is releasing on Steam on the 23rd August, here's the launch trailer!
It's only 3 days away, so this will probably be the final Beta and pretty much what the Release version will look like. There's actually quite a significant change to the endgame in this version.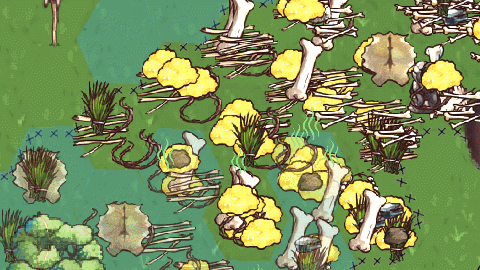 Raw materials all have bacterial decay now. The decay is slow and varies depending on the environmental conditions and material type. This encourages the player to craft and build higher tier objects which don't suffer from the same level of decay.
I've also added a pregnancy/nomad modifier to avoid the cases where lots of Pokians die but you get new ones almost immediately because of a high prosperity. Now if you get a death, there is a reduction in the probability of pregnancy/nomads appearing. This reduction disappears over time. I was actually surprised by how often people died in player's games. I guess testing the game for hundreds of hours means I know it too well!
Lastly, the steam trading cards are done and the theme is animals! Here's a look at the bear trading card:
And here's the full list of changes for Beta 22:
Features
New version releases will no longer overwrite user config changes on Steam

Gameplay
Slightly increased chance of water evaporation
Reimplemented puddles on game start so there is water present
Added bacterial decay for many raw materials
Added large water decay for dyes
Changed decay effect to show up based on how fast object is decaying
Increased default average foreign tribe starting prosperity
Added modifier for pregnancy and nomads chance based on recent deaths

Bug Fixes
Fixed priority task extract not listing whether ground or object
Made destroying building from query panel and extract button do the same thing
Fixed oversized buildings not disappearing completely when destroyed
Removed redundant destroy building task
Fixed Pokian trying to enter a building that has been destroyed getting stuck
Added check for geovapour being too large and causing endless rain