The nuclear apocalypse has come, so it's time to kick some pixelated asses
"Trespassers" is all about that frantic pace that was on all 90s co-op arcade games. Those that made you yell at your friend or brother "WATCH OUT! DODGE THAT! SHOOT SHOOT SHOOT!!!". You know you love the formula, so keep an eye on this game, because it's gonna kick some ass.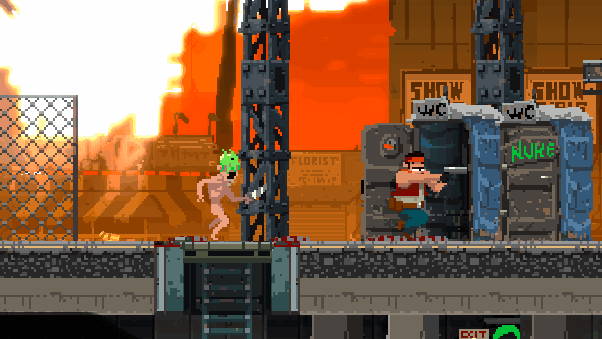 Features
Explore a huge city ravaged by mutants. 3 districts which their own theme, unique missions and challenging final boss!
Fight a wide range of enemy types, each one with its own behavior and skills.
Pack yourself with all kinds of weapons and grenades. Nothing is enough when it comes to stop the nuclear apocalypse
Experience freedom while deciding if getting the shortest path to the final bosses or beating all the missions available in each district
Uncover the secrets behind the nuclear apocalypse by unlocking different endings.
Choose wisely when leveling up: there's a ton of different upgrades that will prize different kinds of playing style
Go alone or join forces with a friend*: solo and co-op mode.
All this wrapped with some neat pixel art
You can find the game on Steam Greenlight, and it is expected to be released on Q1 of 2016.
*: friend isn't included with the game
Greenlight: Steamcommunity.com