TIME LORDS

Introducing the new 'Time Lords' game mode. A new team based game mode in Protonwar.


In this mode each character spawns with the default Melee weapon, and the Time Dilation Gun!
The time dilation gun, when fired at an enemy will slow down the enemy movement time, this lasts for 30 seconds, then the time is returned to normal for the enemy.
When fired at a team member, it will reset their time to normal mode.

When a character is in time dilation mode they cannot fire any weapons, or take any damage. But they can pickup items.

When every member on the team is in time dilation mode the time speeds up by 60 seconds, and the team with the least time dilated characters gets given points. Each character is reset to normal time and given 10 seconds of protection against further time dilation. This will keep going until the round remaining time runs out!
Default settings are 4 rounds, with a max time limit of 5 minutes each. (rules customisable, and to be decided)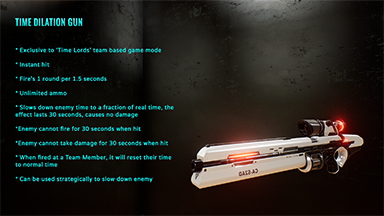 Game mode is obviously in testing stages, and is subject to change, but so far it is VERY fun :)