Hi everybody!
Well, we survived Vaasa game Days, a local gaming event in Vaasa, Finland.
We made our stand (literally) in the Indie area. The Indie developer area had a great vibe going, and we got quite a few testers a taste of Thy Sword! As well as feedback from other devs, thanx guys.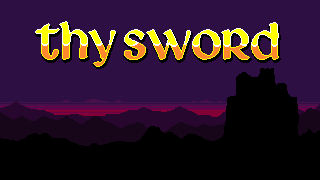 Updates:
We adjusted the screen resolution, currently at 240x135. That low indeed. Somehow it works better.
More focus on the action and the characters in our opinion. Working hard on the level layouts and the level types. The inclusion of a overhead world map coming up hopefully (Moonstone anyone?)
The Title screen now scrolls down to the proper menu. Here you can train your barbarian hero in some sword action and some archery practice. Then you enter the gate to the far right to start your adventure.
This could be a good way to show the mechanics without forcing a playthrough tutorial, what do you guys think?
The game is reaching the stage of a demo / playabel prototype. Some adjustments are still needed for the level generation and the monster spawning.
Stay sharp!
Team GamePhase
/Excited.