It's been some time since we announced our game, but what remains semi-undisclosed to this point is what kind of game it is and how do you play it.
To answer it, we need to lay some back story. A back story about differences in people. In us two, more specifically. While we are both huge fans of sci-fi games we are also sitting on different planets when it comes to our favorite game genres. So how is it even possible us two to even sit together and lay a concept that will not only make us both happy, but will also captivate others' hearts and minds?
The key here lies in a philosophical conclusion of my own based on analysis of certain events in my life. And it sounds like this:
Differences in people can only lead to enrichment and enlightment, while similarities tend to put critical thinking to sleep.
Outer Space Exiles started as a very vague concept in December. Smas wanted to make a game and needed someone to take care of design part. Being fascinated by games for my entire life and trying to get involved into this for so long, I immediately jumped on the train, as we have had many, many talks about games and gaming in the past two years since we know each other. And so it began.
First thing to clear was if we go 2D or 3D. We decided to roll heavy and chose 3D.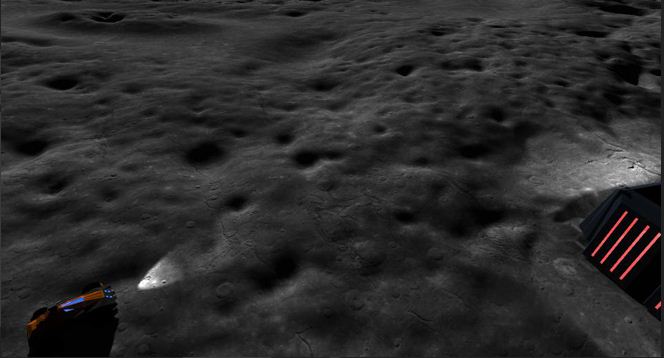 Then we started working on our concept.
You will have a limited number of colonists. Each and every one of them with their own personality, abilities and mind. That's right, every single colonist has their own identity that determines their life path, decisions and behavior. No two colonists are ever the same. And since they are so complex and basically the core of gameplay, they also interact and communicate with each other!
You will also have several shops, where you can produce weapons, shields, medkits and even vehicles for your colonists. The workers and troops in your colony will work on contracts you assign them, like patrolling an area or attacking enemies with a bounty and then purchase items available in the shops with the money they earned.

And here we come to your role in all this. Your job is to supply the colony and colonists with everything they need – blueprints, weapons, items, vehicles, drugs, anything. If you do this properly, your colony will prosper and withstand just about anything. If not, well, there are many different scenarios for the end of your colony. I hope you won't take this lightly, as in reality keeping the colony in order won't be as easy, plain and straightforward as it might sound. You need to take good care of your colonists since you don't want the loyal and developed part of them to die because they are poorly equipped or leave your colony because you fail to meet their demands.
To wrap it up. The answer to the opening question sounds like this: Outer Space Exiles is one of a kind mixture of economic simulation, RTS and RPG done in 3D, set in a sci-fi environment, backed with unique graphics and captivating back story, where you play the bad guys. And since we have no clear clue how and where it classifies, we also tend to call it genre-defining saga. That's what it is to us at the very least.
Visit us on our Website for more information: www.fatpenguingames.com
Or visit our blog at www.fatpenguingames.com/blog