Welcome to this week's indie gaming news roundup, which highlights the five biggest stories on IndieDB for the past week. Whether it's a new game release, crowdfunding campaigns for games in development or important news that affect the indie gaming scene as a whole, you'll find them rounded up here each week!
---
---
The strategy rogue-lite game about creating the ultimate legion through the unique concept of your conscious being attached to heroes from different regions and countries as you accompany them on adventures, has released into early access.
Your most powerful weapon is your ability to communicate with every creature in the world, including hero or monster. Build your might army up to take on great enemies and explore a variety of countries with distinct cultures and history.
---
The first person mystery horror story driven game Alan Sharp has been announced and is coming to Windows, Max and Linux. Get into the shoes of Alan Sharp, a private detective in the 1970s, retired and shattered due to the murder of a beloved one. He'll need all his wits though as he takes on a new case in a small town where a boy has been butchered and the parents are missing.
Focused on exploration, survival, puzzles and open world investigations, Alan Sharp is inspired by various psychological horror games and aims to provide a chilling atmosphere for players to experience.
---
The single player first person shooter score attack game All Day Dying has been announced to release on December 5th on PC. Not featuring a story the game is focused on skills and tight gameplay, as you complete goals in timed challenges while attempting to create the highest score.
---
The single player first person shooter VR game Into The Radius that blends Eldtrich horror in a post-apocalyptic ex-soviet setting has released into early access. A story driven game with open world hardcore gameplay and realistic gunplay, Into The Radius is an interesting mix of genres and themes that VR owners should be checking out.
---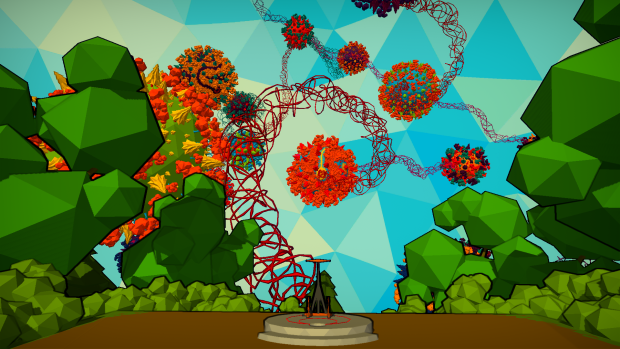 The puzzle driven game set around a treasure hunt across a planetary system has been revealed. Set across colorful tiny planets, you'll need to search through mysterious vines, mazes and forests as part of the mysterious treasure hunt. Planet Realm has been in development for over four years already and although doesn't have a release date, you can play it now with the new demo currently available on IndieDB.
---
That's it for this week's IndieDB news roundup! Be sure to follow, play and review any of the games that took your fancy in this week's feature and let us know in the comments what you've been playing. If you want to send us a news tip about any important indie news you think we should be covering or awesome games that should be featured, let us know.