Another week passes by in our endless Okhlos development cycle, and that means another devblog update with a few insights into our process. Mostly with examples about how NOT to do something.
This week, we bring you a subject that is still changing a lot. That is Persistent Heroes.
Types of persistent heroes
In Okhlos, you have two types of persistent heroes: Philosopher heroes and Basic persistent heroes. The basic persistent heroes will behave as regular heroes (that means that if they die, they will revive at the next world), except that, once you've unlocked them, you can choose to start each session with them. The philosopher heroes are the ones you control directly, and they replace your current mob leader.
Why we put them?
Okhlos is a roguelike-like game, so each time you lose, you have to start over from the first world. We liked that feeling, but we wanted also to have a feeling of progress, besides how good you get with any particular mechanics. In this fashion, we wanted to have some bonuses you can get at the start of each run. Persistent heroes accomplish this, but they are also proving to be very difficult to balance.
Also, we wanted some type of mob management. We always felt that adding too much management to the mob would be counterintuitive, because the mob should be more of an organic thing. The good thing about this, is that you only have to do it when you start the game, not in-game.
This is the main reason we created the Agora, which is a hub where you select these heroes (and also where you can do a few more things ;P).
The Agora always felt right as a pre-game phase. The camera is zoomed in during this part because we wanted to make a clear distinction between the action phase and this section. (Also, I wanted to show off the character sprites). Additionally, we had to remove some hud elements that had no use at that moment.
The Agora is a very small section, and that's intentional, because we felt the movement between options should be as quick as possible!

Why add persistent philosophers?
That's a good question! Thanks!
Originally, we had lots of cool philosophers in the game. That was always the idea. You start playing, and suddenly find Aristotle. So, Aristotle will join your mob, and he will give you a particular bonus. If the philosopher you were using is killed, you will start using Aristotle. Because of that, we had to make tons of new animations for all of this special philosopher heroes.
Each unit has a common set of animations, but the units you control, have a lot more, like running AND commanding to attack. Or commanding to disperse. So each philosopher we add to the game, turns out to be very time consuming.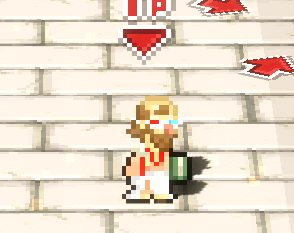 Lets continue with the previous example. Suppose you are still controlling Aristotle, and you find/buy Plato. Now you have two philosopher heroes in your mob, each one with their particular bonus. And if Aristotle dies, you will start controlling Plato, but Aristotle will revive in the next world. So you can have a lot of philosopher heroes in your mob.
We changed all of that, and we made that you can only have one philosopher hero on your mob. And you select it at the start. I particularly liked the idea of choosing your avatar in the game (a decision that can last seconds). It made sense that you could choose which type of bonuses (sometimes with a trade off) you'd want to start with.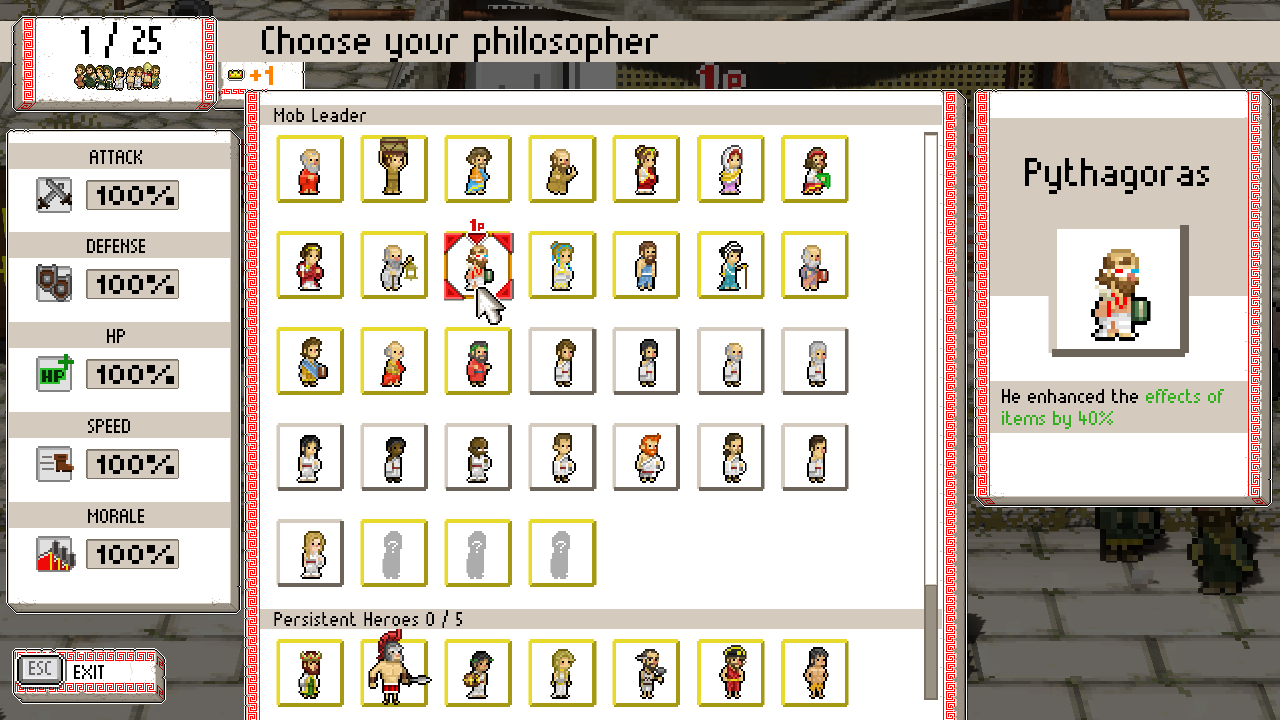 We are still tweaking lots of things in order to achieve that each philosopher encourages a different play style. We currently have 20 philosophers in game.

How many can you take to a new run?
For starters, we wanted to have a lot of persistent heroes, so we set up like fifteen of them. The cool thing about having a bunch of them is that it adds lots of replayability to the game. Each hero has a unique unlock condition, so unlocking them all is a huge achievement.
The problem that comes with that is that if you've unlocked every persistent hero, and you take all of them to a new run, the game will be stupidly easy. Also, because of the management side of things, why wouldn't you grab all the heroes you have at your disposal? If you've unlocked ten, you would want to take the ten of them to the game.
So we designed a few rules for the persistent heroes window. When you start the game, you will have no persistent heroes. Once you start unlocking them you will be able to take up to three to a new run.
The more persistent heroes you unlocked, the amount of heroes you will be able to take to a new run will increase. Currently, we have seventeen heroes and if you unlocked them all, you will be able to take up to five to a new run.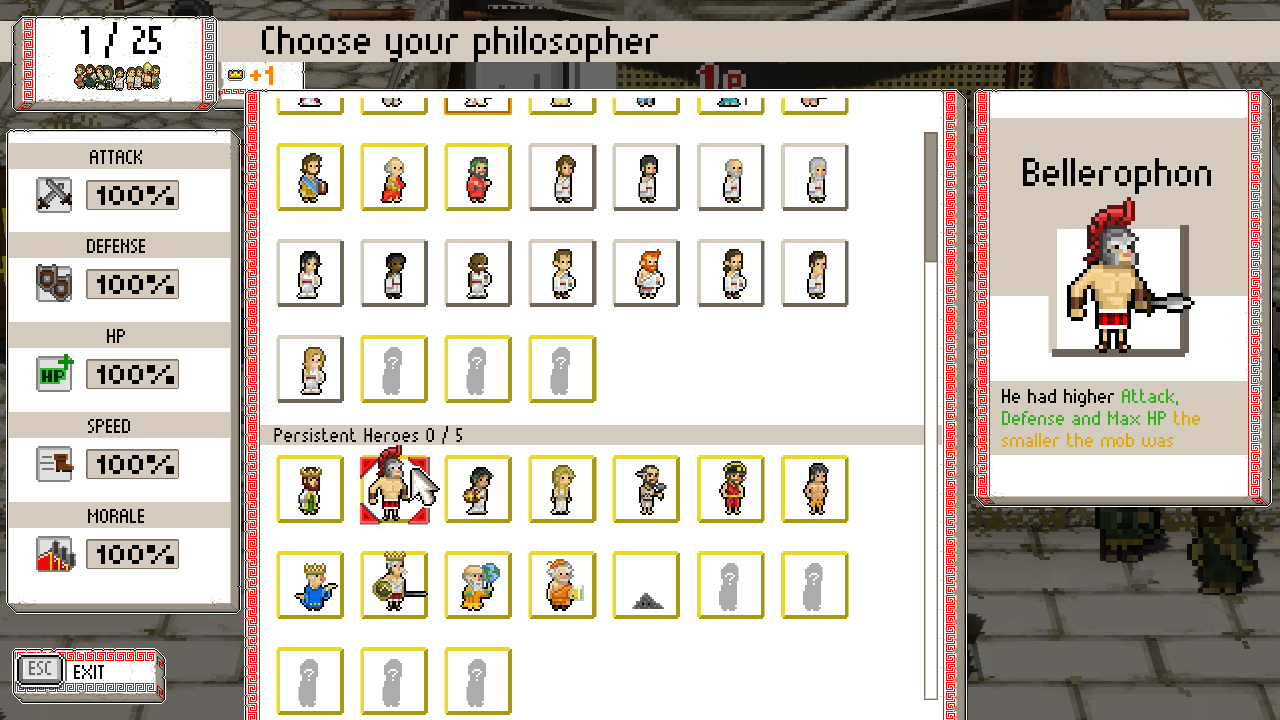 Unlock conditions
We set up the unlock conditions so that the player would spend some time unlocking the characters. We think that we might've put things a little to easy. We find that we unlock a lot of them in the testing runs, so we might tweak the numbers a little more.
We have weird conditions, like finishing the game without Socrates dying once (you may guess what are you unlocking with that) and more traditional unlocks, like defeating a certain amount of gods.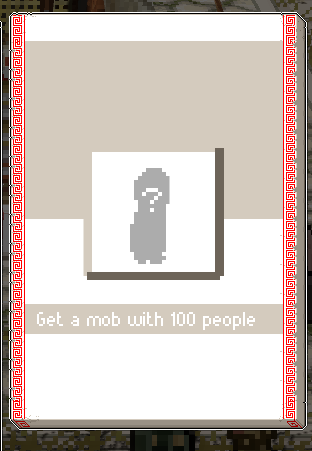 We found that it was difficult to communicate the player that they had unlocked something. Should we interrupt the gameplay session to let them know? Wait till the end of the session? We decided to communicate it via an unlock window that shows up after you died or won the game. It would not interrupt the session, but it had some problems.
Suppose you meet the unlock criteria, but you quit the game before losing or wining? When will you be notified of the unlock? If you continue your run, no problem, because it will show up when you lose or win, but if you select New Game, you will lose your last session's progress.
We decided that we would just unlock the heroes when the unlock condition is met, and we would notify the unlock next time the user loses. If players do something weird like quitting the current game and starting a new one, they will miss the screen, but they will have the heroes unlocked nonetheless.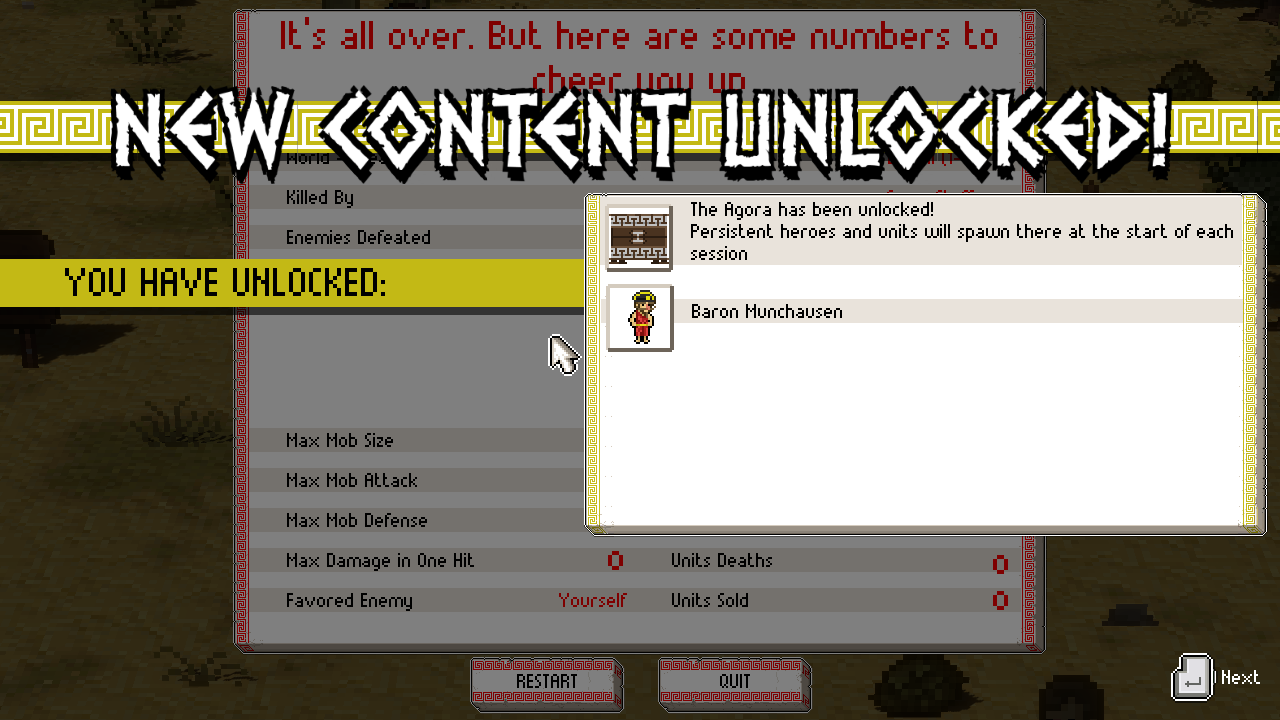 Also, we decided that instead of placing the unlocks in the win/lose screen, we would just place a new window on top of that.
Balance
We are still working the balance issues. Like getting too powerful too soon, or some of the unlock conditions being too easy. We ran a test with a company that works with Devolver for playtesting, and we were able to secure some ideas, but it's clear that we still have a lot of work to do. However, all of these issues might be connected to some overall and ability changes we are planning for all heroes, not just persistent ones, so it might be more complicated than just adjusting the unlock conditions.
Interesting times…