1. MAIN IDEA OF STAGE 1

Stage 1 is simple - an evil cult is attacking your village and you have to massacre them. Your village is on the left side and all enemies will be coming from the right, and that's about it. There won't be any platforming challenges, just a massacre of these enemies. So that's what I'll be showing you.
2. DISMEMBERMENT DEATHS

As you can see these enemies are total pushovers. They all die with one hit and are pretty easy. That's because it's stage 1 and I want it to be easy to emphasize the power of the whip. Every hit results in dismemberment, every body part is interactive after death.
3. THE 3 WAYS TO KILL
Torso Death - this one is very straightforward. Torso flies out, the rest of the limbs follow.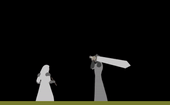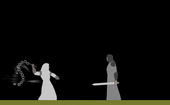 Head Death - this one is inspired by GTA (PS2 era). You can play around with the head after that.

Legs Death - inspired by Star Wars Episode 3, the enemy is still alive after they lose the legs. They try to move, but after awhile they will die. You can hit them again while still alive sparing them the misery.


And that is all I was able to do. Stage 1 is still far from complete. I need to:
make a crossbow for the enemy, because I want them to have a ranged attack
I need to develop the attacks of the enemy
I need to develop the health/damage system for the player
graphics and sound for the stage
Thank you for your time!