Our Facebook page has been crying all day from neglect. I looked over it and realized... IT HAS NO COVER PHOTO.
It's sooooooooo naked....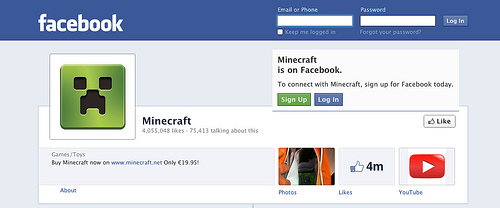 Every month we are going to ask for custom made cover photos. We will choose one to be featured on the Minecraft Facebook page each month. The bottom of the photo will let everyone know who created the artwork.
The theme for July is Minecraft Summer Picnic!
Make sure to do custom artwork if you want to be considered.
How to Submit:
- Go to the new Hej Mojang Submission page.
- On the right hand side click the "Submit Photo" link.
- Photo MUST be 851 pixels by 315 pixels (the cover photo dimensions)
- Make sure to include your email address and name.
- In the text area – write what name you would like to be displayed on the artwork if yours is chosen. You can include one link to either your twitter account, youtube, FB, etc.
- You have until Tuesday, July 10th @ 11am EST.
PLEASE DO NOT SUBMIT SCREENSHOTS. This MUST be original artwork with the theme Minecraft Summer Picnic!
A winner will be chosen based on creativity, sticking with the theme, and overall awesomeness!
For those of you who aren't artists, don't worry there will be different non-artsy things coming up in the near future!
Working on a fun video for next week's chunk.
Have a great day!
Lydia