Hello,
Sometimes it's hard to judge a game from few minutes of play. Here comes some help. Take note!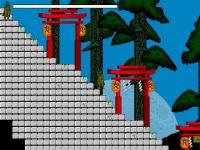 Q: How many worlds in the game?
A: Seven, with forests, deserts, eternal snows.. a lot to explore.
Q: How many levels?
A: It's hard to list.. including all building interiors, more than 200.
Q: How many enemies?
A: More than 30.
Q: How many bosses?
A: 5 huge, menacing bosses!
Q: How many weapons?
A: 5 kinds of swords,5 kinds of bows/arrows.
Q: How many upgrades?
A: 20 life upgrades hidden around the 7 lands!
Q: How many...bits?
A: Looks like an 8 bit on steroids!
Q: How many hours of gameplay?
A: I've made some playthroughs in 12-15 hours. Having to find your way, at max difficulty, clearing all secrets and bonuses.. much more.
Q: How many.. dimensions?
A: It's all 2D baby!
Q: How many difficulty levels?
A: 3: from the hard core one called "1986" to the challenging but fair "1994" to the casual "2014"
Q: How many people in the team?
A: One. me. And a freelance musician.
Q: How many years in the making?
A: 4,5 years, and counting.
Q: How long to have it finished?
A: not much, see you at the beginning of 2014!
Join the Facebook group here: Facebook.com, visit the website: Thewastelandgame.weebly.com
Download the demo HERE!

Fledermaus.