In this game most of the enemies are normal beasts somehow "mutated" beacause of the strange forces that have cursed the land. I wanted to create a somehow unique arrangement of monsters for each ecosystem, so you'll find different opponents in the wooden areas, in the swamp ones, or in the snowy ones. Some of the monsters will display adaptations to the area: land crabs come in a red variety that lives in dry woods, while there are others that have developed a symbiotic behaviour. One species has a special relationship with a poisoned flower plant that lives on its back! And another one lives in marsh
areas and grows with a mushroom on it that allows it to glide.. another has developed an aggressive behaviour and a spyky back.. All have unique attacks and weapon vulnerability, of course.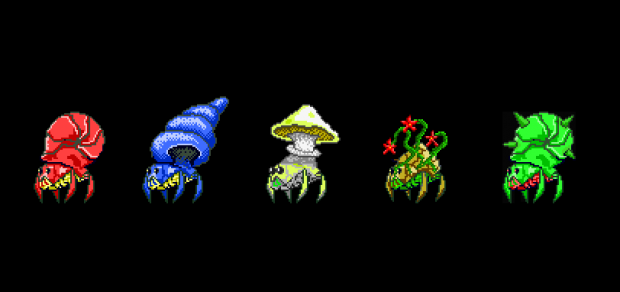 And those crabs are adapted to cold climates too, so be careful.
This is just an example of the various monsters you'll find including large bosses. I don't want to spoil you, but 5 big monsters await somewhere, and will display fierce opposition to your passage!
While humans mostly have a friendly behaviour, some of them will turn to be aggressive too.. it's a hard time in a hard world!
Join the Facebook group here: Facebook.com, visit the website: Thewastelandgame.weebly.com
Fledermaus.