Let's see today a screenshot of the warrior skill trees. when you level up, your characters win a skill point, usable in one of their skill trees. Those spent points highly increase your hero's efficiency during battle, giving them bonuses related to gems, new passive or active capacities and so on...
Let's have a look at the warrior specializations: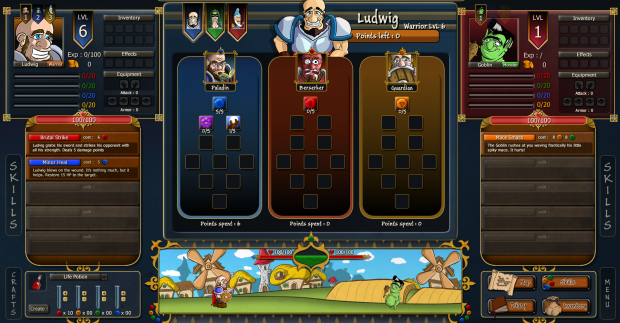 Paladin: Essentially focused on blue magic, he is able to heal his allied and give them powerful buffs that could tip the balance in your favor. Even if Ludwig isn't very bright, this skill tree makes him a more enlightened comrade.
Berserker: Idiot, stubborn but terribly savage. This skill branch is dedicated to red mana in order to release devastating attacks. It's the tree to choose if you want Ludwig to be a war machine.
Guardian: He likes to be on the first line and taunting the ennemy. Focused on the green mana, he's specialized in taking blows for its companions. This tree transforms him in an impregnable stronghold.
Moreover, we are organizing our first contest where you can win a unique poster and stickers in the colors of the game. The draw will be held once we reach 100 likes on our Facebook page. So do not delay to like this page Facebook.com.
Or Facebook.com in french.