Patch 0.9.7 brings with it many visual improvements including shadows, updated art and a new lighting system. This patch also includes improvements to the menus along with many small tweaks and bug fixes.
The smaller 0.9.7.1 update features improved artwork for level walls and boundaries and a menu scaling option for when playing at a far screen viewing distance.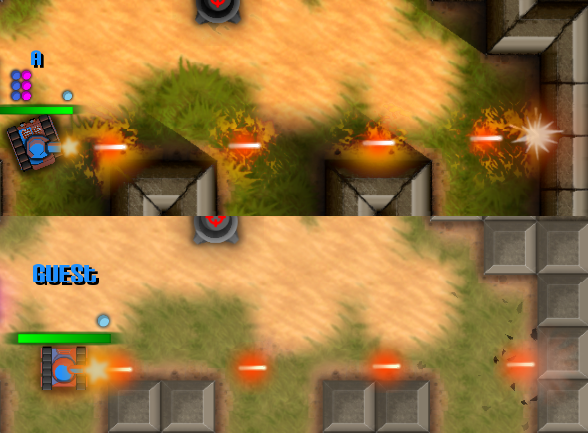 A comparison of the visuals in patches 0.9.7.1 and 0.9.5.
Thanks everyone, see you next patch! (Hopefully soon).

0.9.7.1 change log
Added option to scale up menus for when sitting further away from screen
Added rails now leave glowing trails with detail lighting on
Changed appearance of wall tiles so they are no longer a single repeated image
Fixed incorrect spacing between tank tracks when turning
Fixed potential crash on alt tab in fullscreen
Some maps have been altered
0.9.7 change log
Added new detailed lighting option in graphics options menu
Added shadow effects on level
Added proper scroll bars into menus
Added spawning position markers
Added lighting effects to tank treads
Added more visible scorch markers from tank deaths
Added list of players online into the online games browser menu
Added player chat into to the LAN and online game browser menus
Added server pings displayed in the server browser menus
Added server game type displayed in the server browser menus
Added very basic server filter options to LAN and online games browser
Added and altered a number of arena levels
Added automatic camera when watching replays, press "r" to toggle on and off
Changed appearance of tanks
Changed grass appearance to include more random elements not just a tiled texture
Changed appearance of many level textures
Changed spawning animation to use less screen space
Changed the F1 in game scoreboard now updates live
Changed appearance of scoreboard
Change kill indicators now include a player's name, score and death count
Changed appearance of in game score bars
Changed appearance and animations for many abilities and items
Changed some team icons
Changed the appearance of menus
Fixed bug where EMP and Railgun lasers displayed incorrectly in paused replays
Fixed bug where particles were never getting removed in replays causing slowdown
Fixed tanks not being affected by screen shake
Fixed potential crash upon connecting to a LAN game
Fixed potential crash when changing team on LAN and online games
Fixed a bug where tanks in the multiplayer join menu would not be the correct color for their team
Fixed a bug with pasting into text entry
Fixed some incorrect alignments in menus