For those of you who are aware gas powered games is trying to fund Wild Man - An large open world Action RPG/RTS hybrid. They currently do not have enough money to fund the full development of wild man on their own. So they took to kick starter. In order to make the full game they need 1.1 million in order to do so. The game is planned to be fully mod able with the project mercury tool set(Total Conversions/addons, new worlds, just to name a few) and they are going to be licensing out the Mercury tool set for those interested in making games.
So what happens if this does not fund?
Gas Powered Game will be forced to close its doors. However If it does fund they will be able to keep their doors open and ship wild man - which means money to keep their doors open. Simple as that.
How big is the current Gas powered games team?
The current Gas powered games Team is 13 people Strong! They have allot of experience ranging back from the original Total Annihilation to the more recent Age of empires Online and Wildman.
Interview with Chris Roberts (Star Citizen) and Chris Taylor (Wildman)
Interview with Chris Roberts and Chris Taylor on Super Joystiq.
So what does it mean to Gas Powered Games to be indie?
It means that they can connect with their customers (or as Chris Taylor calls us investors) better than ever before! For example diplomacy was not going to be in wild man - Now it is being looked at being a core feature (Diplomacy with other warlords, tribes, etc.) Just because someone spoke up!
It also means financial freedom from the publishers who take 20% of your earnings and demand that all the money that you borrowed from development of your game be paid back. Which means no revenue for the developer.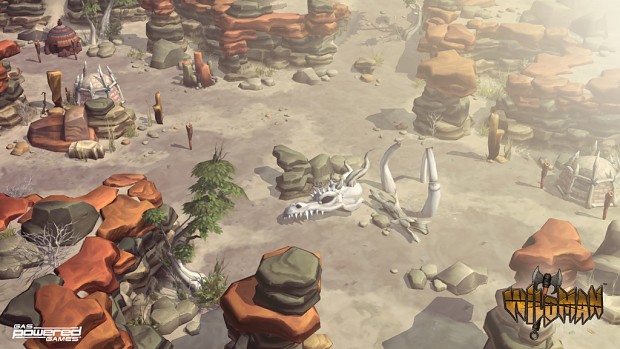 In closing - I hope that you back Gas powered games Kick starter. It can be found here.
Also do not forget to check out the Twitch.TV Stream at 5PM Pacific Standard time for free Swag giveaways and to get your questions answered about GPG.