Olvand is a sandbox game, which is both a good thing and a bad thing. Good because you can set your own goals, and bad because you HAVE to set your own goals. That's bad because it means that there won't be anything to do in the game if the players are out of ideas. The many playtest sessions usually lasted around 2-3 hours, and I always assumed this was because playtesters had had enough of finding bugs, thinking about balancing issues and trying things out for me. A few weeks ago, however, one of my friends suddenly had this brilliant insight: there should always be something to do in a game. It's obvious in retrospect, but I hadn't really thought about it, and it was a real problem for my game. People always stopped playing after two hours or so because at that point it was no longer clear what to do!
A possible way to solve this, of course, is a leveling system. Leveling systems give you a clear goal and a good reason to play the game longer... but I really really really don't like them. I don't know whether it's the concept of the leveling system itself or whether most games implement it poorly, but I associate leveling with doing the same thing over and over. Sometimes it's hidden a little better, but it almost always comes down to collecting stuff, finding locations and most of all killing things, and a lot of it. Those with the most patience and perseverance win the game. How can that be fun? So instead, I do two things: achievements / accolades and a ranking list.
1. Achievements
If you do it wrong, achievements are hardly better than a leveling system; a lot of games have achievements like 'kill 5 rats' or 'go bring x to y', which in practice makes it a leveling system without numbers. But achievements give designers a lot more creative freedom: you can ask your players to do something really special (visit five towns in less than ten minutes, win a duel in less than ten seconds) or weird (trade a wizardhat against a shovel, walk on the main street naked), or... you name it. On top of that, achievements have more benefits: they can function as a little tutorial in the beginning of the game. As you can see, that's mostly how I plan to use them in the beginning (screenshot from the website):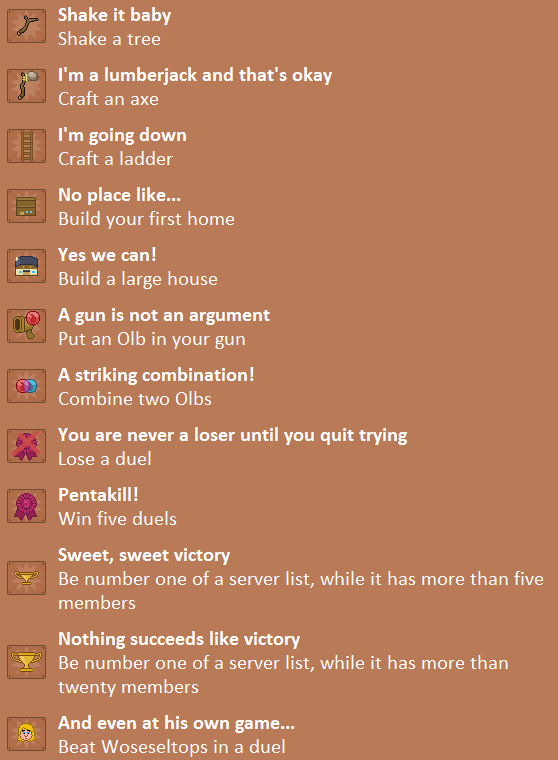 2. Ranking list
The second thing is a ranking system. Olvand only has one minigame ready at the moment: dueling - I'm currently working on a second one. The duel in itself isn't really interesting, but its consequences probably are: on olvand.com a list is kept for each server about how many duels everyone won, and this list is also visible ingame. Being at the top of such list could be a symbol of status many desire. This idea is inspired by a text-based internet game I once created; it was kind of similar to Hattrick, but set in the future. None of the players really cared about winning or losing, UNTIL I added a 'Best players' list. Suddenly, winning or losing was the only thing the players talked about. There's something about being only 3 wins below your friend that'll make you to play just a little longer, so you'll be above him. And not only that, it also makes you wonder what you could do to win more, which will hopefully encourage people to [think about how to improve the gun]. Another screenshot from the website: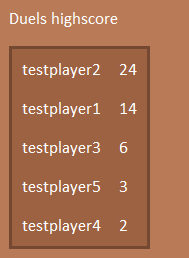 Will these two solutions work? I really don't know. Let's hope for the best.
If you want more development, see [twitter] or [facebook].