First, quests in GearStorm are a little different. Quests and NPC dialog are part of the same system,
interacting with NPCs is the main (but not only) way quests move forward in GearStorm. Quests are
made up of Stages, and each Stage usually has one or more player dialog Responses that may be
available if certain conditions are met.
To start, in game, press "BackSpace" as a Game Admin and select "Edit Quest" [left] this will bring up the
Quest Editor: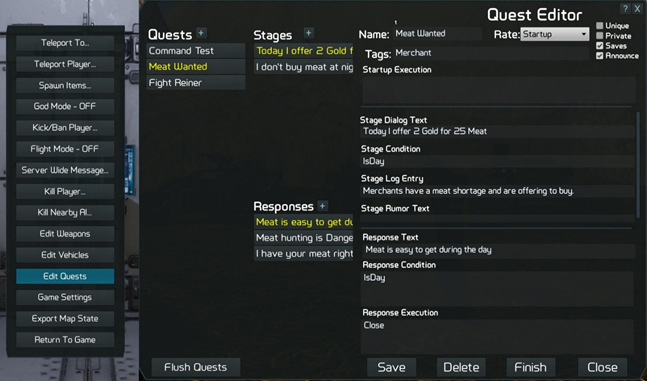 Stages: States in the quest, when a quest evaluates in a Dialog, the Dialog will pick the
First Stage which has a condition that evaluates to true.
● Responses: Each stage has an array of responses, these are buttons the player can
press IF the response condition evaluates to true. Once selected by the player, the
Response Execution runs.
● Conditions: A set of test commands to evaluate world and player conditions.
● Executions: A set of script commands that invoke changes to the player and the world.
● Dialog Text: Strings displayed as statements from NPCs or as Responses from the
player.
● Log Entry: Text displayed in the player's log at this stage.
● Rate: When the quest is started and how often. Remember to set this.
When a player initiates dialog. The player is presented with a list of quests to discuss with an
NPC. This list is created based on the Quest Tags that match the NPCs Tags.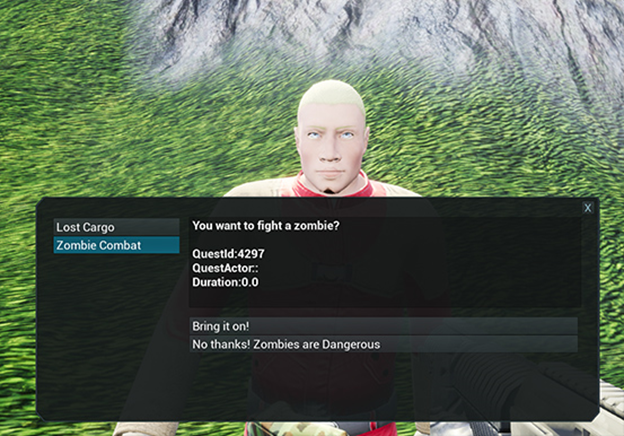 Once the player picks a quest to discuss. The Quest Manager will evaluate each stage's
Condition until it finds one that is true. It will then display that Stage's text along with a list of
Responses. Each response also has a condition. The player only has the response option if
the response conditions are met. E.g. To turn in a quest item.
If the player then selects a response, the response's Execution is run. This can change
variables, add or remove items from player inventory and many other things that change the
game environment. Once this is done, the execution can either close the dialog or the stage
selection process if repeated.
Conditions and Executions have differing sets of commands. More later