Last week we were present at NPG conference ("Nauczanie Poprzez Granie" With translates to " Teaching Through Gaming " ) which took place at Vistula University in Warsaw, Poland. People with came by our ( a little improvised) stand, could play demo version of The Purgatory. Oddly enough, I have some data collected during the event, wanna see?
Demo's Tutorial was started 103 times ( some of with where resets), Completed 71 times.

There were 824 Player's actions made ( like picking something up, pressing buttons, using doors etc).

13 times the last room of the demo was visited, only 7 times the demo was finished.

Game was autosaved 59 times.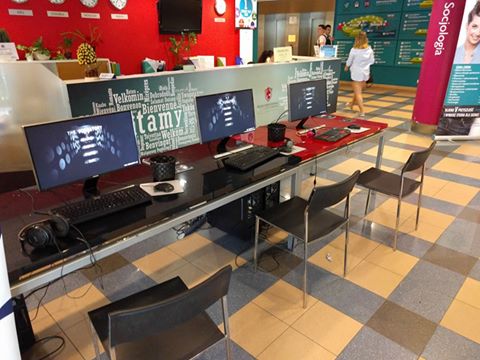 My thoughts about NPG: It was fun! We had a little organization problem, but we managed it. Most of the people enjoyed their playtime and we are really happy about it. Some of you guys might ask: " ok, but what can you learn from this game, it's horror, right?". We were asked the same, and the answer is quite simple. Main goal of The Purgatory is to complete puzzles and at the same time face fear. So you learn how to figure things out under pressure. It teaches also how to think in the abstract ways. And they say that games are bad, huh?
Which brings me to one fun memory from the event. At one point a group of 9 years old girls asked, could they try the game out. Their teacher allowed. But we couldn't predict that these kids would do better than pretty much anyone else. They figured stuff out and did it fast, sure, they were scared all right, yet kept pushing on. It shows how amazing child's mind is.
Here are some pictures from our stand, hope you enjoy them.