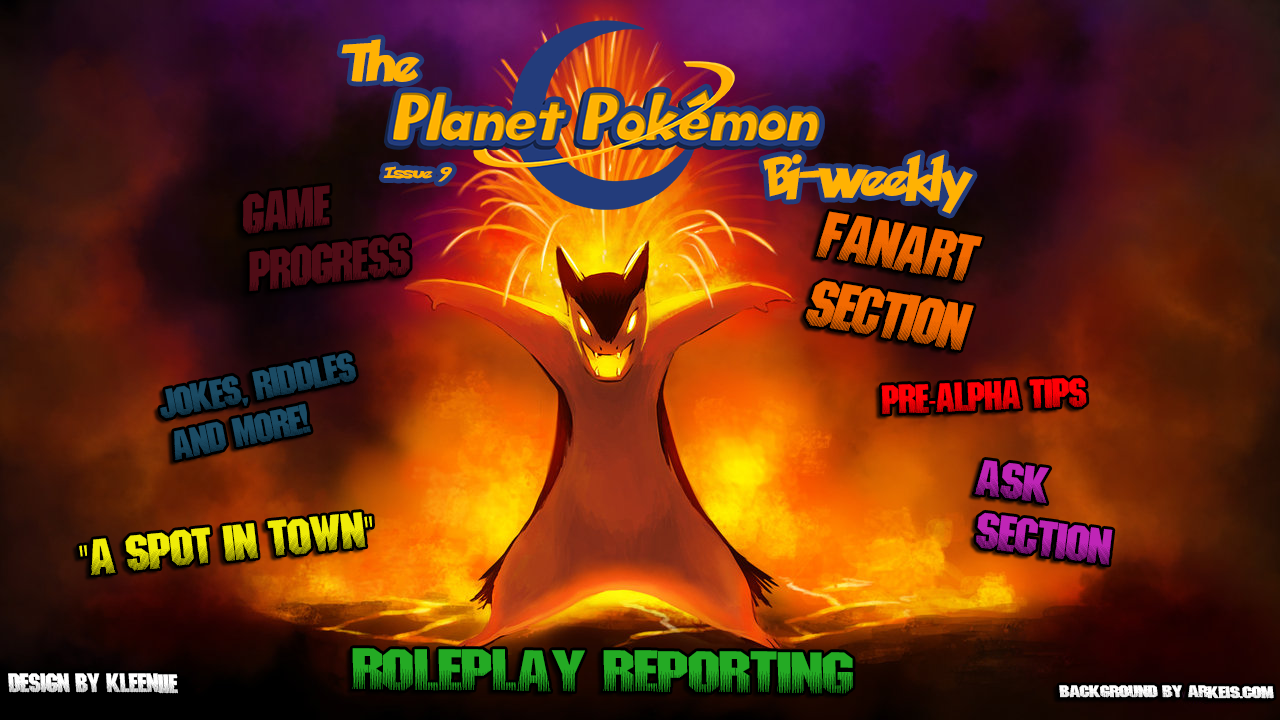 Issue #9
Server Status: Up
Game Progress
by AndIsayHey
Many things have happened within the past two weeks, but fear not! The Planet Pokemon Newsletter is still here to give you the latest scoop on topics you love.
To be clear, game development has stopped. Yes, that's right, the versions you've been patiently waiting for (such as the Alpha, Beta, and so on) will never be released, or developed on further. We understand this comes as a big blow, especially to those who have been loyally sticking with us throughout the length of this project. For that we sincerely apologize, and would like to thank you for being a part of our community.
Instead, the game will continue on as it is, updating with new features every so often. The frequency of these updates has yet to be confirmed, but eventually we will have features such as an account system. This version, previously known as the pre-alpha, will now be called Planet Pokemon: Legacy. Legacy will most likely never reach the potential the "full game" could have had, but nevertheless we hope you'll stick around to see what's to come!
Roleplay Reporting
by dragontrainer
Welcome to the extraordinary world, named "Roleplay"! All of the awesome characters in this world are made up and controlled by you. There are many astonishing events happening in this newborn world, some are globally important, some individually. Whatever the case is, a true journalist has to report them all! This is the place where you will find the latest information on all of the adventures of Roleplay heroes!
I will be reporting the info on 2-3 new roleplays every issue, as well as telling if anything happened in the old ones. This way you will not be squashed by all of the information coming from the wonderful world of Roleplay
The Tunnel
At Mt Moon strayed a tunnel; its entrance flooded with torches and lamps among signs forewarnings. It was told that the passage twisted and turned for a distance unmeasurable by any eye. It was told no Pokemon or device could illuminate the darkness that stormed within. It was told that the deceivingly complex pathway was merely a shortcut; or a trail; or an entrance to the home of the most barbaric and sadistic monster. Or a trap...
A Charizard, Rex, (pursuing his own selfish wishes) flied into the cave, choosing the left passage right off the bat. He continued through it, coming across a pit full of corpses. After gliding over it, he dropped a stalagmite over it. Anya (sent by Professor Oak) and her Misdrevous also went into the left passage a little after the Charizard. She was almost crushed by the rocks falling from the ceiling (caused by the stalagmite destruction), but her Misdreavous saved her. She then continued through the tunnel to meet Rumble, a guy whose job was to find an exit. There was a Rocket Grunt, also sent to investigate by his boss, following her. The only reason he did not try to steal her Pokemon is because he thought that the Charizard was hers.
In another part of the cave, Gavin (who was just passing through) was almost killed by a mysterious ghost. A Buizel was chasing Eevee, who stole his berries and ran into the cave. Both, after hearing the stalagmite fall, ran in that direction. Gavin, Anya, and Rumble all met. Suddenly there was a daunting silence in the entire cave. Nothing was heard. Then came a scream!
In yet another part of the cave, Thea was walking around the cave in circles for hours. She was clearly lost. She dropped to the dusty ground, almost crying out of desperation. The dust got into her throat and nose, causing her to start coughing. Her cough echoed through the cave. In a minute, she stopped, but the echo remained...
What happened to Buizel is unknown. Rocket Grunt is still spying on Anya. Charizard continued exploring and ran into a room with brilliance and a mysterious rock that emitted power.
A cave full of dangers. Will our heroes survive or disappear like many others before them?
Ask Section
by Shadow
Again and again our collections of thoughts remain devoid of answers, whether they be so simple as to contemplate the colour of the sky or to consult the fundamentals of logistics and automation.
Gather your uncertainties and questions about technical problems or future and current plans for the game or even something stupidly irrelevant, so long as the question can be answered, the ask section is directed towards providing that answer.
Every other week, users can submit their questions in the comments, at random, one will be chosen and featured, alongside an answer.
There have been no questions for this issue, please check back here next time.
"A Spot in Town"
by dragontrainer
(See DOC for Images!)
Settings:
Quality - Medium
Draw Distance - Half way.
Jokes, Riddles and more!
by Kleeniie
Welcome to the Jokes, Riddles and more! article.
Here you can find a variety of hilarious Jokes, mindblowing Riddles and, as the title implies... more!
Quiz
(See DOC for Images!)
Who is that pokémon?
Answer: ____. (Generation V)
Credit goes to "All images © Nintendo. Artwork, sprites and data from Veekun."
Jokes

(See PDF for Images!)
Joke 1: Dialga Roar of Time - Credits to jimmyjwithajforjimmy
(See PDF for Images!)
Joke 2: Azelf Selfie - Credits to johncenpai
Riddles
What flies without wings?
Answer: ____.
I hope you had fun…
See you in Issue #10!
Pre-Alpha Tips
by dragontrainer
1.When you get confused by Zubat, your keys just get inverted. W S, D A, Q E
2. When you get asleep from Gastly's Hypnosis, you can still tackle.
Birthdays
by dragontrainer
There have been no birthdays this week
Fanart Section
by Kleeniie
Welcome to the Fan Arts Article! Here you can find the most awesome and creative fan arts made to Pokémon fans by Pokémon fans!
In this Newsletter, we got 3 fantastic Fan Arts:
Squirtle Surfing:
(See DOC for Images!)


Made by: Kleeniie
Electrode Pixel Art:
(See DOC for Images!)
Made by: Satoshi
Charizard Drawing:
(See DOC for Images!)
Made by: Kithu
And if you have one Fan Art too, see how to submit it here.
Thanks for reading, see you in Issue 10!
User Submitted Shorts
Do you want to see your own short story or article in the newsletter? Submit a prompt here, and you just might be featured in the next newsletter!
New Team Members/Project Leads
by AndIsayHey
We would like to welcome a new Moderator, TyzenChi. There are also two retired members re joining us, Loki(Moderator) and Cains(Administrator). We hope to see great things from them!
Unfortunately, we are no longer accepting any new team members.
You can follow us on:
or our forums: Forums.planetpokemon.net
Original DOC here.