I wanted to give everyone a little update on the pivot we decided to do last week. I wrote the blog post on Thursday, and after writing it up we went through a lot of deliberation on the team. Some people we're ready to 'go back to the drawing board' while others took a more pragmatic approach and reminded us the game could never be perfect.

A game with character flaws!
Forcing the team to wait until Saturday to make the decision was critical, I think. It allowed our emotions to settle and to really consider both sides of the coin. At first, I spent time prototyping some rather radical ideas. What if only one of the sins could attack? What if there were no enemies at all? Theses changes were so radical they pretty much broke the whole game and would have thrown us back into another one-year development cycle. We gave ourselves the constraint that whatever change we did make couldn't delay production. It was enlightening just to have a chance to try it out though, and it brought new perspective to the problem.
We also spent some time looking at other games in our genre. How did Trine balance combat and puzzles for instance? We also considered just doing nothing. What would be the outcome if nothing changed?
The final plan was crafted during a 3 hour long breakfast meeting on Saturday morning. I got together with our designers Vince and Charnel and looked at the problem from every possible angle. Here were our conclusions:
Everyone agreed the most jarring part of the game is the guns, and we sacrifice a lot for them. They require additional controls and feel out of place. We decided to cut them completely from the game.
We moved the guns to the angels. Now the sins must fight angels who have more than just a bow, this added a lot of great diversity to our combat.
We decreased angel numbers so you don't get swarmed. They will have higher HP to compensate.
Removing guns allows us to remove a lot of cover props used in the game, simplifying our level geometry a lot.
We cut the sin super powers and energy. A lot of them were broken and only useful in combat. If we emphasize puzzles in the game, then this is an easy thing to let go.
Controls got simplified as a result of removing guns and super powers.
AI got simplified as well, since we removed cover.
Overall, the changes weren't too dramatic and 95% of them involve removing something that is broken, unbalanced and time-consuming to fix. The game feels a lot cleaner now, the difference is striking. In the past couple of weeks we've removed a ton of dead-code and features which have been rendered obsolete because of these changes. It felt great.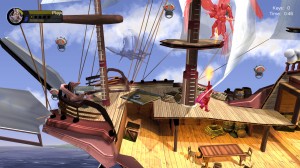 Goodbye machine gun. You will be missed. Now the sins must us their powers rather than a hefty arsenal to kill angels!
My post last week also brought about an interesting question on reddit. Can games really pivot? Are they startups? I think so, but I will elaborate a bit more on that next week!