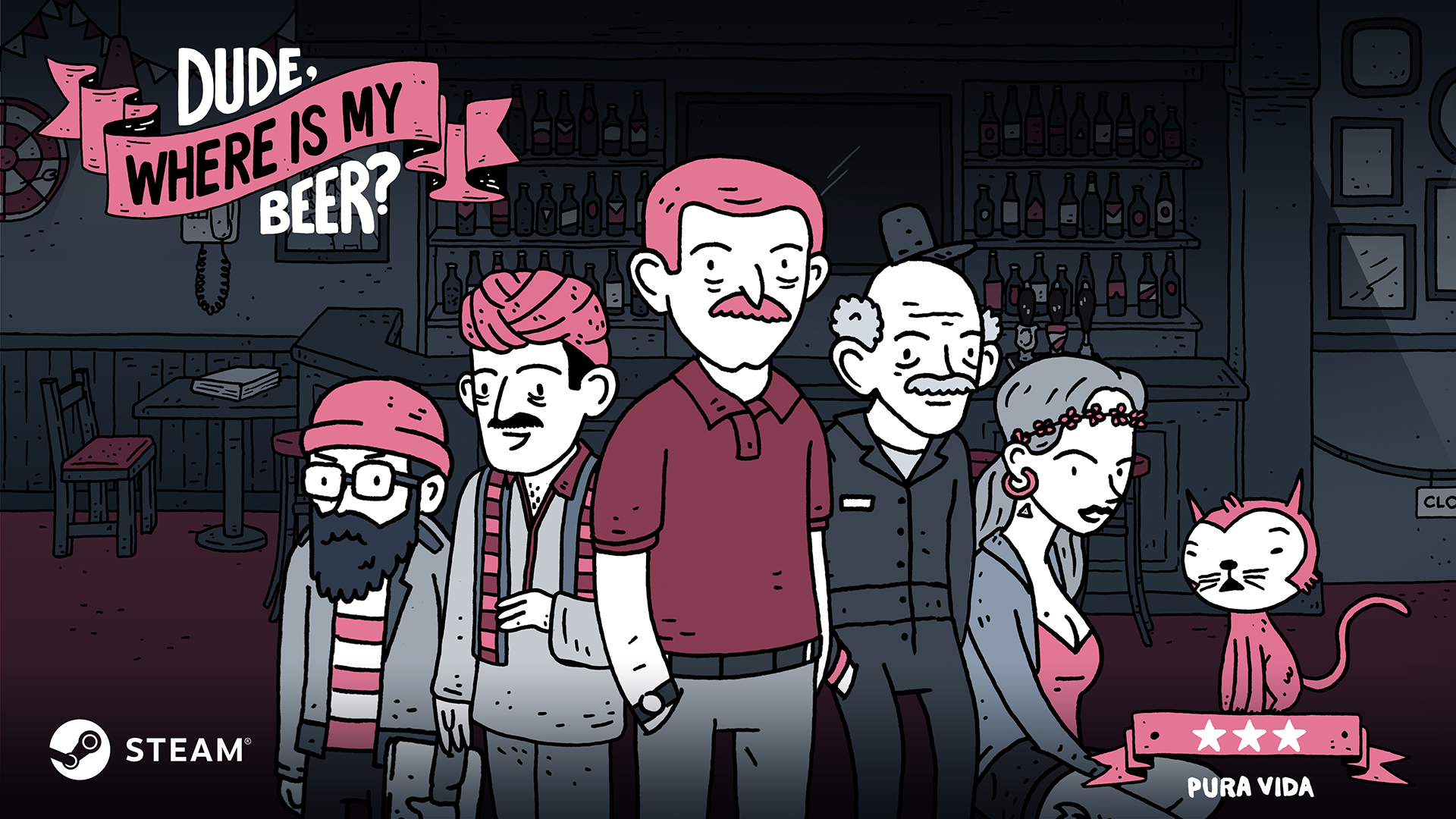 "Dude, Where Is my Beer?" is in short an old school point-and-click adventure game about finding a pilsner in the confusing world of unnecessary craft beers and snobby hipsters. Can you find a normal beer in a world of conspicuously flavoured craft beer, and solve the mystery of the elusive, missing pilsner, using nostalgic interface from the golden age of adventure games? Talk to West Coast IPA and American Black Ale drinking hipsters and solve beer related puzzles at different stages of drunkenness; explore locations like a sports bar, a microbrewery, a dive bar and a rock bar in the city of Oslo, in your quest of finding a pilsner.

"Dude, Where Is My Beer?" won the NGDC qualifier at Kavalkaden, Norway, and is a Grand Finalist in the NGDC Season V Grand finals at NG21 November 2021 - A fun and very unconventional premise, that started as Arik Zurabian's hobby, and with Edo Brenes on the team the ambitions rose. Made with dedication and hardship, the creators had a very simple mantra for the project: "This is something we want to play - so let's make it!".



Developer Arik Zurabian tells the story of the game: "I live in Oslo, Norway, but a couple of years ago I worked part time and lived in Costa Rica. I always wanted to make a video game and that was the right time. As a kid I played all the old Sierra and LucasArts games, with no English skills, behind the iron curtain (I'm originally Armenian, born in Moscow, Russia/or Soviet Union at that time). I started making a satiric video game about Oslo and craft beer. At one point I needed an illustrator and a friend of mine recommended me to contact Edo Brenes, a Costa Rican graphic novel writer, but who lived in the UK at that time. Edo had no experience with video games either, but agreed to join the project and we were working online together for a few months until the pandemic started and he had to return to his home country, where Arik was stuck because of the pandemic. Finally we met in real life, finalized the game and released it on Steam. And the great soundtrack by David Børke lifted our hobby project to an even more professional level.". He adds: "Winning Nordic Game Discovery Contest for us is proof that with no experience we are able to create a decent video game. And I think we more than succeed!"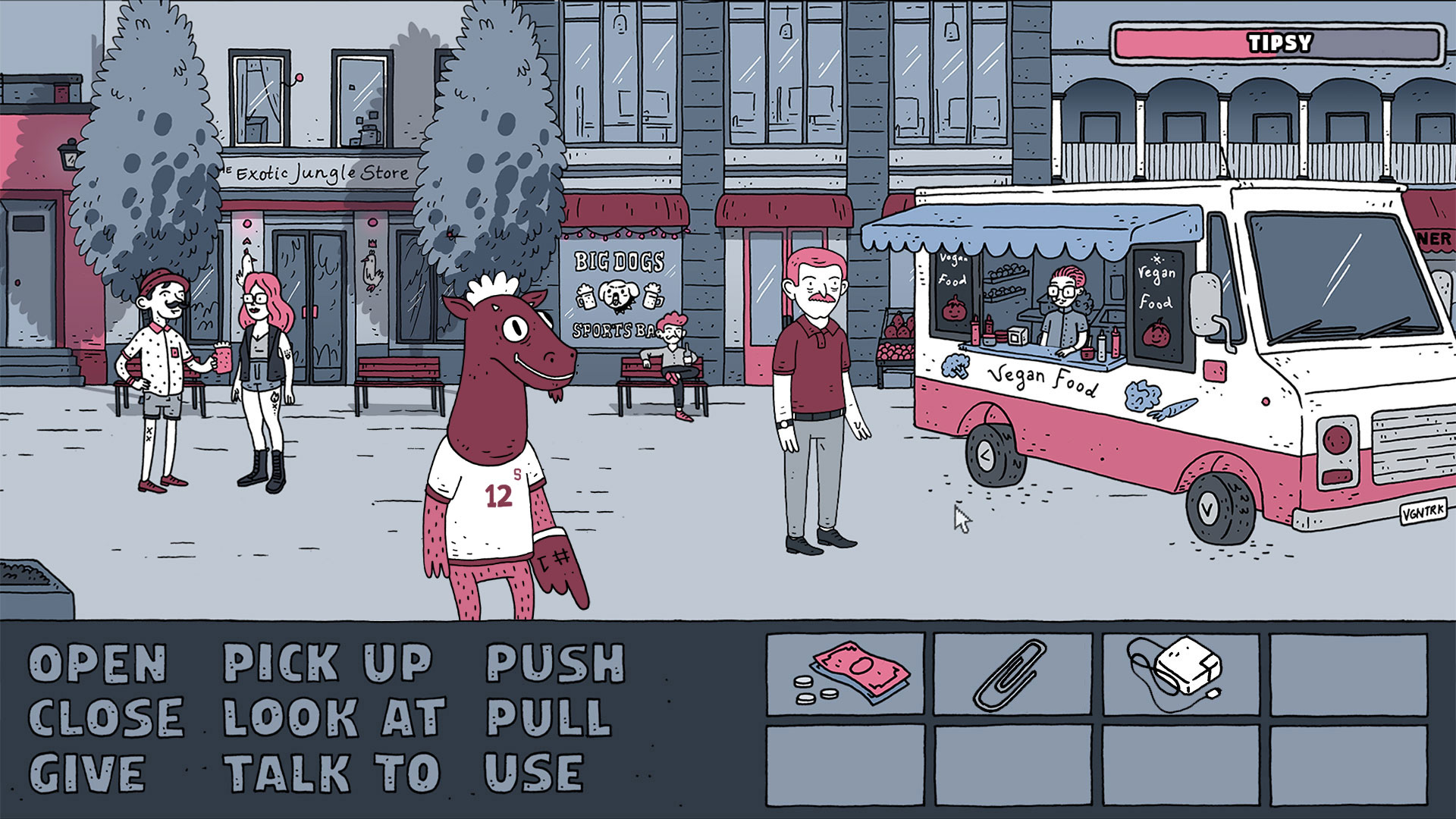 "Dude, Where Is My Beer?" is now available for Windows and Mac, in English, Spanish and Russian language on Steam: Store.steampowered.com
Website and social media:Web: Dudewhereismybeer.com

Facebook: Facebook.com

Twitter: Twitter.com

Instagram: Instagram.com

For more information, please go to Nordicgame.com

About the developers:
With no game development experience, Arik Zurabian and Edo Brenes spent most of their free time during almost two years creating a hand drawn point-and-click adventure game about a simple middle aged man looking for a pilsner in a world of craft beer loving hipsters. As fate would have it, Arik from Norway would meet Edo from Costa Rica through the vast cables and airwaves of the Internet; and after a few conversations and a failed crowdfunding campaign they decided to go on with the game as a personal project. From a great premise, the world surrounding the main character began to grow; it expanded so much that a project that was supposed to be done in a few short months had no possible solution other than for it to be worked on for two long years. The result, after countless hours of work, is an Opera Prima for these 2 creators that took an idea and made it come true.