Hi all!
Man those days are running by fast. Even though I wanted to post this on Friday, we're already heading over Wednesday as our team had a lot to prepare and improve on the latest Game Event and just couldn't prepare all that stuff in a timely manner. But, we are here now with some great news (FYI: for those willing to jump in and try to complete the mission of the current Event and win 250th Match – just quickly start it here...
PLAY: War Clicks & The MuscleMan Event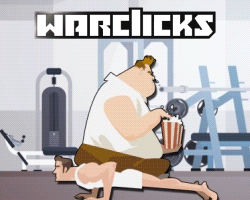 And, below is some more for those who'd like to get more familiar with it…
(here's the story of the MuscleMan Event):

Muscleman Event is all about the muscles, without gaining some you won't be able to compete and get through tough fighters! Muscleman (your personal Trainer in this Event) prepared a nice Training plan for you, but without having enough resources on the side you won't be able to train, so it is up to you to find different ways to finance the training fast.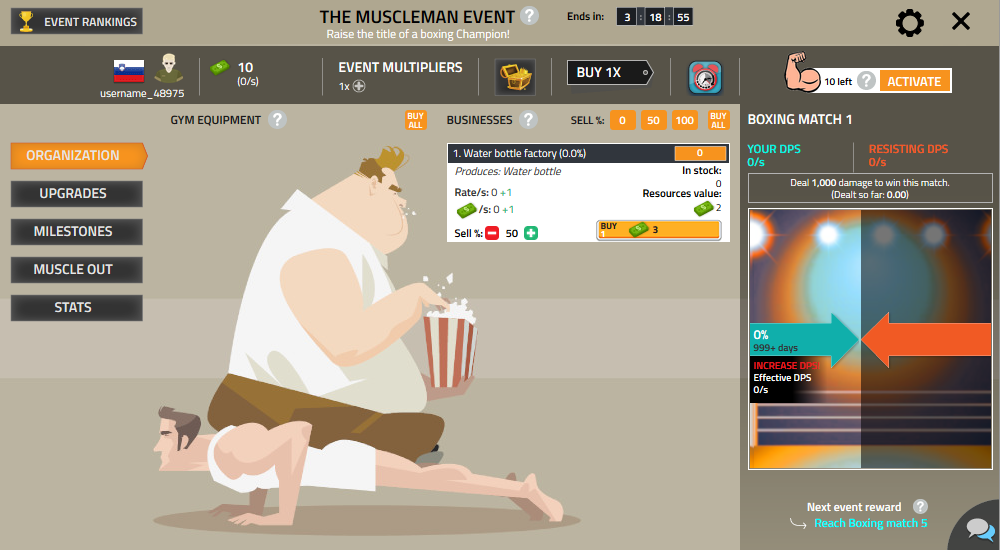 Muscleman prepared the most urgent equipment you need for your training, you just have to ensure enough resources for your training needs, to start your muscle transformation! So, you'll need to upgrade your Gym Equipment to increase your working power to its fullest potential. All that for the purpose of being prepared for the upcoming fighting matches – where you'll encounter strong and well-trained experienced fighters. As you are starting as a newbie on this field you'll need to do everything you can to train your muscles – every small detail and every training counts, so make sure to train as much as you can to complete the mission and win 250 matches to raise the title of a Boxing Champion!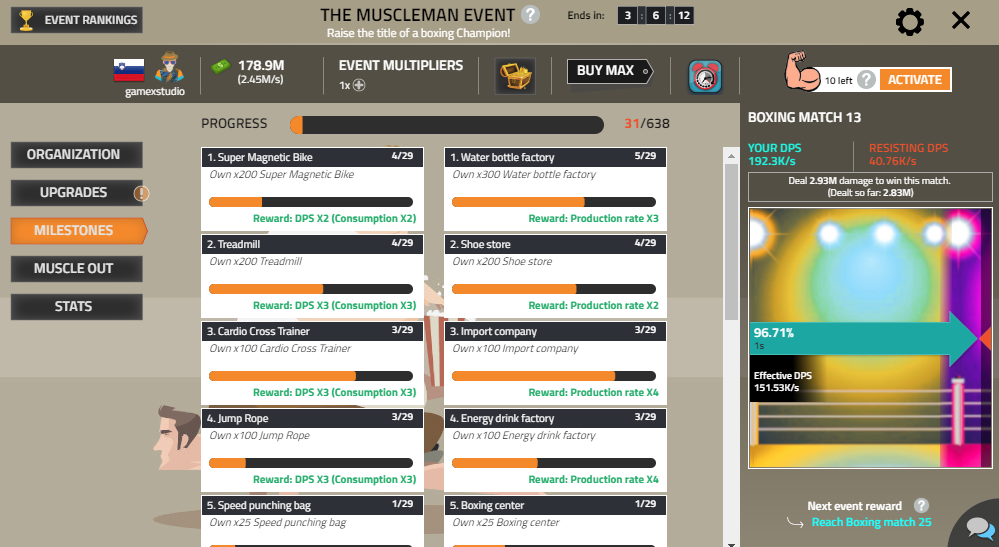 There is plenty of different type of Businesses and Gym Equipment at your disposal to get the job done, it's just up to you to make the most of it!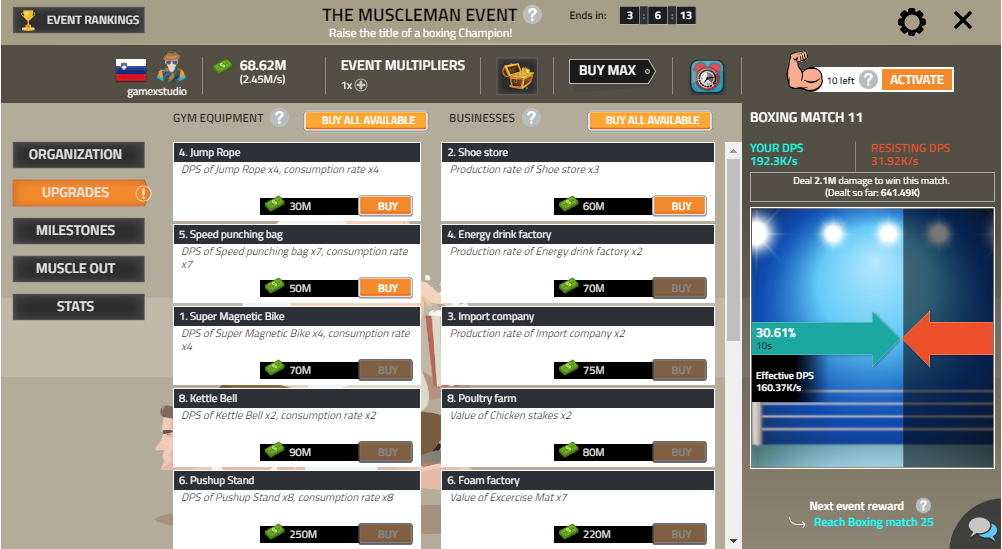 MuscleMan reported that the first few matches have almost no professional fighting candidates, so it seems you'll start with a complete newbie match, but as you continue you might be met with some resistance and more powerful fighters. You'll need to upgrade, act fast, train, produce resources, sell the excess for cash to upgrade your powers and defeat the opponents! Good luck on your path to the Title of a Boxing Champion! ;)

Note: You are managing your resources from a distance so both Gym Equipment and Businesses will continue working/producing even while you are away!


As you complete the match you will also receive various rewards and Muscle Points (MP), which you will be able to use for some huge bonuses down the line.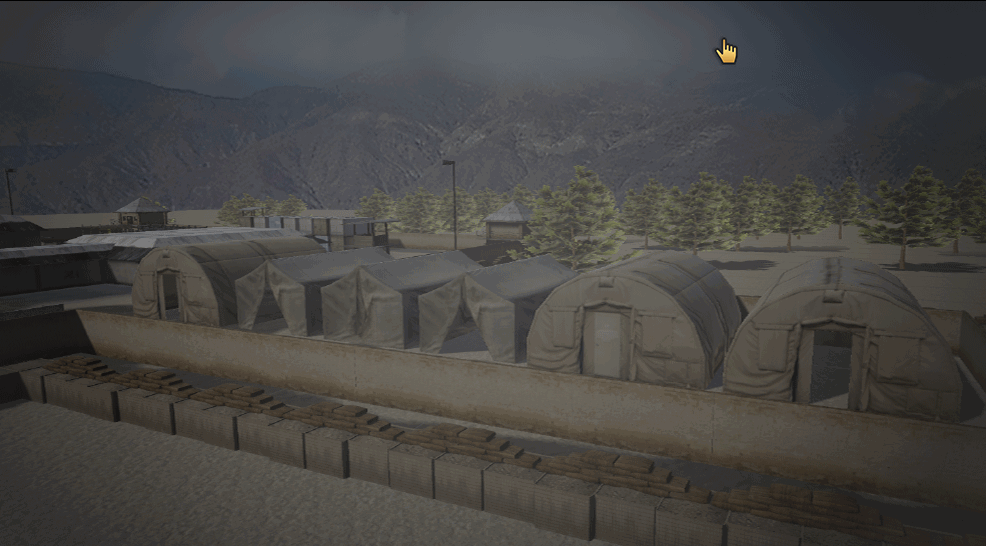 Last but not least, MuscleMan asked a ton of other fighters to help him on this Boxing Champion Title mission, you are not alone. Those who manage to get through the tougher fighters will be given huge rewards at the end of the event. So make sure to check out the Event rankings and see how you are doing compared to other players and try to outperform them – we know you can!

*Events are time-limited content and once an event is over it can't be replayed. Any Time Warps used within it or Event Multipliers bought will not carry over to a next event.
Event ends on Friday, June 7th
_____________________________________________________________________________________

Hope, you guys find it interesting to play! Any feedback on this would be much appreciated – we'll be running more Events in the future and we already have tons of ideas on what to change/ add to make it even more fun to play. But, if you find something that would like to share with us – we are here to listen.. and maybe you may see some of the ideas implemented on the next event! 😉

(Tip: as this is a competition based event – you may want to invite your friends & family to play against each other – and see who gets the furthest until the end of this Friday).. It may be addicting! :P

Thanks for reading this and hope we soon have some more news to share with you,

Enjoy your day! 😉

Play the game on:
Official game website
Kongregate
ArmorGames

More about the game:
GameDev Blog
Press Materials

Let us know your thoughts:
Facebook
Reddit
Twitter