Hello, Slicers!
Long time no newsletter, sorry about that. We have been working away at a lot of different parts of the game and you have been long due an update, so let us have a quick overview of what we have been doing as a studio for the last few months.
First, of, we now run a PvP test on the weekends. We are running this on Discord so if you haven't joined it yet now is a perfect time (discord.gg/neuroslicers). It is going well and people are enjoying it so far.
One of the big reasons we have been quiet recently is we have been busy putting together a build that we can send out to publisher so that they can have a taste of what is to come from NeuroSlicers. Over the past couple of weeks, we've been getting some really good feedback on the build and overall they seem to really like the direction we're taking things with everything.
We have also been running a few tests with some of the people in the community, specifically our Sentry Team who seem to be generally loving the new additions so far with a few issues here and there - This brings me to the next point.
We have also made the decision to push back the big open public test.
This is something we took a lot of time to think about, but at the end of the day it came down to us wanting to give you the best possible experience straight away and with the feedback we have had so far from the community and publishers we want to polish things a bit more before you get your hands on the game.
We aren't going to be giving a date of when we are pushing this back to right now either as we want to make sure we give ourselves the time to get the game to a point where we think you will really enjoy it.
In the mean-time, you'll see that we've dotted a load of the new Meta system mock-ups throughout this email. We'll be going into a load more detail about each in the coming weeks/months. But let us know on Discord which of them you find the most interesting and which you'd like us to discuss first.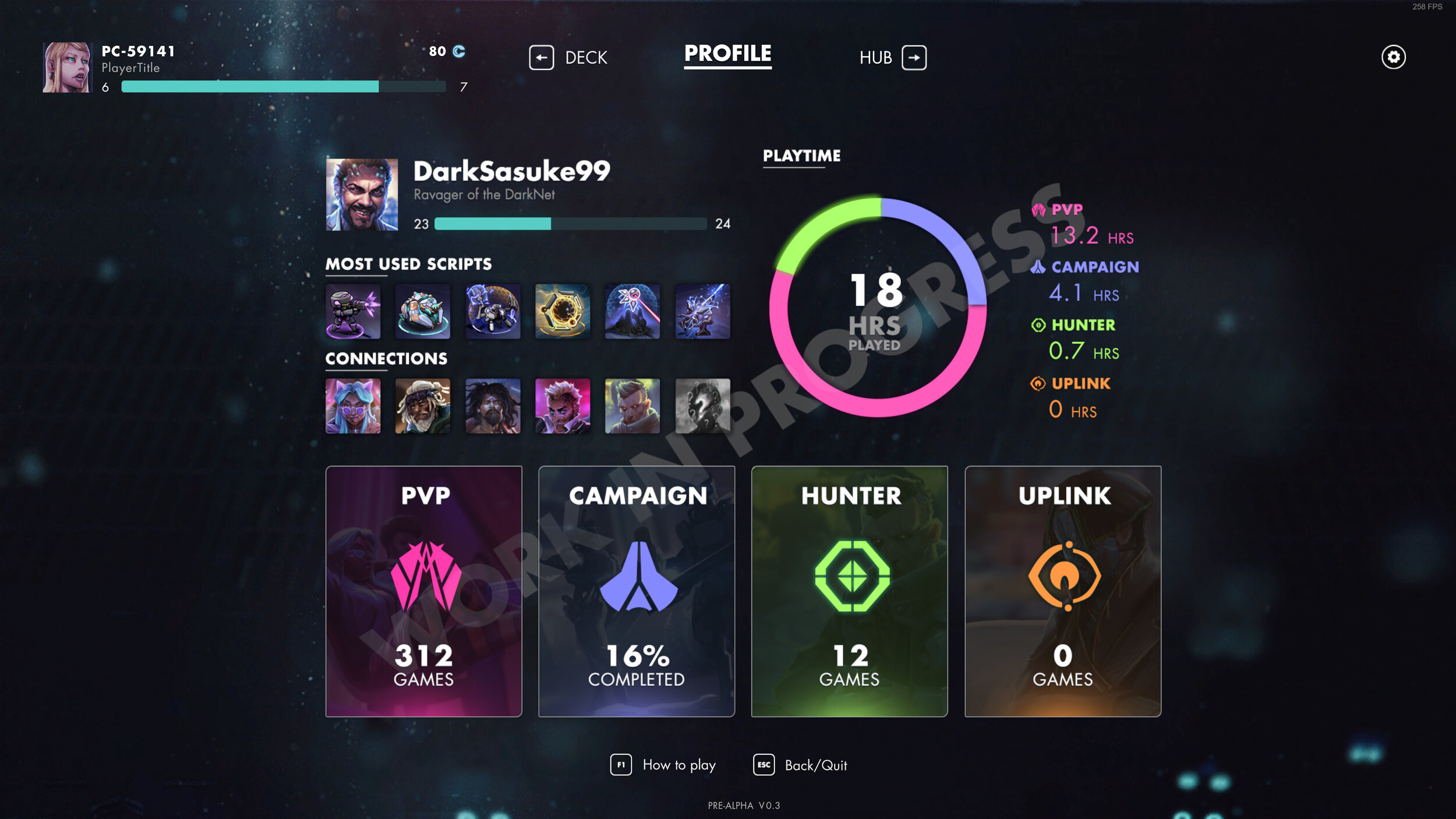 A mock-up of the player profile screen. Still early days for this one.
---
||JUSTIN - CREATIVE DIRECTOR||
Hey everyone,
So I know the news of us pushing back the next test phase isn't what everyone wants to hear, but its for the best as we really do want to make sure everything is as cool and fun to play as possible.
One of the key reasons we've had to push things back a bit is due to fund raising - we were hoping to have hired a few more hands in the code, design and art departments by now, but, due to not having the full budget for the game in place yet we had to make do with our current team - this means everyone is a bit stretched at the moment and with so many cool systems and mechanics we've had to prioritise certain things over other things for the Publisher build.
Now that that's out of the way and they're playing and providing us feedback we're able to move onto polishing everything. With a game like NeuroSlicers, where you're going to be playing a combination of epic campaign levels, intense PVP matches with other players and completing a variety of cool Contracts for a crazy cast of characters in a number of scaling difficulty repeatable PVE missions, its essential that all of our meta systems (ie progression mechanics) feel as good as possible and offer you lots of room to customise your experience and become the Slicer that you want to be.
This is what we're going to be focusing on over the coming weeks along with making sure that repeatable PVP missions give you lots of tactical variety and challenge. In addition to this we're also making sure that Art and UI design look and feel as awesome as possible, UX design means that everything makes sense, Code is optimised so more of you with slower systems can play and enjoy the experience, and the overall design of everything is as interesting and fun as possible.
Anyway, check out what the rest of the team have been working on below.
Until next month
Justin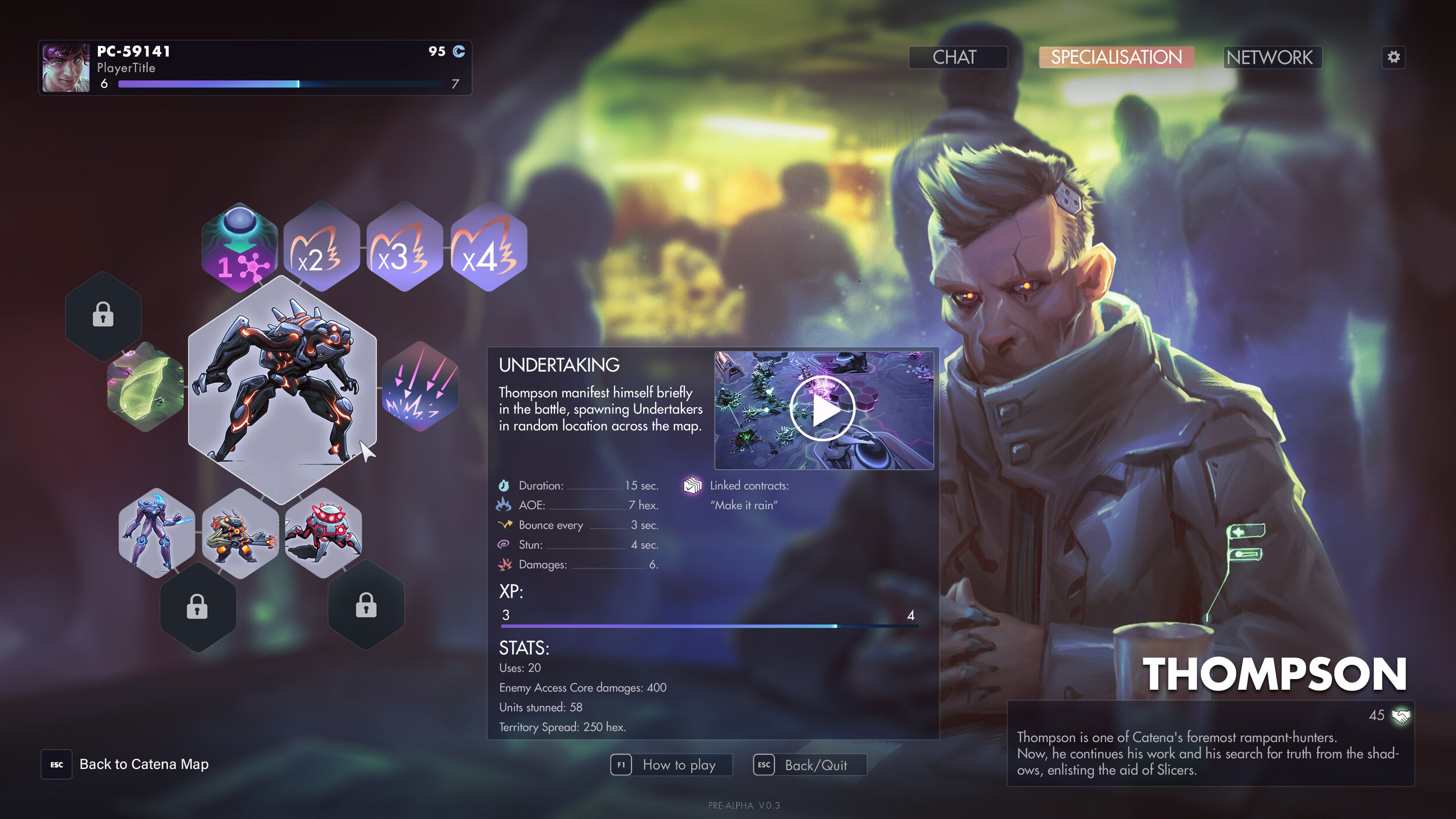 One of the many new meta systems coming to NeuroSlicers
---
||TARL - COMMUNITY MANAGER||
Been doing a lot of testing recently aiming to make sure we can get the best experience to you as possible. This normally entails fun bits like writing surveys and working out how to collect data along with following up to make sure we can get as many results as possible, the real best part has been watching our testers playing the game and seeing their reactions to some of the cool stuff we have done.
I have been working on a few other things as well that I can't go into too much depth at the moment as I need to have a few surprises up my sleeve, but it's all cool stuff that people will find out about soon. It has required me talking to a bunch of people on Discord about stuff, so if you are there then maybe you might know more 😊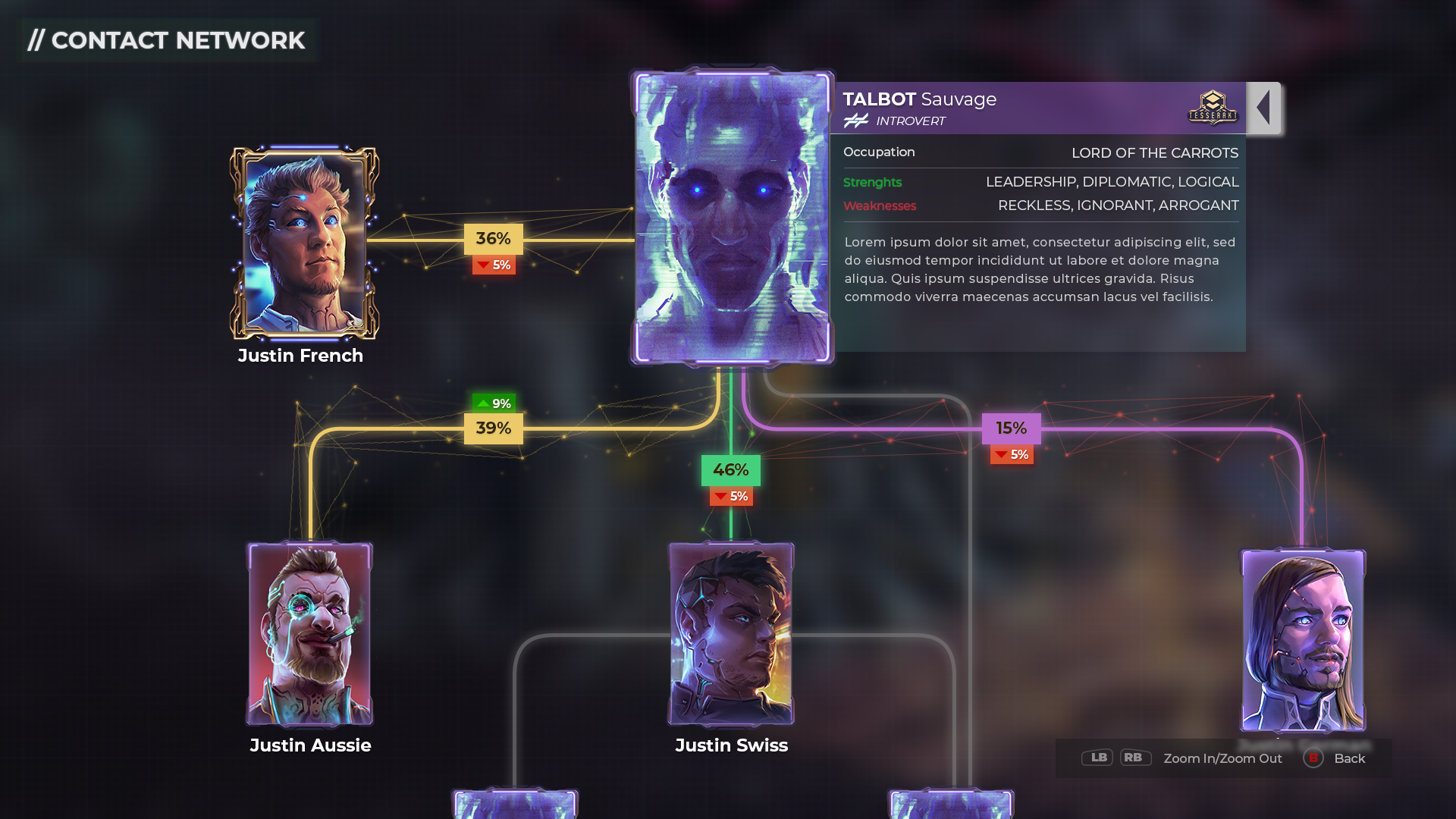 Building relationships with the characters in NeuroSlicers will give you access to the rest of their network.
---
||SCOTT - TECHNICAL DESIGNER||
Design is subjective. This is both a beautiful and endlessly tormenting quality.
While there are points that are generally agreed upon as "good design", like spoons are well-designed for transporting soup from bowl-to-mouth, all it takes is a different perspective to up-heave the concept entirely; like drinking soup from the bowl directly. While both approaches have their pros and cons, neither is explicitly better than the other. And that's just two methods.
As the technical designer, the 'sauce-boss' of the metaphorical soup-kitchen that is Dream Harvest, I am constantly seeking ways to improve the gameplay experience by drawing on a multitude of different sources (sauces?) to create an enjoyable experience. The problem is, everyone enjoys different things. Timothy likes onions. Miranda prefers a tomato-base over roux. Stephanie is allergic to turmeric... I'm going to drop the analogy now. This is what happens when you write something like this too close to lunch.
The point is; design is a balance. A balance between relying on traditional, tried-and-true design principles and risk and innovation. A balance between taking advice and trusting instincts. A balance between artist intent and accessibility. A balance between personal standards and practicality. It wouldn't be a cliché if it weren't true.
The past few weeks have been about trying to find that balance. The support of the community through public tests and rigorous in-house testing generated a substantial amount of feedback on how the game might be improved. I've been steadily going through feedback on our campaign missions, implementing tweaks here, redesigning systems and sequences there, all to take NeuroSlicers towards the 'best' version it can be.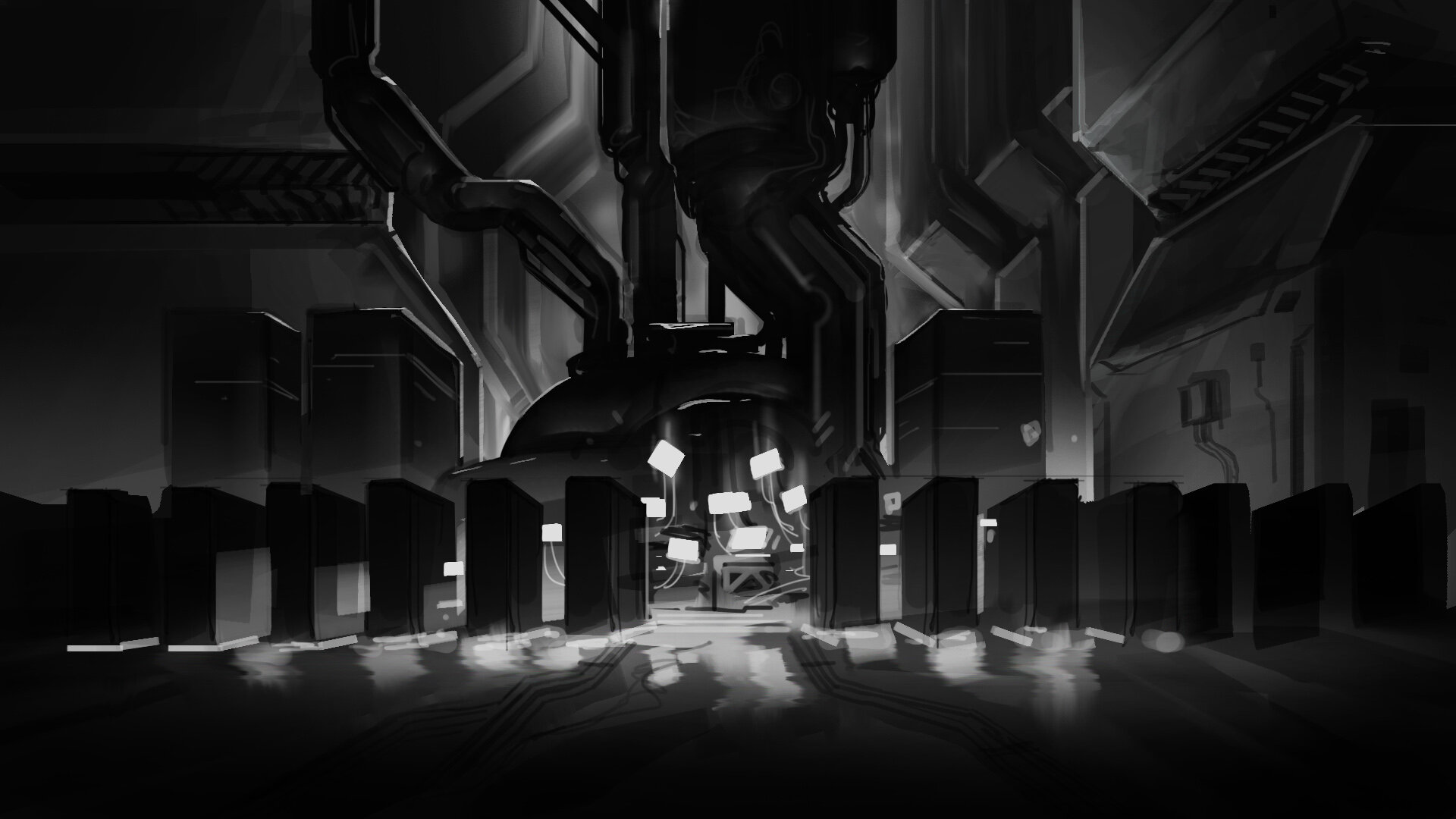 There's many secrets discover around the city of Catena, hidden from the NeuroNet if you know where to look
---
||ALICE - JUNIOR ARTIST||
Hello!
It is I, the newest addition to the Dream Harvest team aka the Junior Artist.
Though my tasks usually vary from day to day, these past two weeks or so I've been focusing mainly on animating and implementing some scripts into the game, namely the brute! I've also been experimenting with different rig types as well as adding more character to (my) personal favourite script so far.
It's been a fun process with a lot of learning curves about efficiency and problem solving - mainly the latter. I'm excited to move onto the Bit next and hopefully give the small unit a lot more character as well!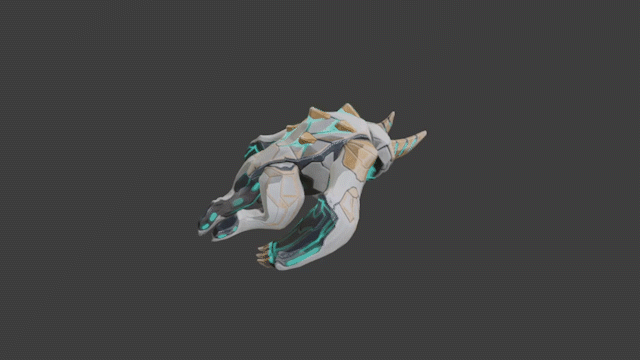 The Brute Charge Animation
---
||DAN - COMPOSER||
The musical world of NeuroSlicers has been as quiet as a mouse since the start of Winter. A lot of time has been spent on building new systems across the game, and during that time I have waited in the shadows. But the time to emerge from the darkness is upon us.
Presently, we are implementing a new music systems across the game. This means a clearer, better way of matching musical changes to emergent gameplay. After months of playtesting and level building, Scott in the design team put together a new proposal for this implementation and it is excellent.
While this new music system is being built, I am devoting my time to exploring new sound worlds for the levels that have been devised over the Winter, and their place within the narrative. Additionally, with a plethora of new characters making an appearance in the game, new musical themes to reflect NPCs and their locations are being written.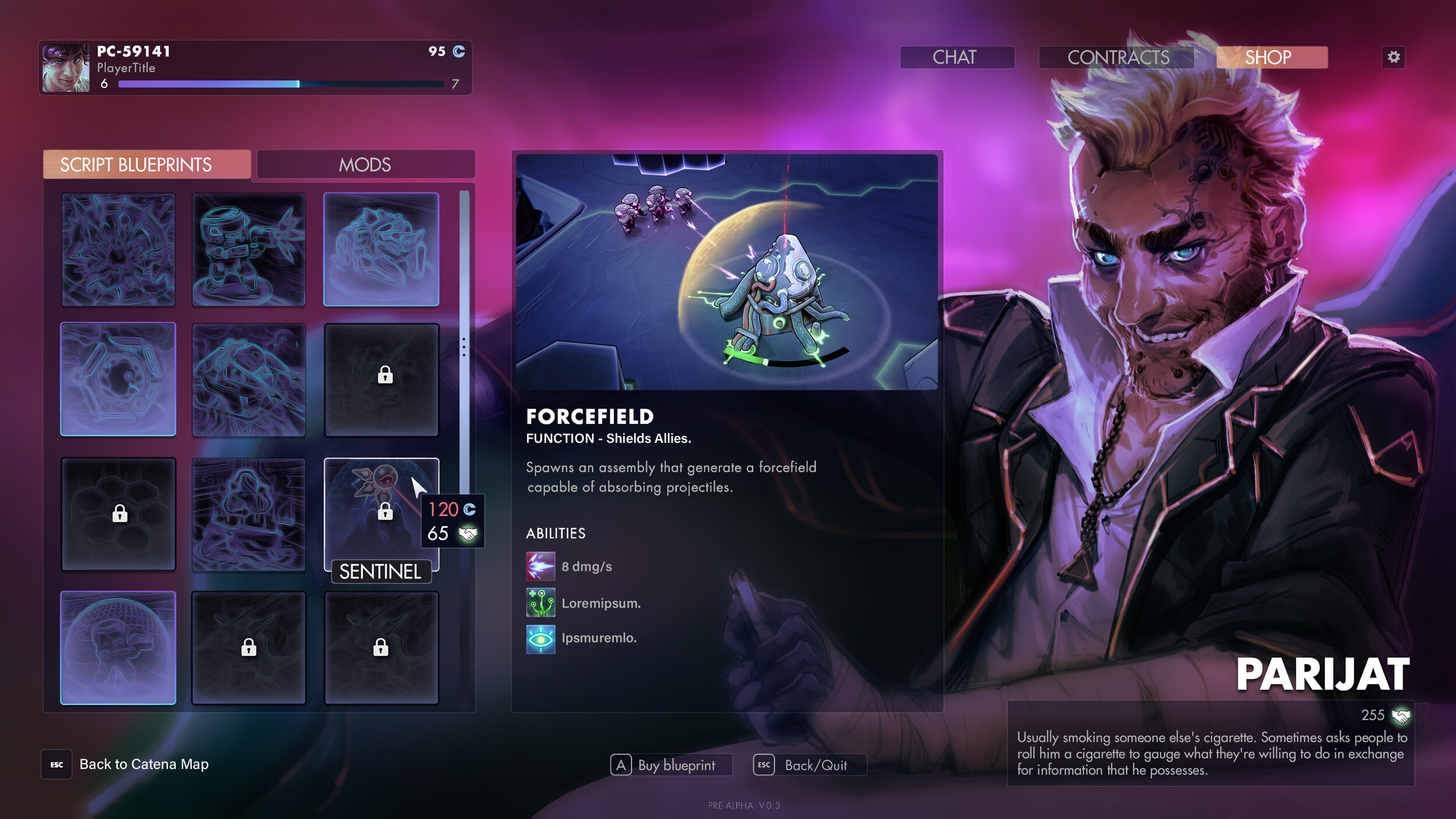 Every character in NeuroSlicers has something to offer. Get on their good side and they'll open up to giving you access to their most powerful Scripts, Mods and more.
---
||DANNY - NARRATIVE LEAD||
This month the narrative team has been hard at work on two main projects at once. The first is reviewing, analysing, play-testing and fleshing out the dialogue and dialogue systems as they stand in the latest build. As you may know, we're planning to have a really deep set of relationships you can develop with our key NPCs, and making sure that building those relationships up, giving players space to build them at their own pace - while making sure players learn the info they need to make sense of the main story - is a fine balance.
The second thing is slightly more secret, but it involves the overall narrative and shaping its key beats to tell a compelling story. Again, we have to bear lots of gameplay implications in mind while doing so, so it's not as simple as coming up with a fun romp from a-z. More on that over time - we like to spoil you with lavish storytelling, but not spoil it FOR you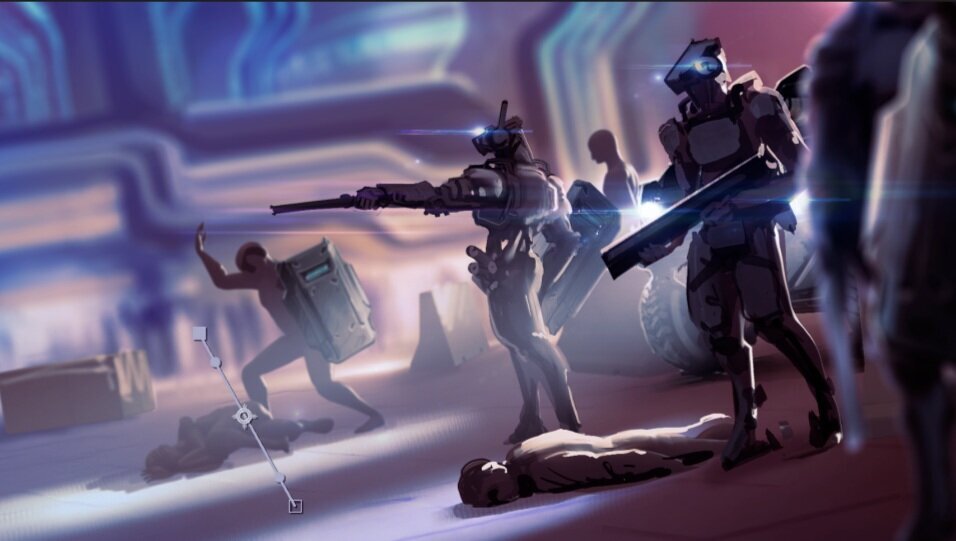 ||SVEN - TECHNICAL LEAD||
We've recently updated to Unity 2019.3. The main reasons for the update were that we had a few issues with the Unity version we had before and, more importantly, some stuff we've been using was still in beta/preview stage and has become final in 2019.3. You can expect some nicer VFX in the future and general some graphical improvements.
Also we're currently in the process of reworking the menu UI. Can't really share any details about that yet as we're still in the process of reworking/designing stuff and I'm refactoring code to make it easier to implement the changes and fix a few issues we had with the existing UI.
In the next weeks I also to plan to work on our Discord bot to make things a bit easier on Discord. We've a long list of features we want to implement and it's time to get started on some of this stuff and hopefully that will stop Tarl from pestering me about it 😉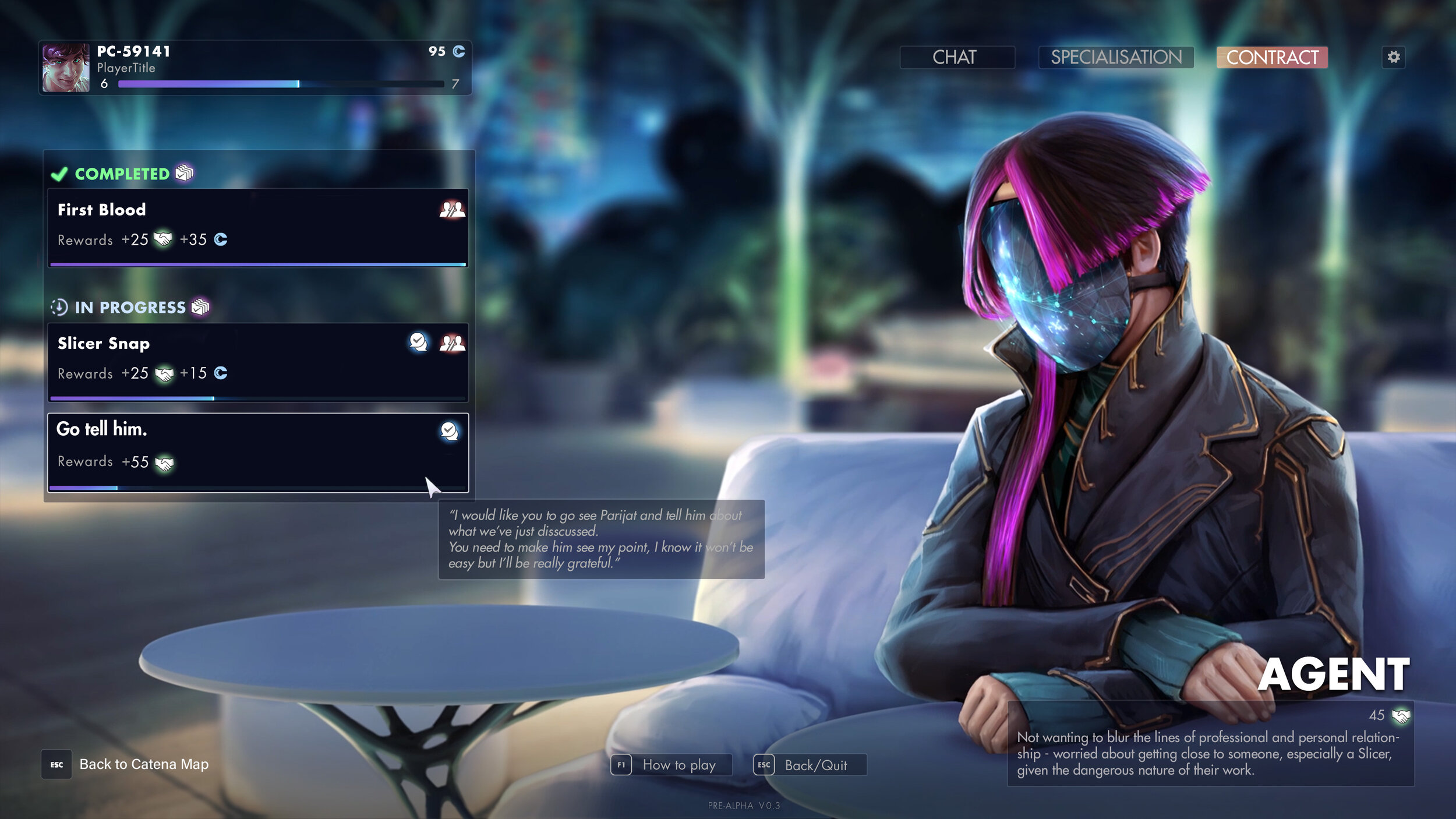 Take on variety of Contracts for the many citizens of Catena. Earn their trust and favour and build your reputation among them all.
---
||LOIC - ART LEAD||
Lots of different things across the boards were worked on last month, from crafting characterful illustrations for 5 more of the characters you'll be able to communicate and deal with, to polishing the 3D environment and lighting on our first 2 solo campaign missions.
On the cinematic front, we've fleshed out the outro to these 2 missions, that will serve as a visual storytelling tool to let anyone learn what the world state is, and what being a slicer is about.
It's made of 10 shots, mainly focusing on the characters you'll deal with first in the campaign, 2 of these shots have been produced in 3D with the same style and technique as in the intro cinematic shots we released earlier last year.
For our second solo mission, quite a few new assets and mechanics have been developed, including our first Boss, that was quite a bit of detailing work as it's around 100x larger than our average Unit.
Lastly we've focused on visualising the extent of our meta systems, all the things you could be dealing with outside matches, from customising your emotes, scripts and deck, to crafting new mods for them.
Build powerful Scripts and game-changing Mods to customise your experience and enhance your play-style
---
||MILCHO - DESIGN LEAD||
Salutations, dear world. It is me, the one who gives without asking to be given to.
Perfect, now that I've nailed and am happy with the intro we can proceed to the meat of this content.
I am writing this because Tarl did his job and absolutely didn't stop harassing me all day. I swear if the game gets delayed, it would be because of Tarl's diligence. He is so persistent in what he does that sometimes I think he's too good for us.
With that out of the way, let's talk NeuroSlicers. I can't even remember that last time I wrote one of these. I guess I am just gonna go over last month.
February turned out to be a one with two very distinct parts, punctuated with a build in the centre. The first half was us desperately trying to get everything into the build (even made some of it function correctly) and the second part was us recovering by sitting in meetings and talking about the future. Meetings might sound boring (and you'd be right), but they help shape the ideas we have further and get everyone on the same page.
Anyway, I think I need to wrap it up because I can feel Tarl breathing down my neck to get this done, so...Until the end of time,
Milcho
Level up your Scripts as you use them, unlock Mod slots to customise them and earn cool Skins to make them look awesome
---
That's it for this month. We hope to be bringing these back to you on a monthly schedule again, for now though, thanks for reading!
The Dream Harvest Team