It's time to discover an American legend. The all-new Mack Anthem® for American Truck Simulator is now available to purchase from your local in-game dealership with a variety of customization options.

As one of the most significant new trucks in Mack's 117-year history, the Anthem combines the latest innovations with more than a century's experience in truck-building. The Mack Anthem's bold and rugged exterior makes it stand out on the road like no other truck and has been designed with the driver in mind.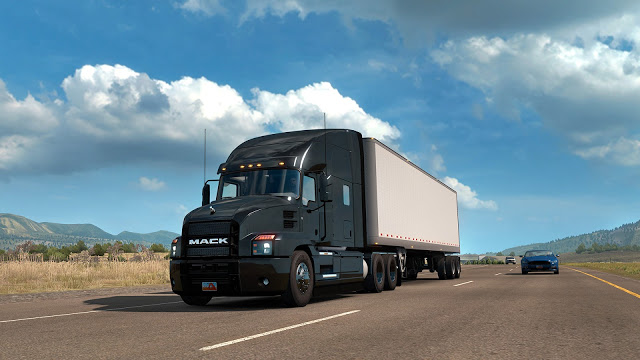 Its virtual implementation in our game includes a wide array of configurations including 12 chassis variants, 6 engine variations, 14 transmissions, 3 different cabin types and a large variety of tuning accessories; You can be sure that the Anthem will be ready for any job long or short, big or small.
Bringing this legendary truck to the virtual roads of American Truck Simulator are 3 senior designers; each one of them dedicated to a different part of creating the vehicle. A designer for the interior model, exterior model, and one for the variety of paint jobs that can be applied. Thanks to the team at Mack Trucks, we were provided with very detailed data which allowed us to create a 1:1 high-quality model of this iconic truck. Their generosity and collaboration have allowed this project to progress to where it is today.
The Mack Anthem® arrives as a free DLC add on for every owner of American Truck Simulator. Find the latest update on your Steam Client (which may require a restart for some users) to receive this new addition to your library.
Be sure to share your first journey with Mack Trucks (Twitter, Instagram) and us (Twitter, Instagram) using the hashtag #MackAnthemInATS. Our friends at Mack Trucks have sent us some very cool items from their merchandise shop and we'll be randomly picking some very lucky winners who'll receive them!
The MACK trademarks and designs are registered rights of the AB Volvo Group and are used pursuant to a license.