Olvand v9.3
Hey all, finally, the new update is out! I've never published the changelog here before, but I decided it might be a nice way to summarize for you what's new:
ADDED 8 new achievements

ADDED Crafting buckets (with a tool, from planks)

ADDED Filling buckets with water (interact with water)

ADDED Lieron, sketchstone and olsstone

ADDED Crafting paint (combine bucket of water with lieron, sketchstone or olsstone)

ADDED Dyeing clothes

ADDED Painting the roof of small wooden houses

ADDED A timelapse tool

ADDED Loading screens with a witty sentence

ADDED For items you can equip, there is now an equip button in the menu

ADDED The 'more' menu, with links to extra functionality on the website

ADDED Tooltips on all items in the menu

ADDED Removing stumps

CHANGED It now takes one more cloth to make a dress

CHANGED A town hall blueprint can now be found in every house

CHANGED All data related to a world are now saved in the folder 'world'

CHANGED The rod now has an explanation on how to use

CHANGED There are now instructions on how to mine when you go underground

CHANGED The 'Create this' button is now always available, even if you don't have all ingredients

CHANGED For houses, the 'Create button' button has been replaced with a 'Create building site' button

CHANGED Recolored the sprite for the small wooden house

FIXED The hint box in the gun said that you could control it with the y key. This now says the correct c key.

FIXED When olvand_server.exe was started without having started olvand.exe before on the same machine, olvand_server would create an invalid playerdata file which made the game crash.

FIXED Generator Olbifiers with an empty lower exit no longer make the game crash

FIXED Canceling building a scooter now returns the right materials

FIXED If you change something in a chest while somebody else is also watching that chest, it will be updated

FIXED You can no longer start paving a road while you are already paving a road

FIXED If you pave a road, others no longer have to restart the game to see it

FIXED The freezing GUI problem, hopefully

FIXED The background music now stops if you go back to the menu

FIXED Towns are now called towns everywhere (instead of cities)

FIXED Houses now remember who their owner is again
Or if you want somebody explaining the changelog while showing some basic gameplay, Afterlategaming's got you covered:
I really liked Afterlategaming's first video I talked about [last week], so I'm really happy he decided to make more; another new video by him explains how to go from nothing to a house, which might by handy for the 100 new players that have been invited today!
My own server is up and running!
Speaking about inviting players, I have done an important discovery: Olvand's server runs great on Amazons EC2's micro instance! Or, if that means nothing to you: I can run an Olvand server myself for very little money! So far, I've been dependent on volunteers like Tomas Olsson and the Gamesketch Network for servers for people to play on, and want to keep using their services (if they are okay with that), but with this new wave of testers I'm also going to experiment with running a server myself completely. Let's see how that works!
Working on the trailer
Like I told you last week, next up is creating a new trailer. The first step of course is doing new screen recordings. I've asked my younger sister to help me here again (you also saw her play in my previous gameplay video a year ago); together we've already recorded some basic stuff like gathering plants, crafting an axe, building houses, etc. This week I've spend most of my time editing the results. All previous videos were done in Windows Movie Maker, which is an easy program, but also terrible to work with as soon you want something more specific or complex, so I've decided to learn myself Premiere Pro. This was confusing and frustrating at first, but I'm starting to get the hang of it now; the more I use it, the more I enjoy working with it - in particular because the things I want to do are actually possible now.
To give you an idea of how the trailer will look, see the preview below. It's not that surprising, I think: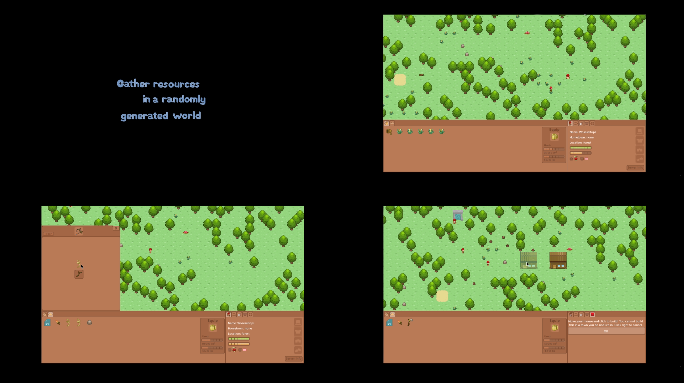 There will be four messages in blue; the other ones will be 'Build your own city with them', followed by people building a city, 'Build your own gun', followed by shots of people setting up increasingly complex gun interiors, and 'Play multiplayer minigames', followed by people duelling, racing and doing a fishing contest. For the second and fourth part, I'm going to have to try to get more Olvand players together, which will be logistically challenging, but I'm going to do my best.
If you want more development, see [twitter] or [facebook]. If you want to be a tester, you can subscribe on [olvand.com].