I'm currently working on the development of the first chapter of BAEL's Children: the main story of the chapter is around 20% done and the overall system structure of the game is around 70% done. I'm currently working on the Random Dungeon System, making the dungeons more "organic" and also creating things for the player to collect, so the dungeons feel a bit more like explorable environments. I'm going for something lightly similar to "Fushigi no Dungeon" style games, where each dungeon floor has random things to collect, scattered through the maze. Lately I have created two new enemy types and one new boss, all for the first chapter. This chapter will likely contain 3 bosses in it's main storyline.
And also, after receiving player feedback, I have decided to upgrade the graphics, to make it more detailed and less "chibi"-like, since it wasn't getting good impressions. Check out the comparison below, for some characters of the first chapter: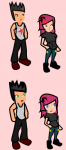 Character Comparison
And also an example in the story screen: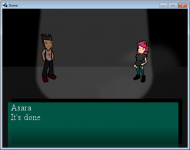 So, is the art better? Do you think it's still not good enough? Drop me a comment with your thoughts!