Alex: The Shieldbearer – formerly known as the Knight – is the guardian of her sisters. She is a central chess piece in any tactical plan and insures defensive and control skills against the Nightmare Creatures of Suffering. She is noble, calm and resilient; a rock that can endure the worst coming from the Dark Corner.
Nizar: Exactly, her weapons represent her well: as resistant as her shield and deadly as her spear, the Shieldbearer offers a third combat philosophy to the player.
This Daughter is the frontline unit in the battle against the Others. Her large number of hit points, combined with a very high armor value, allows her to sustain enormous damage before falling (well, I mean "more than her sisters"… each enemy attack can be lethal in Othercide!). She is especially strong against small creatures with a lot a weak attacks like the Scavengers, as her armor can partially absorb the damage taken.
She can also temporally increase her armor, allowing her to take without risk the strongest slash and avoid being shredded into pieces.
In addition to her capacity to force enemies to focus her, you have an almost indestructible wall against which her opponents will crash – giving the opportunity to the Blademaster to attack from behind, and the Soulslinger to release hell on every enemy in sight!
Alex: … Yeah, I may confess now that the Shieldbearer was the most difficult class to design, artistically: her "heavy tank" role came with a tsunami of common "cliché" ideas, which were in contradiction with the art direction we took so far for the other classes…
All our Daughters are swift, agile and thin – a decision we made at the genesis of the project, to stay out of the "heavy armored sci-fi brutal soldiers" we can find in the tactical niche. No way I could break this rule for the Shieldbearer!
Then came the difficult question: how could we deliver the good feelings we wanted to vehiculate without betraying the universe of Othercide?
Nizar: Ha ha, I know! One thing in the game went against this "cliché", though. Remember, in Othercide, being able to take many hits before the ineluctable end is not enough: there is no easy way to regenerate the Daughters' health. Each single hit can have repercussions later in the game.
That's why the Shieldbearer has abilities to affect the initiative of her enemies: she can make them play later, allowing other allies to kill them or prepare defensive skills before they get a chance to act, or forcing them to stay longer in the area of attacks from other Daughters.
The Spear of War
---
Alex: Regarding those tricky art design choices, deliverance came while sketching. Instead of a heavy armored knight, we oriented our work toward a "royal guard" themed outfit. We transferred any notion of "heavy" into a feeling of "noble" and high presence, in order to give this Daughter a flavor of stability and endurance. She is ready to stand her ground and protect her sisters!
Designing is a long process of iteration: it can take many sketches before finding the right rhythms, shapes, proportions and expressions. It is a back and forth dance between the concept artists and the Art Director until the vision gets clear and neat.
And even then, there can be an extra revision to fit a change in the art direction or to comfort the 3D pipeline!
As for the Blademaster and Soulslinger, the equipment of the Shieldbearer was going be crucial: since she would remain thin and agile, the weaponry will represent her "heavy" protection side. If the Shield was an obvious choice, her second hand weapon took much more thinking… We finally decided to go for a spear, giving her a hoplite style and silhouette that represented perfectly the mood we were trying to catch!
As queen Gorgo says to Leonidas in "300" :
« Come back with your shield, or on it. »

The movie hasn't just been a good help for nice quotes, it has also been a great source of inspiration for our animation designs, choreographies and attack movements!
---
A note from Jérôme Sounthavong, Senior Animator: She's alive! SHE'S ALIVE!
Animation is the last step of the process of creating a character. It is also one of the most exciting because it is the moment where all the researches, concepts and sculpts are brought to life!
But before jumping directly in the creation of the "super death strike of hell attack!", we start by defining the style of animation we want for the entire game.
Usually, the tactical genre and the turn-based principle impose a slow and undynamic rhythm. But for our Daughters, we tried a radically different approach: we wanted an impacting feeling, a kind of "dynamic action" flavor in their movements.
The big question was "how could we increase an impression of dynamism on a static type gameplay ?".
Othercide is based on a grid system, and a majority of actions are launched on spot. The characters are "stuck" on their square… no worries, challenge accepted!
Very quickly, we focused on different sources of inspiration: beat them all games for movements reactivity, action movies for cool choreographies and above all Japanese anime for rhythm and style.
By analyzing the animation design of some 2D beat them all games, you can see that some movements haven't a "logical" flow: the accent is spotted on poses, attitude and clarity of gesture.
We followed the same philosophy: privileging attractive and impacting attacks rather than absolute realism, as well as keeping a complete control on our choreographies.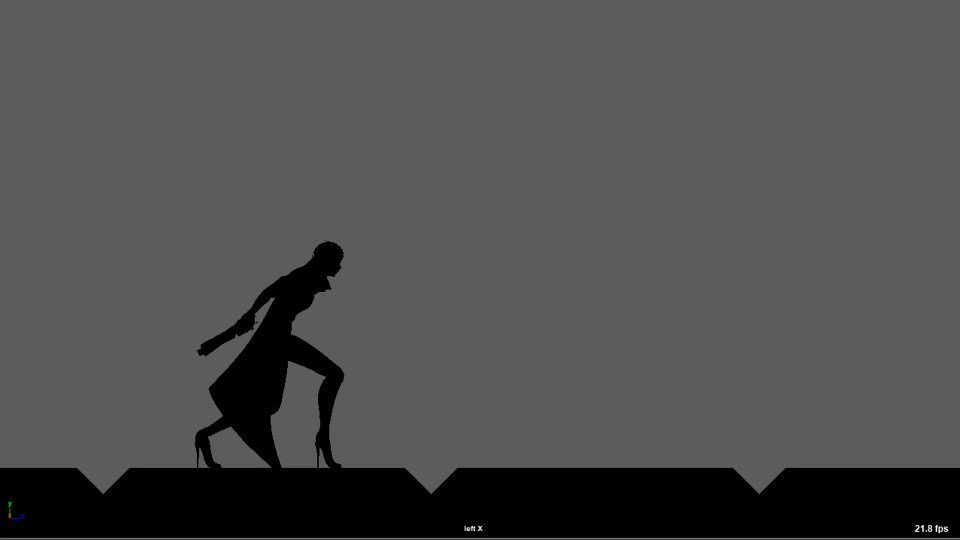 Of course each Daughter's class has its own personality, it is primordial in the design of their gestures. Therefore, we determined three main axes: Strength, Elegance and Fragility.
Even though the Daughters are fierce warriors, we wanted the player to feel at the same time their incredible power while attacking, and their vulnerability while facing the enemies' assaults. A lot of our posings are inspired by traditional martial art and modern dancing!
The triple base attack of the Shieldbearer is a perfect example of our animation design: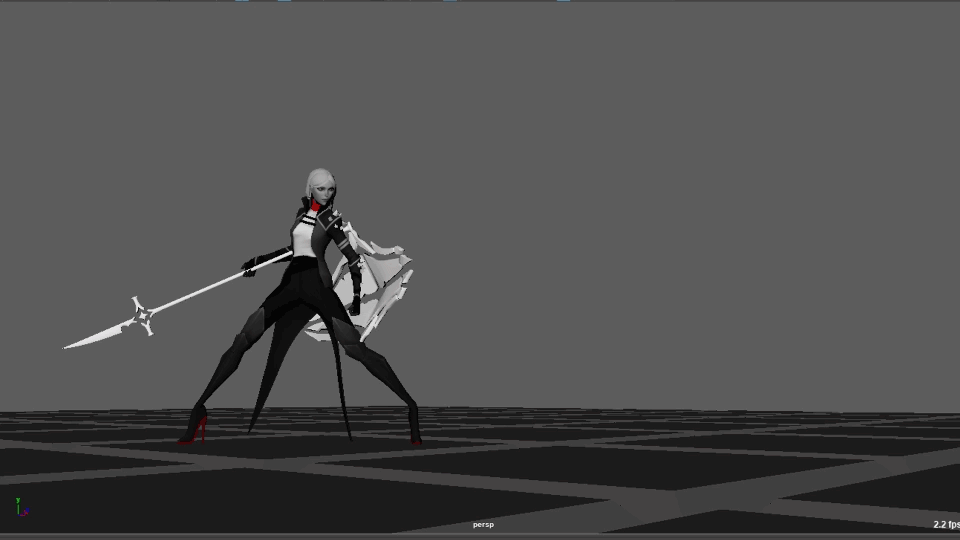 The feet "slides" on the ground, right? But the combo is tight, clear, neat and completely readable. Pretty badass huh?
Those pillars create a strong contrast with our deadly, twisted and tortured creatures! But that will be a topic for a next dev'blog!
---
Nizar: Well, it seems the Shieldbearer was the last one to introduce. Thanks for the chat, Social Media team! I can't wait for GDC to see which Daughter our players will use!"
Alex: I saw a lot of different squad configurations played here in the studio, I'm sure every player will find his own strategy!
See you soon for a new dev'blog!