Hi All,
Thought we'd share some information we've gained in the 5 days we've been on Steam Greenlight as it might help some of you in the future:
In terms of views we've gained the following:
Social - 20.5k

Direct (Steam) - 15.5k

Referral - 3k

Organic - 880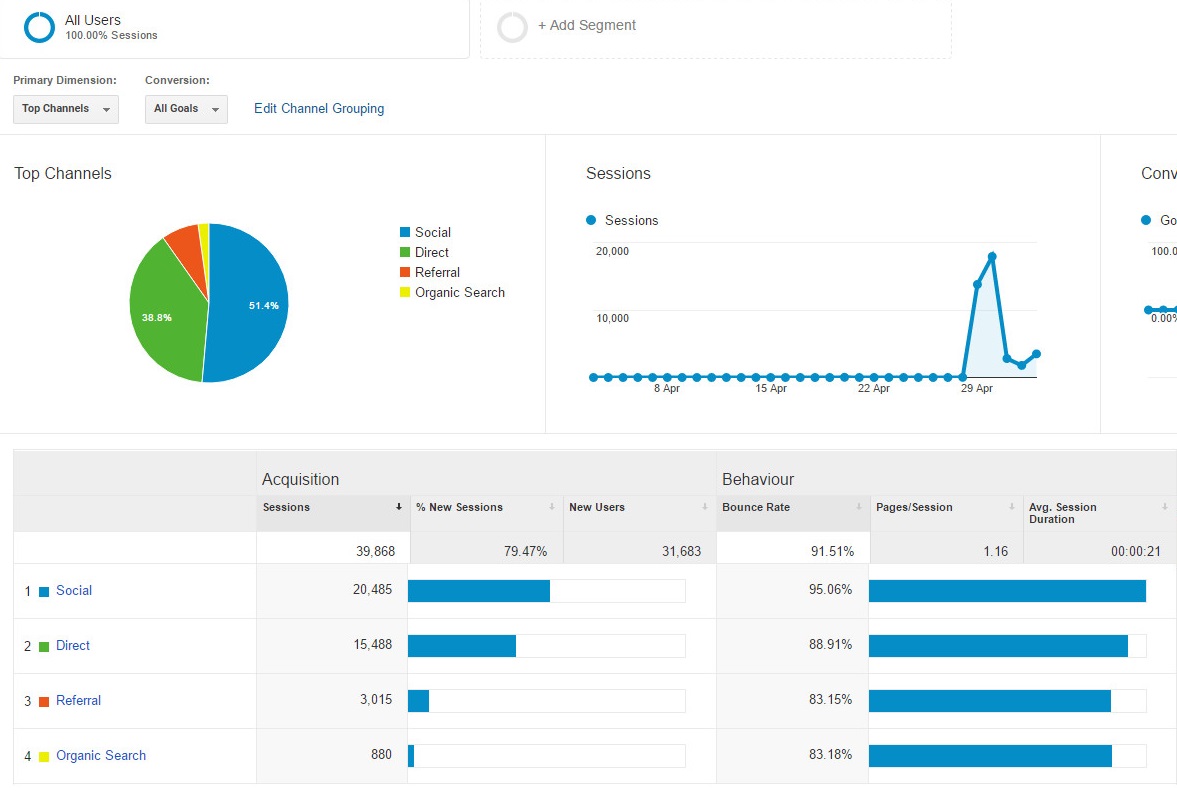 Social Breaks down to:
reddit - 19.8k

FB - 573

twitter - 64

others - 11
As you can see, there are two big reasons why we've had so many views: Steam itself & Reddit.
Note: The view numbers above are from our google analytics account, steam only tracks logged-in users as unique visits, so that's the reason why the numbers above and in the pic below differ
Amazingly we got picked by by Kotaku last night and most of the referral numbers above are down to that. (On a personal note: that's a bucket list item ticked off for me!). We haven't released a press release so this is purely 'organic' in nature. We did post to r/gaming in reddit and we've been spamming our twitter and FB accounts too (sorry everyone!)
Putting the rest into context: we had almost 1100 FB likes on our page when we launched & 360 twitter followers. Steam has given us 15.5k of views from voting queues and sitting in the recent submissions section for the first 2 days (I was surprised to find out that there is no 'hold' on greenlight's over the weekend, obvious now I think about it, but for some reason I'd assumed there would be!). We're out of the 1st page of recent submissions now but are still getting quite a lot of traffic from steam
Your Greenlight page has a great feature where you can input your google analytic's ID, which means you can track people on your greenlight page in real-time! We peaked at 220, and this was when we were on the front page of r/gaming. We peaked last night at 120 when we were hot on kotaku. This 'normals' out for us at around 5-10 people at any one time. This is a great feature if you're trying to figure out what works and what doesn't as it also tracks where the active users come from. for example I was watching our real-time data whilst doing some other stuff at home and watched it shoot up, instantly telling me where from, at which point I spammed our FB and twitter accounts (again!) as I was rather excited!
From all those views we've gained:
Unique visitors - 11,514
Favorites - 464
Followers - 561
Total Votes - 5,577
Yes Votes - 4,731 (85%)
No Votes - 683 (12%)
Ask me Later - 163 (3%)
Current Rank - 7th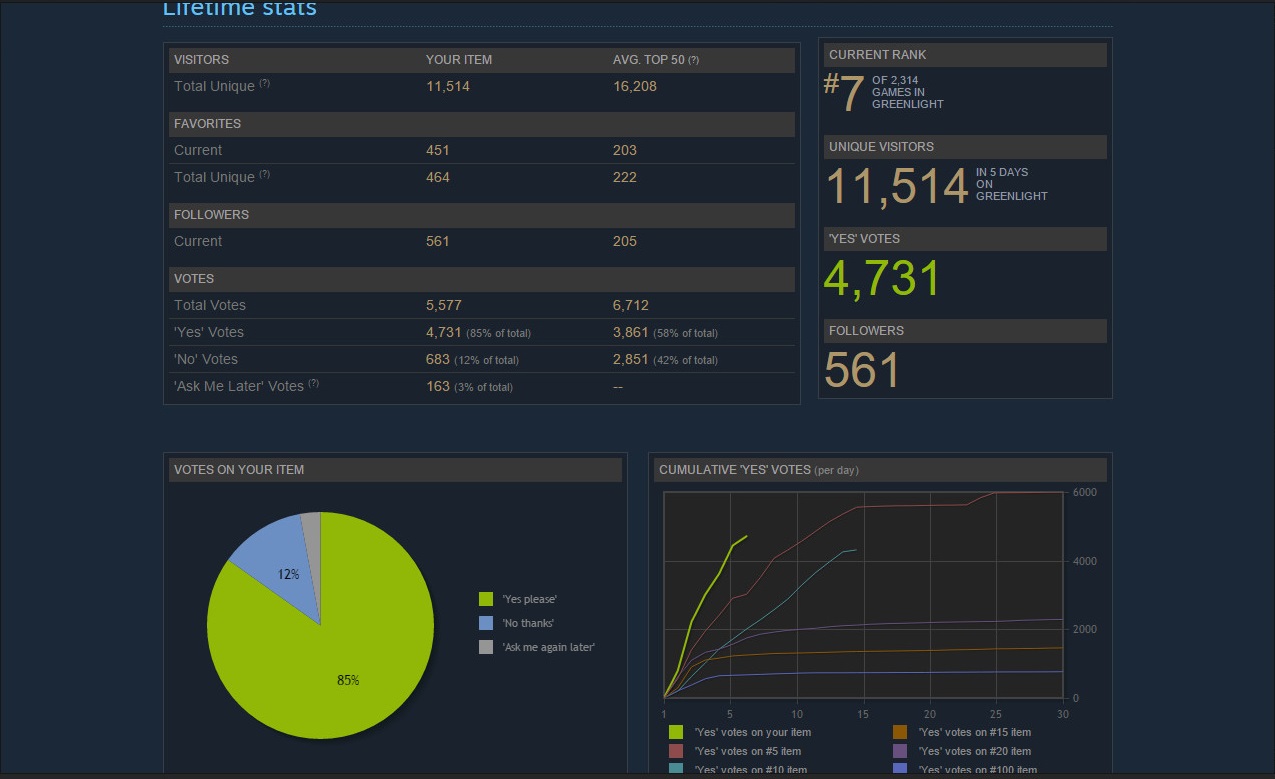 So though we have a lot of yes votes compared to no's, a whole bunch of people (52%) didn't say yes or no or even maybe... the unique visitors number is players that are logged into steam or they don't count, so its not that, and this is the most confusing part to understand for me
Nugget - the 'rank' is PURELY based on TOTAL Yes Votes. its has nothing to do with anything else - which has taken me 3 whole days to figure out and thanks to www.greendb.net for the awesome information they provide!
More Stats from us:
We got through to the top 100 in 9 hrs, and right now you can get there with 935 votes.
It took us 26 hrs to get to top 25
We were 15th after 3 days and 7th after 5
We have 48% engagement (people who voted at all) and this is the next thing I'm looking into
So in summary then: This is WAY WAY beyond anything we could have imagined, a massive thank you to everyone who has voted or commented or shared or just thought about us whilst having a cup of tea. :)
Here's our greenlight if you fancy a peak: Steamcommunity.com
our reddit post: Reddit.com
Kotaku: Steamed.kotaku.com