Last Train to Timbuktu! comes out on March 2 - that's only one week away! As you can imagine, I've been playing it quite a bit these past few weeks. I'm really happy with the state the game is in. Despite playing it so much, I still want to play it more often than the other games I have on my PC or tablet. I think that's a great sign. Most games of Last Train to Timbuktu last about 5 minutes, so it's perfect for a coffee break or really any situation where you have only a few minutes and want to relax or zen out with some puzzles.
On a related note, I can't wait to get Last Train to Timbuktu working on iPad and Android tablets. I think it's a great match for that form factor both in terms of the swiping mechanics and game length. Also, it would mean I can sit in the same room as my girlfriend for more than ten minutes and still be working.
Here's some of what I've been working on since I last posted news here:
Last Train to Timbuktu includes a race mode, in which you must solve ten puzzles to pass through ten train stations on the way to Timbuktu. To win, you have to arrive at Timbuktu before the car. A "track bar" at the top of the screen shows where you are in relation to the car and to Timbuktu.

Based on what I've heard from testers, the track bar and the overall structure of the mode weren't as clear as they could have been. I've updated the track bar's appearance so that it explicitly shows the stations you are traveling through en route to Timbuktu. This way, it exposes the structure of the race, and it's more obviously measuring your progress vs. the car.

More importantly, I've really been hammering on the game to get the difficulty curve between levels just right, and to make the scoring as consistent as possible between the two challenge modes. I'm happy with the difficulty levels, but was having some problems with the scoring: at some difficulties I'd consistently get higher scores in the time challenge (5 minutes to solve puzzles), and at other difficulties, I'd get higher scores in the move challenge (50 moves to solve puzzles).
Eventually, I made the decision to increase the number of moves you start with in the move challenge from 50 to 60. This gives me considerably more freedom to tune the scoring by changing the rates of other events, like the blue bonus stations. I wasn't totally happy about this because I've already been publicizing the move challenge as "50 moves", but at this point few enough people know about the game that I can't see it causing any problems.
I plan to finish with the difficulty and scoring this weekend. Then I'll take a few days to search for any last bugs, and everything will be set for release next Saturday!
Oh yeah, I've also been getting a head start on the Mac version! So far it looks like it's working well.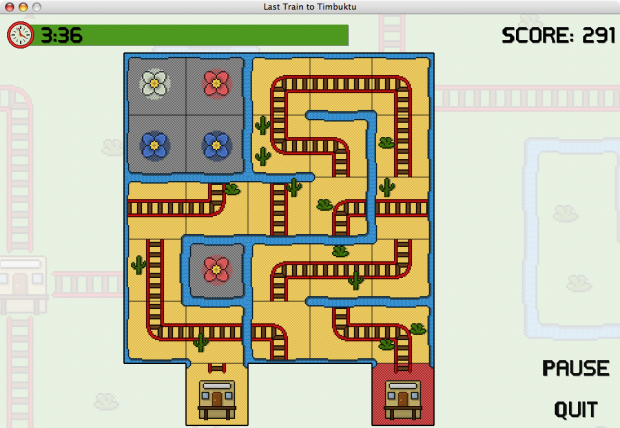 You'll be able to get Last Train to Timbuktu next Saturday, March 2 for $3 at Greeneyedgames.ca. You can learn more about it there as well as here on IndieDB.