The Indie Royale game bundle site returns with the June Bug Bundle, featuring a swarm of four fantastic independent games available at a bargain, fluctuating price.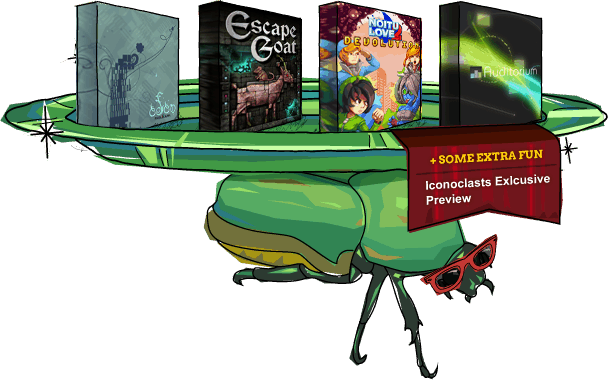 Headlining the bundle is Independent Games Festival nominee PixelJunk Eden - an organic therapeutic platformer from Q Games available for Windows on Steam. Re-imagined for PC with new features and controls, this version of the game will feel brand new for even the most seasoned veterans of the PS3 version. Swing, climb, and jump your way through massive gardens of psychedelic plant-life.
Featuring a unique and entrancing Baiyon soundtrack, 1UP says about PixelJunk Eden, "The elegant pairing of a psychedelic aesthetic and smart, addictive platforming mechanics is a rare find indeed."
Next up is the Indie Royale-exclusive enhanced PC debut of Magical Time Bean's homage to classic puzzle platformer Escape Goat, available for Windows on Desura and DRM-free. Destructoid describes Escape Goat as "an awesome retro game with a rockin' soundtrack." This Xbox Live Indie Games hit, only available on PC via Indie Royale and including a whole new game world and enhanced level editor, revolves around a magical purple goat who journeys through hell with the help of a mouse!
Also part of the bundle is Cipher Prime's award-winning musical puzzler Auditorium, available for Windows and Mac on Steam, Desura, and DRM-free. Macworld calls Auditorium "a really intriguing and addictive multisensory experience - part puzzle game, part light sculpture, part musical instrument." Turn colors into sound to solve increasingly complex puzzles and manipulate light to create beautiful music.
Finally, Joakim 'Konjak' Sandberg's retro action side-scroller Noitu Love 2: Devolution, available for Windows on Steam, Desura and DRM-Free. Inspired by classic arcade action games, you must take down the hordes of enemies through seven different stages as the new hero of the Peacekeepers, Xoda Rap. Features include unique mouse controls for super-fast action and an old school soundtrack for 8-bit nostalgia bliss. A.V. Club calls this IGF finalist, "A study in motion, pastiche, and mayhem."
Also included as a bonus is an exclusive updated Alpha Preview version of Joakim Sandberg's much anticipated upcoming 2D platformer, Iconoclasts. This version is updated from the much earlier version found on Joakim's website. In a world ruled where science and industry is controlled exclusively by the theocratric government, play as Robin, a renegade mechanic, while she modifies herself using treasures and takes on unique enemies requiring finesse and skill.
Finally, those who pay $7 USD or their currency equivalent during the June Bug Bundle will get 8 Bit Weapon's Bits with Byte - the first album in two years from the West Coast chiptune champions, and normally a $5 value on its own. This album boasts of clever melodies, a nostalgic atmosphere, and energetic beats that create a decidedly modern sound while maintaining a fun, lo-tech aesthetic.
Also don't forget that Indie Royale has just launched its Collection feature. This is a page where Indie Royale purchasers can earn loyalty rewards, manage keys for already-purchased bundles, and add already-completed bundles to their Wishlist for possible bundle reappearances! More info on the Indie Royale Collection is available via this blog post.
More information on the June Bug Bundle, including real-time statistics and its current price, is available at its official website or via its Facebook and Twitter pages. And a final reminder - the more buyers, the more the price will increase, unless kind buyers drop the price for everyone else, so hop on and buy soon to avoid disappointment!